Tyrant-osaurus' Rex: Trump's pick for Secretary of State has major Russian links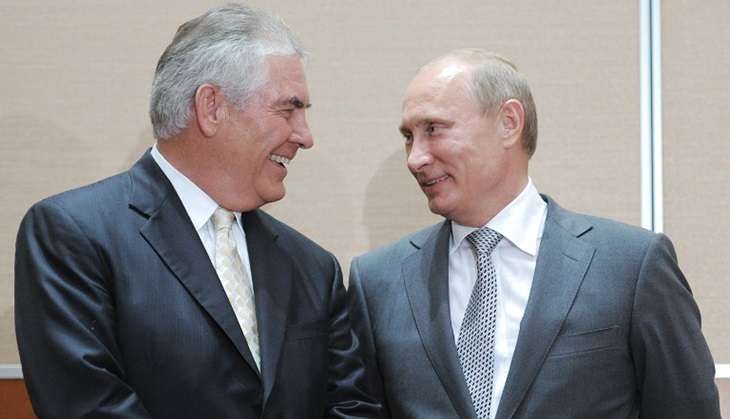 If one thought Donald Trump would try and tone down any ties to Russia after the recent CIA comments, one clearly hasn't learned anything. While the furore over Russia's involvement in the recently concluded US election still hasn't died down, Trump has gone ahead and named a Secretary of State with unmissable ties to the Russian government.
Rex Tillerson, who's also the CEO of oil giant ExxonMobil, is a very Trumpian pick. Not only is he the head of a major corporation whose interests are in direct opposition to those of the people, but he's also a close personal friend of Russian president Vladimir Putin. In fact, Tillerson was awarded the Order of Friendship award in 2013 by Putin himself. Tillerson was appointed over the likes of Rudolph Giuliani, a Trump loyalist, and Mitt Romney, one his most vicious critics.
In yet another of his characteristic displays of over exaggeration, Trump called Tillerson an "embodiment of the American dream". He further noted that Tillerson has the "tenacity, broad experience and deep understanding of geopolitics", stopping just short of saying that he thought 'bigly' of the oil mogul.
A risky appointment
Tillerson is a native of Wichita Falls, Texas, and has a strong local accent. He runs a company that has operations in about 50 countries. Besides Russia, he has had business dealings in Qatar, Kurdistan, Venezuela and many other countries.
This has lead to a huge stash of personal wealth. "According to company filings this year, Mr. Tillerson owned $218 million in company stock, and his pension plan was worth nearly $70 million," The New York Times reported.
However, despite his holdings in the company, Tillerson was set to retire as CEO in a year's time. This political appointment serves as the grandest and most glorious of exit routes.
Tillerson's ties to Russia though, make him a risky choice for any Cabinet position, let alone one as important as Secretary of State. This is because Trump will very likely have a confirmation battle on his hands - not just from Democrats, but also from some Republicans increasingly worried about his Russian ties. Tillerson is merely the latest aggravator, but is nonetheless a major one.

Dubious loyalties
Former Secretary's of State, Condoleezza Rice and James Baker, are expected to go public with their support for the Texan, while Former Vice President Dick Cheney is also supportive and may advocate for Tillerson's confirmation.
With this appointment, Trump and his time are clearly banking on Tillerson's experience in making deals with foreign countries and companies. It's trademark Trump - blending business and politics.
However, the real worry if Tillerson is indeed confirmed as Secretary of State is whether he'll be able to put global interest ahead of ExxonMobile's interests.
Tillerson will have to negotiate and nurture alliances all around the world through diplomacy and not business deals. However, critics of Tillerson see him as a hawk waiting to fill the coffers of ExxonMobile.
Putting the US in USSR
Speaking about Tillerson's connection with Russia, a CNN correspondent had this to say: "He's been personal friends with Putin in the past twenty years and has spent more time with Putin than anyone in the USA except for Henry Kissinger".
Russia's Order of Friendship award was bestowed on Tillerson, citing his work in "strengthening cooperation in the energy sector". The Order of Friendship award was established over 20 years ago in 1994 by then Russian president Boris N. Yeltsin. It is one of the highest honors a foreigner can receive from the Russia state. It goes to those people whose work and efforts were squarely aimed at the betterment of ties between Russia and foreign countries.
According to Steve Coll's book, Private Empire: ExxonMobil and American Power, Tillerson'sbuilt his 41-year-long career by managing the ExxonMobil's Russia account - an account some would describe as the most difficult. Due to his increasingly cosy relationship with Russia, Tillerson was selected to succeed Lee Raymond as CEO of the company in 2006.
As CEO, Tillerson bet billions on Russia's oil resources, by signing a deal with Russian state-owned oil company Rosneft. Rosneft's chief, Igor Sechin, is a staunch Putin loyalist. Putin attended the signing ceremony back in 2011. The deal gave Exxon access to oil from the Russian Arctic and Rosneft got a stake in the US company's projects in the North American region. This is probably why he was seen as deserving of the Order of Friendship.
Trying to improve US-Russia ties
Since then, the United States has imposed economic sanctions on Russia due to the crisis in Ukraine and Moscow's occupation of Crimea. The Arctic drill deal tanked as a result, with Exxon suffering a $1 billion loss. President Obama along with European leaders have kept the sanctions in place until Putin agrees to a cease-fire.
However, Tillerson has been advocating for ties to be restored, likely because the other "billions of dollars in oil contracts" can only go forward if the sanctions on Russia are lifted. One of the pending deals is to the tune of tens of billions of dollars
Trump wants to mend USA's adversarial relationship with Russia and Tillerson's appointment is a step in that direction. "To me a great advantage is that he knows many of the players in the world and he knows them well," Trump said in an interview with Fox News Sunday. "He does massive deals in Russia, not for himself, but for the company."
"Being State Secretary and being an executive in a company, even a big one, are two different things. Whatever sympathies he may have would certainly be sidelined," Russian presidential spokesman Dmitry Peskov said on Monday. However, that is precisely the line Russia was expected to take. Whether Tillerson will really put aside his loyalties to Russia and Exxon in favour of Trump and the US though, is anybody's guess.