Trump's inauguration merchandise includes chocolate bars, hot sauce and a dog poo bag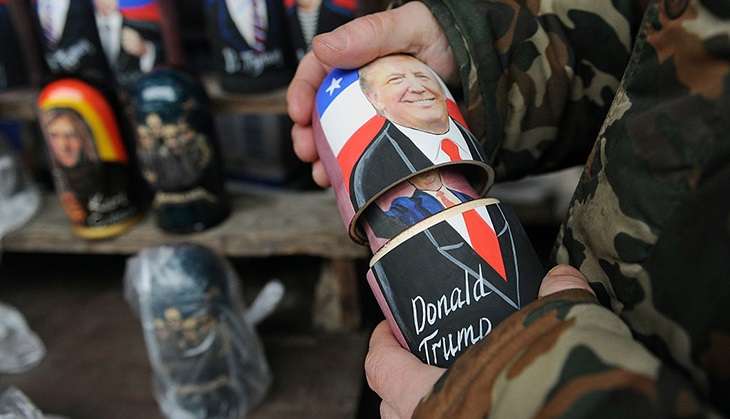 Donald Trump will be sworn in as the 45th President of the United States on 20 January at the United States Capitol. With festivities spread across 19, 20 and 21 January, there's a lot of time for Trump inspired merchandise to fly off the shelves, and, being the consummate businessman (based on who you ask) that he is, Trump is leaving no stone unturned. Trump's transition team, on 3 January, announced their own collection of merchandise tied to the inauguration.
The merchandise includes Trump-themed glasses, mugs, cups, hats and much more. There is even a "President No. 45 Trump U.S.A." pin! The merch being flogged on Trump's own website goes for anywhere between $12-$60. The official shop is funded by the Trump Make America Great Again Committee. Sweatshirts with the inaugural seal are selling for a pricey $55. There are also Russian Matryoshka dolls of President-Elect Donald Trump and a Red Cap Collectible Ornament with the words "Make America Great Again" for just $99.
But it isn't just Trump's camp trying to cash in. Everyone seems to have jumped on the inauguration gravy train, from street vendors and small boutique shops to high-end boutiques and online shops. Whether you're on Trump's side or not, you can buy merchandise featuring the man with 'tiny hands' to suit your mood. An email sent out from the transition team on 3 January, announcing the newest and latest merchandise says, "With Inauguration Day just weeks away, we're launching an Inaugural Collection of special-edition merchandise to commemorate this historic day in American history."
It is a known fact that Presidents sell special memorabilia for the inauguration, according to a recent survey, inauguration is big business for Washington D.C., generating over a billion dollars for the local economy. But what is unusual, even if not surprising, are the number of gag items being sold.
Sales are down from when Barack Obama was elected President in 2008 and then again in 2012, but vendors expect an upturn in the last few days before Trump's inauguration.
If you're ready to "Make America Great Again", then be prepared to buy more than just a red hat showing your support. There are beer koozies, shirts, hats, sweatshirts, pint glasses, cups, hats and T-shirts. There are even Trump-themed gadgets and trinkets. Here are some of the Presidential-themed items you will find for sale at every nook and corner during Trump's inauguration.
1. Donald Trump gummy bears
2. Donald Trump chocolate bars
Official 45th President Trump Milk Chocolate candy bars, available at any local Washington, DC corner store now. #TrumpInaugural #Trump2017 pic.twitter.com/HSJGD0t8ew

— Diana Hussein (@heyadiana) January 14, 2017
3. Donald Trump hot sauce is a favourite
donald trump's face is on hot sauce. pic.twitter.com/6RdFPJZYqp

— Lavi Ajmani (@laviajmani) January 7, 2017
And here's a review of it, just in case you were 'thinking' about buying the damn thing:
anyways, I found that a donald trump hot sauce exists and this was one of the reviews: pic.twitter.com/MzInUq1kIY

— no good deed (@murkrowz) December 30, 2016
4. Donald Trump bobble head dolls
Merry Christmas. Was Santa good to you? Making Christmas great again with my Donald Trump bobble head 😎#MAGA pic.twitter.com/1ZfPeUHu3Y

— 🇺🇸Courtney🇺🇸🦅 (@courtney72288) December 26, 2016
5. A Donald Trump version paper doll.
With the Donald Trump paper doll, you can dress up The Donald like the professionals he doesn't pay. pic.twitter.com/7bB0cwlvgD

— Kimberly Annecdotes (@onthistea) October 5, 2016
6. Meet the toilet paper that costs just $12 a roll.
New toilet paper, meet "morning bm" #tpelect #trump https://t.co/420KRGkH58 pic.twitter.com/rf9Pn1j84A

— Gabbie Robbins (@qtwopointoh) January 13, 2017
7. In case you decide to turn the inauguration into a drinking game...
DONALD TRUMP 45TH PRESIDENT SHOT GLASS INAUGURATIO... #priceabate #deals #sales https://t.co/6XpwMxM17O pic.twitter.com/AU9b7Dn202

— PriceAbate - Deals! (@PriceAbate) January 11, 2017
8. Donald Talking Pen featuring 8 different sayings
9. Life size cardboard of Mr. Trump
Donald Trump - Advanced Graphics Life Size Cardboard Standup https://t.co/g4XLhhfcI3 @realDonaldTrump pic.twitter.com/WvF463RP1u

— Amazon Best Deals (@amazonbestdeal_) January 15, 2017
Bonus: Trump dog poo bag!
Best Christmas present. Trump dog poop bags. pic.twitter.com/ahPAGRICtv

— Judy Strollo (@judystrollo) December 25, 2016
Some people, those who dislike Donald Trump, are trying to use the power of the internet to crash Trump's inauguration merchandise. They are planing a devious plan.
Obama should resign a day early to make Biden the 45th President just to ruin all of Trump's merchandise

— Savage Biden (@SavageBiden) January 17, 2017
They want Obama to resign just before the inauguration, so that Joe Biden (current vice-president) can takeover and become the 45th President of the United States. Therefore bumping Donald Trump to the 46th President of the United States. The original tweet, made by Andy Levy, was tweeted on 21 October, before the elections.
obama should resign on his last day in office so biden gets to be president for a day

— andy levy (@andylevy) October 21, 2015
It was done so that Obama's best-friend-forever Biden could have the chance to be President for a day. After the election, the tweet became viral and now, with a chance to crash all the merchandise, its backers are going all out to make it happen.
What say, Obama. Are you game?