Trump keeps Queen Elizabeth wait for tea and breaches other protocols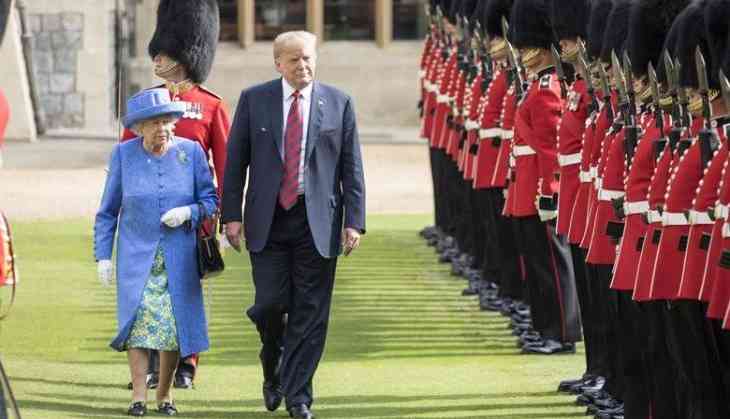 The US President Donald Trump met Queen Elizabeth on Friday afternoon at Windsor Castle. According to ABC News, Trump and the Queen were in smiles. While the Queen adopted a blue coatdress and matching hat, Melania prefered a white skirt suit.
Reports stated that Trump was late and kept the Queen waiting, this is the rarest customary that the Queen has witnessed in seven decades.
Still on her feet, waiting... pic.twitter.com/lsk4SvQeWA

— Patricia Treble (@PatriciaTreble) July 13, 2018
Trump and Melania were supposed to reach by 5 PM but they kept the Queen waiting. This was the first time in seven-decade that the majesty experienced something like this.
Oh dear, she just looked at her watch. The Queen does NOT like tardiness. pic.twitter.com/b0GXBV9oWt

— Patricia Treble (@PatriciaTreble) July 13, 2018
Queen Elizabeth II is there. But where is the guest? Yeah, still in his helicopter, leaving the 92-year-old monarch to wait, and wait. pic.twitter.com/JBsrXAyunj

— Patricia Treble (@PatriciaTreble) July 13, 2018
Over the decades Queen has met many US President since she took to the throne in 1953 but, this meeting was different. She was scheduled to meet Trump in January this year but he abruptly cancelled that trip.
That moment when you forget where you left the Queen of England. #TrumpVisitsUK pic.twitter.com/imCIeOgU1f

— EL4C (@EL4JC) July 13, 2018
After Queen Elizabeth II and President Trump shared tea, a handshake and then headed for the traditional pomp-and-circumstance but it was an awkward moment. Trump walked in front of the Queen and forgot where she was.
In the above tweet shows Trump going ahead of the queen while inspecting her honour guard. The tweet has gone viral and people are simply loving it. There was an instance when Queen directs Trump and directs him forward with her white-gloved right hand.
This is hilarious. The Queen acting like she's training one of her dogs as Trump struggles to master the art of walking. pic.twitter.com/M7tNwJFlOX

— SimonNRicketts (@SimonNRicketts) July 13, 2018
Queen has walked with many former Presidents and also present President but this walk wasn't that smooth on Trump's part. There was a point when the Queen had to teach him to walk.
Trump protestors outside Windsor Castle pic.twitter.com/oedtP7aUHK

— Valentine Low (@valentinelow) July 13, 2018
Some hundreds of people have protested against Trump's visit to the UK. From pensioners, activists to students demonstrated against the visit. Some said Prime Minister Theresa May should have never have allowed Trump to meet the queen. Others. Nearly 1,600 people protests.
Also Read:British daughter kills dad after finding his child porn collection, buried her secret for 12 years