Trans-Pacific Partnership: what you need to know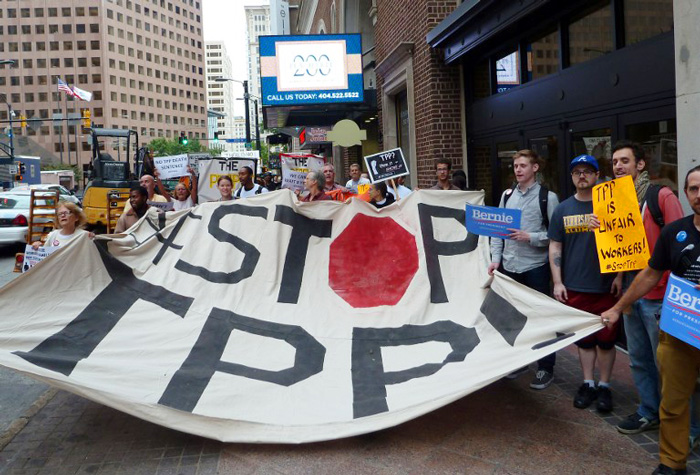 The Trans-Pacific Partnership (TPP) agreement was reached on 5 October after days of trade ministers and senior negotiators from 12 Pacific Rim countries being holed up in intense talks in Atlanta, Georgia.
It's the biggest free-trade deal in a generation - these TPP countries represent total of 40% of global gross domestic product, 30% of global exports, and 25% of imports.
Basically, the deal could reshape industries and influence everything from the price of milk to the cost of cancer treatments.
The final hurdles blocking it were finally cleared on Monday, mostly surrounding dairy import limits. The last meeting two months ago in Hawaii had almost nailed it down: 98% of the deal had been agreed to by then.
It's a deal which will soon begin to create a furore among about unions, environmentalists and activists for favouring big business over workers and environmental protection. But that'll take time, at least till the 30-chapter text of the Trans-Pacific Partnership Trade Deal will become available by next month.
The TPP is a 12-nation free trade agreement (FTA) that the United States is leading along with Japan, Canada, Mexico, Chile, Peru, Australia, New Zealand, Singapore, Brunei, Vietnam, and Malaysia.
The free trade push started small in 2005, with a sub-group of the larger Asia-Pacific Economic Co-operation forum - New Zealand, Chile, Singapore and Brunei. It grew to include the US, Australia, Peru, Vietnam and Malaysia by 2008.
When Japan expressed interest in joining, Mexico and Canada felt they needed to be in too. Canada officially joined in 2012.
Talks officially began in 2010.
The TPP is a plurilateral agreement - a World Trade Organization term for a sub-group of countries voluntarily agreeing to specific rules.
[twittable]The TPP aims to bargain as many tariffs as possible down to zero[/twittable]
Elements of the negotiations are not always reciprocal - Country A might offer something that benefits Country B, in return for something Country A wants from Countries D and E, who in turn might exact a concession from Country B.
The TPP aims to bargain as many tariffs as possible down to zero. But it will also rewrite rules for trade in services and investment between partner countries, and tries to level the playing field by setting consistent rules for patent and copyright law, environmental protection and labour standards and mobility.
Now that it has been signed, the leaders of the countries involved will have to turn their attention to selling the deal domestically as the talks have been cloaked in secrecy. It will also have to be ratified by each country's parliament.
In the US, as the presidential race heats up, the deal is certain to become a topic of conversation in upcoming debates.
At a later date, the TPP will become an open platform that other countries in the Asia-Pacific Economic Cooperation forum (APEC) can join and the United States intends for the TPP to fulfill the APEC Bogor goal of becoming a FTA of the Asia-Pacific (FTAAP) region. South Korea, the Philippines, Thailand, and Taiwan have already indicated their interest in joining the TPP once it is concluded.
Long before now, the TPP has proven controversial. Groups have accused the deal of being made in secret, and of favouring big business interests.
Web freedom activists have expressed particular concern over how the TPP would handle major changes to intellectually property laws, arguing that the deal effectively exports restrictive US copyright laws to a global audience.
The Electronic Frontier Foundation called it "one of the worst global threats to the Internet" since the controversial ACTA (anti-counterfeiting trade agreement) was rejected by the European Union in 2012.
[twittable]In the US, the deal is certain to become a topic of conversation in upcoming presidential debates[/twittable]
In the US, Australia and other countries opponents have seized on a provision that would allow foreign corporations to challenge decisions by governments before international arbitration panels.
In Canada, heading for election, TPP is one of the main points of the economic debate. Tom Mulcair, the head of the New Democratic Party, has vowed to walk away from the TPP if his party wins on 19 October.
04
What of pharmaceuticals?
Although the complex deal sets tariff reduction schedules on hundreds of imported items from pork and beef in Japan to pickup trucks in the US, one issue had threatened to derail talks until the end - the length of the monopolies awarded to the developers of new biological drugs.
Negotiating teams had been deadlocked over the question of the minimum period of protection to the rights for data used to make biologic drugs, made by companies including Pfizer Inc, Roche Group's Genentech and Japan's Takeda Pharmaceutical Co.
The US had sought 12 years of protection to encourage pharmaceutical companies to invest in expensive biological treatments like Genentech's cancer treatment Avastin. Australia, New Zealand and public health groups had sought a period of five years to bring down drug costs and the burden on state-subsidised medical programmes.
Negotiators agreed on a compromise on minimum terms that was short of what US negotiators had sought and that would effectively grant biologic drugs a few years free from the threat of competition from generic versions.