To better Indo-Bangla relations, India should look beyond Awami League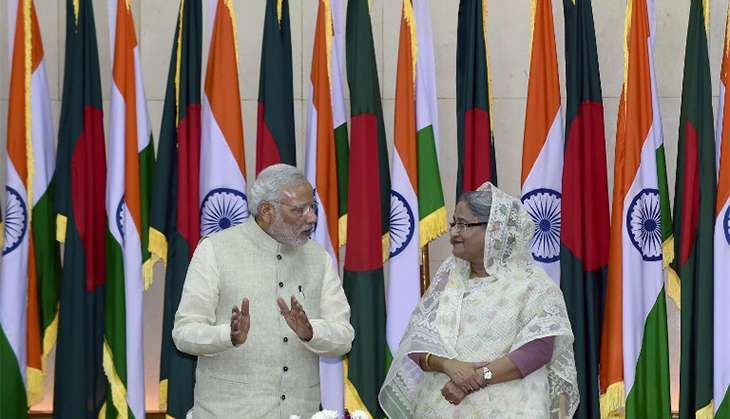 As Sheikh Hasina's regime holds on to power with a highly flawed mandate and struggles to overcome its democratic legitimacy at home and abroad, it continues to enjoy the confidence of India, the world's largest democracy. This paradox in Indo-Bangladesh relations is now starting to be questioned both in Bangladesh and beyond.
A questionable turn in policy
India was on the right side of the debate in Bangladesh when it sided with the people of Bangladesh during our liberation war in 1971.
Forty years on, the people of Bangladesh are starting to question whether the Government of India is distancing itself from the people of Bangladesh by advocating and supporting a government in Bangladesh that no longer believes in the values of democracy, human rights and freedom of its own people - very contradictory to what the government of India believes and what it wants for its own people.
Also read - China-Bangladesh bonhomie: India needs to restrategise as the Dragon woos this neighbour
The 2014 visit of then foreign secretary Sujata Singh prior to the farcical national elections was a clear intervention in Bangladesh's internal affairs attempting to influence in legitimising the Sheikh Hasina government's partisan election process which denied the people of Bangladesh their right to democratic franchise.
India's external affairs minister during that period, Salman Khurshid, confirms this policy position in his memoir The Other Side of the Mountain by stating that India had no option but to opt for the Awami League on the basis of its national interest.
Blind to viable options
Analysts in Indo-Bangladesh relations must try and unravel some of the events prior to the highly-flawed elections that may have influenced India's position to side with the Awami League.
In my opinion, India has looked back to move forward to define the current trend in Indo- Bangla relations. It has heavily relied on the historical connection between the Congress and Awami League, between the families of Indira Gandhi and Sheikh Mujib and the partisan narrative of issues and interests of the Awami League over the last two decades or so to reach its decision to support Sheikh Hasina's defective mandate.
On the other hand, there was not enough engagement from opposition political parties in Bangladesh that developed an emotional narrative that it's impossible for India to move away from the Awami League. Although there were clear security reasons for former prime minister Begum Khaleda Zia in cancelling her meeting with India's President Pranab Mukherjee, it might have been a risk worth taking at the time to harness relations between the peoples of Bangladesh and India.
After all it was not Pranab Mukherjee, it was the President of India, and the Sheikh Hasina government's motive at the time was to create as many obstacles for this meeting not to take place.
The cancellation of such a high level meeting left a psychological mark on both sides and impacted relations between India and the Bangladesh Nationalist Party (BNP) and created an ideal opportunity for the Awami League to take advantage of presenting itself as the best placed strategic partner for India. The Awami League propelled its propaganda against the BNP by projecting ludicrous claims that it's a pro-Pakistan party, even though late President Ziaur Rahman, the proclaimer of Bangladesh's independence, founded the BNP.
The BNP is widely and popularly known as a party of freedom fighters rather than simply freedom supporters from the liberation war of 1971.
Dealing with insurgents
Both India and Bangladesh are alleged to have used their own territories to encourage insurgents to agitate each other.
India, it has been claimed by Bangladeshi authorities in the past, is said to have supported insurgent elements in the Chittagong Hill Tracts whilst Bangladesh has been accused of supporting insurgents in the North Eastern states of India.
As politicians from both the countries would know, sometimes security personnel in both our respective countries have rightly professional minds and at times could advocate a position quite distinct from the political government of the day. Security, of course, is crucial and the distinguished jobs security personnel do are essential to both countries' national interests.
A collaborative effort
However, collaboration with political stakeholders can only strengthen a much-needed inclusive approach to dealing with security interests. There may have been reasons to agitate each other in the past by turning a blind eye to one's territory being used as part of a different era of politics.
Moreover, I firmly believe no political leader or party with legitimacy both in India and Bangladesh would even for a single second think of going back to such destructive measures in this day and age which will be nothing other than self-defeating. Political leaders in Bangladesh and India today are more concerned with jobs, economic development, sustainable security and the technological advancement of their peoples and societies.
Betting on a safe horse
India may have thought that the Awami League might be its safest bet in ensuring its national interest and thus supported Sheikh Hasina's faulty mandate following the farcical 2014 national elections despite the international democratic community overwhelmingly concluding these elections were neither free nor fair nor inclusive nor participatory.
The position taken by India started to isolate it in Bangladesh's polity as it was perceived to have failed to take a moral position in giving the people of Bangladesh a right to express their will and desire. Thus, in the eyes of many Bangladeshis, it was palpably a contradiction and a change of India's position from when it fought in solidarity with the people of Bangladesh for the country's independence in 1971.
A positive relationship?
Indo-Bangladesh relations are described at present by authorities in both countries to be at their best and highest point.
However, it comes at a cost for the government of India's image. The Land Boundary Agreement was a landmark in our relations and the Narendra Modi government deserves praise for settling the matter very early on in its tenure along with other political parties in India.
However, India's dependence on an undemocratic government in Bangladesh to look after security matters is more delicate and sensitive. The Sheikh Hasina government may have committed to intelligence sharing, agreed to permit transit into Northeastern states, and curtailed insurgency into India which may have met India's national interest.
Turning a blind eye
On the other hand, India in return is being viewed by Bangladeshis as turning a blind eye to the crimes Sheikh Hasina's Awami League presides over within the country.
Enforced disappearances and killing of opposition political leaders, widespread corruption, politicisation of the administration and judiciary, and a partisan election commission, fabricated cases and trials against senior opposition leaders, Ramphal power plant project contribute to an emerging perception amongst the large section of Bangladesh's citizens that India is becoming an opportunistic benefactor of Bangladesh's democratic deficit.
Especially when India has global ambitions to enter multilateral institutions to enhance its position on the world stage and expand its political and economic capability for the good, it can start to do this by addressing the values of democracy and human rights close to home.
In other words, it can do so within its own neighbourhood, starting with Bangladesh.
Indo-Bangladesh relations are currently very much dominated by security. It would be difficult for both countries to develop people to people relations on the basis of security alone.
A healthy exchange
Security comprises trust and suspicion as key elements that determine its policy formulation and delivery. In a region where there is a significant shift in population trends and young people are becoming the dominant feature it would be foolish for political stakeholders in India and Bangladesh to disengage.
Both Bangladesh and India must extend cooperation to exchange ideas, develop economic partnership, ensure mutual peace and security and make a clean break from outdated chauvinistic politics.
According to the UNFPA (2014) State of the World Population Report, India has one of the world's highest numbers of 10 to 24 year olds, i.e. approximately 356 million; and Bangladesh has around 48 million. Therefore, together the Indo-Bangladesh population accounts for one of the largest youth populations in the world. This significant factor will be difficult for politicians in either country to ignore or avoid. Only a forward-looking agenda can attract such a significant section of the population in both the nations.
Looking towards the BNP
The BNP has been forward looking since its inception in 1978. Its 19-point charter is a guiding principle in steering forward-looking policies. Successive past BNP governments have taken vast steps to reform the country's economy, emancipate women, encourage the growth of the private sector and encourage regional economic union.
A lot of the strong social indicators, particularly in reference to more participation of women in education and business, are success stories coming out of far-sighted policy implementation of the previous BNP governments of 1991 and 2001.
Unfortunately, stakeholders in India have listened to a highly defective narrative from the Awami League for far too long.
It's about time India opened up its engagement across political spectrum in Bangladesh. The BNP also must seize this opportunity to engage with stakeholders in India to dispel some of the propaganda myth recited by the Awami League for many years.
Stable and sustainable Indo-Bangladesh relations can only stem from democratic values, peace, collective prosperity, and strengthening of people to people relationship. On the other hand, to bypass these principles would prevent both countries from understanding each other. Political parties will come and go but the peoples of Bangladesh and India will have to carry on.
India needs to give access to political and civil society stakeholders across the spectrum in Bangladesh, and not just the Awami League.
Edited by Aleesha Matharu
More in Catch - What stops Hasina from banning Jamat? asks Khaleda's envoy
India-Bangladesh's Great Barrier Reef moment: The killing of Sundarbans