Theresa May's India visit: all the right noises but no concrete developments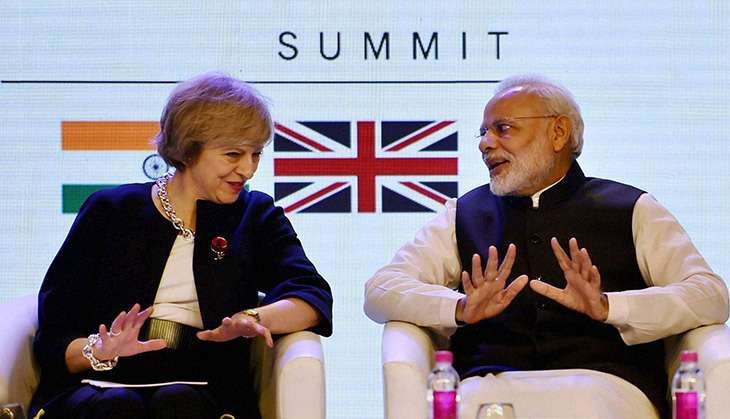 After proclamations as big as 'India is Britain's most important and closest friend', British Prime Minister Theresa May's visit to New Delhi is proving to be a dud.
On the positive side, the UK seems sympathetic to India's stance on cross-border terror emanating from Pakistan, with the joint statement reflecting serious concerns from both sides. PM May also condemned the Uri attack, and called on Pakistan to bring the perpetrators of the 26/11 Mumbai attack and the Pathankot attack to justice.
Prime Ministers May and Narendra Modi also agreed that "there should be no glorification of terrorists or efforts to make a distinction between good and bad terrorists", a veiled reference to Pakistan's policy.
Significance of the visit
This is May's first foreign visit outside the European Union, and the fifth by a British Prime Minister in the last decade. Modi's visit last November, on the other hand, was the only one from the Indian side, signalling the change in the global power dynamics since 1947.
The visit is also significant, since it comes after the Brexit referendum, where Britons decided to pull themselves out of the EU. And now, the leadership seems desperate to strengthen trade ties with non-European emerging economy powerhouses like India.
While India's ties with the UK have largely remained stagnant, cooperation with other European countries like France and Germany has seen a sharp increase, including the recent multi-billion dollar Rafale fighter aircraft deal.
The issue of students and visa norms
After her meeting with the Indian delegation, led by Modi, May had little to offer on serious outstanding issues, including the troubles facing the Indian student community.
May's tenure as the Home Secretary saw a lot of anti-immigration steps affecting Indian students and business leaders among others.
PM Modi, in his statement at the India-UK tech summit, made it clear that "education is vital for our s students and will define our engagement in a shared future", and that "we must therefore encourage greater mobility and participation of young people in educational and research opportunities".
But there was no concrete solution on offer from the visiting Prime Minister, especially on the matter of the UK's recently-tightened visa regime. "Nine out of 10 visa applications are already accepted," she pointed out, adding that the UK was able to attract the best and brightest from outside the European Union.
Contrary to May's claims, the number of visas granted by the UK to Indian students have come down from 68,238 in June 2010 to just 11,864 in 2015.
May oversaw the implementation of steps like curtailing the period of students' stay once they had completed their education, and a rule that only allowed professionals with a certain salary (35,000 pounds per annum or above) to stay in Britain. This has led to a fall in number of Indian students, even as the number of Chinese students has grown.
"This is also because unlike Indians, who prefer to work there after completing their education, the Chinese mostly go back to their country," an Indian diplomat pointed out.
May also sought to link the new visa rules to the issue of Indians overstaying their visa terms. "As part of this, the UK will consider further improvements to our visa offer, if at the same time, we can step up the speed and volume of the return of Indians with no right to remain in the UK," she said.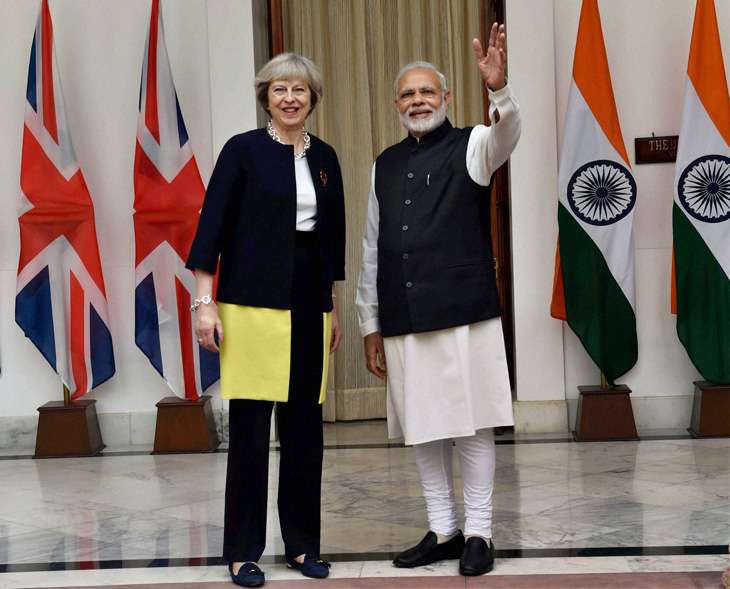 Prime Ministers Theresa May and Narendra Modi in New Delhi on Monday, (PTI photo)
The Ministry of External Affairs, while accepting that there may be a large number of Indians who have overstayed in the UK, said India is open to taking them back after following due procedure, which requires their nationality to be verified. UK authorities are pushing India to take back all those whom they think are Indian nationals, but the MEA insists: "We need to first verify who all are Indians."
There are legal issues involved as well, as some of the concerned persons have moved court in the UK. "They need a valid travel document," an MEA spokesperson said, adding that "we play by the international rules".
While May held her ground on student visas, she has offered to relax norms for high-value business travellers. "We have invited the Indian government to become the first government in the world to nominate top business executives for the Great Club - our bespoke visa and immigration service," PM May said.
Extradition of fugitives
Britain has become a favourite destination for Indians facing criminal and corruption charges in India. The joint statement issued after the meeting of the two leaders signalled more cooperation on this matter.
"The two leaders agreed that fugitives and criminals should not be allowed to escape the law. They expressed their strong commitment to facilitate outstanding extradition requests from both sides. In this context, they directed that the officials dealing with extradition matters from both sides should meet at the earliest to develop a better understanding of each country's legal processes and requirements; share best practices, and identify the causes of delays and expedite pending requests," the statement noted.
May herself added: "We have agreed to establish a strategic dialogue on Home affairs issues, covering visas, returns, and organised crime."
It is learnt that India handed over a list of 157 individuals who have either taken refuge in the UK to evade the law or against whom evidence is sought under the mutual legal assistance treaty, including Vijay Mallya, Lalit Modi and the Navy War Room leaks kingpin Ravi Sankaran. May, on the other hand, has sought extradition of or evidence about 17 individuals.
According to informed sources, the PMO is taking an increased interest in ensuring extradition requests, especially on Mallya, are honoured, and that the government has made it clear that India is not happy on the UK's stance on such requests, most of which get entangled in legal processes.
Recently, an Indian, Samir Patel, an accused in the Gujarat riots, became the first individual to be extradited to India. Sources had pointed out that his extradition was successful, for he did not challenge the order.
UK Minister of State for Immigration, James Brokenshire, in his February visit to New Delhi, meanwhile, had made it clear that it was for the British courts to decide on these matters, even when he assured that pending matters could be taken up on a case-to-case basis.
Other areas of cooperation
According to the MEA, both sides also discussed their defence ties, with PM Modi asking for partnerships between companies in the UK and in India - after the government liberalised FDI norms in the defence sector.
"I encourage British companies to look at multiple opportunities in the Indian defence sector. Looking beyond trade in defence equipment, I invite them to build a partnership with the Indian enterprises that focus on manufacturing technology transfer and co-development," Modi said.
May, speaking at the India-UK tech summit, remarked: "We are helping India improve its ease of doing business, but I am determined to go further."
Masala bonds worth 600 million pounds, issued by the state-backed Indian Railway Finance Corp., Indian Renewable Energy Development Agency, Energy Efficiency Services Ltd and the National Highways Authority of India are expected to be listed in London by January.
May also supported the 'Startup India' initiative, according to the joint statement. "Prime Minister May also announced that the UK is investing over £160m across 75 start-up enterprises, which would create jobs and deliver critical services across several states in India. She announced an additional 20 million pounds for a Startup India Venture Capital Fund. The fund will support 30 enterprises and leverage additional 40 million pounds capital from other investors, including UK venture capital funds," it stated.
Edited by Shreyas Sharma
More in Catch
FDI from UK to India in dwindling: Facts & figures as Modi & Theresa May talk shop
Theresa May to bring up 'identify & repatriate' policy on India visit