Strangers flying from Gatwick to Mexico caught having sex on Virgin Atlantic flight, join Mile high club‬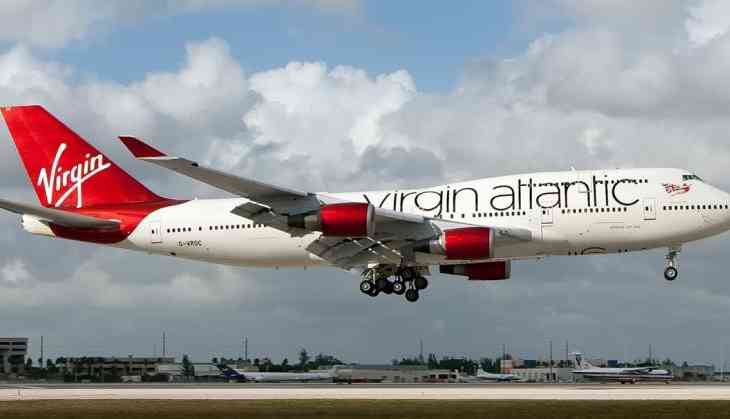 Two strangers joined Mile High Club on Saturday while they were on boards in Virgin Atlantic flight. The duo was caught by an air stewardess while they were in mid-sex-act.
That was a Cancun-bound flight which took off from Gatwick airport in south-east England.
Reports claim that the passengers were caught in the act in the plane's toilet. The strangest part was that they did not know each other before boarding the Boeing 747 on a trip to Mexico.
The duo went along well after they boarded the plane. No more than 10 minutes later, they headed together to the onboard bathroom.
A moment later went together to the onboard bathroom. A suspicious flight attendant opened the door and caught the two in a sexual act while the plane was in mid-air.
A video went viral, where the stewardess was seen scolding the two passengers.
The angry attendant was seen screaming at the couple. She said, "Would you jeopardize your holiday ?" the angry flight attendant asked the man, who looked embarrassed. The man further tried to explain that the woman had fallen sick, but the attendant quickly snapped back saying, "You're not even traveling together. Why were you in there?"
Later, both of them were escorted back to their seats, giving other passengers on board their moment of fun.
One of the passengers on board in the same flight shared that the woman was drunk when she boarded the plane.
He even quoted, "The moment she entered the flight we knew there was something wrong with her, she was inebriated state and tried being friendly and even approached my friend and me for a chat."
They even described that the woman when not paid heed by them headed towards a guy a sitting across the aisle from her. Both of them were in their 20s.
She entered the flight along with another female friend and was accused of throwing drinks around the cabin. On landing in Mexico, the women were detained by police.
Virgin Atlantic said in a statement. "The safety and well-being of our customers and crew is our top priority, and we won't tolerate any behavior that compromises this."
Also Read:This is why women regret casual sex more than men