Series of blasts in Kabul: Twitter updates minute-by-minute graphic details, see inside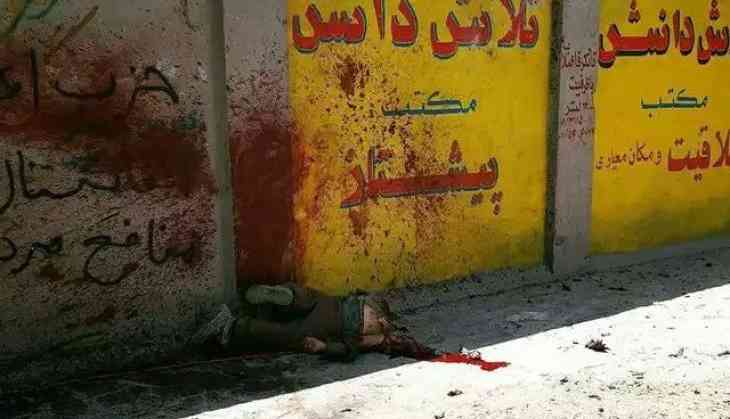 A suicide bomber allegedly on the run blew himself on a main road's footpath in west Kabul
Loud explosions rocked Afghanistan's capital, Kabul today. From a couple of months, Taliban and an ISIL affiliate have carried out a series of massive attacks.
The explosion was confirmed by Kabul police spokesman Hashmat Stanekzai confirmed, he said, " A gun battle was under way there."
He also added that explosion happened close to different police station. Immediately there's no information about the casualties but other officials said several people were killed in the attacks.
#BREAKING #Kabul under heavy attacks. 2 attacks in Shah-e Naw and Wazir Akbar Khan. Ongoing gun fire. Several suicide attacker also entered Police dis 13 in the west of #Kabul. All journalistsshould be super careful as they might be targeted too.

— Massoud Hossaini (@Massoud151) May 9, 2018
#BREAKING
The suicide attacker in pictures intended to target a famous business center located in western Kabul PD6 cooked himself off before reaching the target, at around 50 meters from the mentioned target.
Thank God, No casualties.#Afghanistan pic.twitter.com/wzNdVtCQNr

— AfghanistanMyPassion (@AfgPassion) May 9, 2018
Afghanistan government and security forces have been usually targeted by Taliban and the Islamic State of Iraq.
Last week there was twin suicide attack which killed at least 25 people, including 10 journalists.
From my rooftop, I see the smoke rising from the site of the third explosion in PD 13 of #Kabul city. This one is close to a shopping center and at a crowded street. I see ambulances and people rushing to schools to take out their children. Another bad day for Kabul!#Breaking pic.twitter.com/I893lbtga7

— Jalil Pazhwak (@Jalilpa) May 9, 2018
#Afghanistan: Blasts hit Kabul's PD13 and Qala-e-Fatullah area. Security forces surrounded the area and clashes ongoing in Dasht-e-Barchi area: TOLOnews pic.twitter.com/0HiPxjY73A

— ANI (@ANI) May 9, 2018
This year there was an attack on a voter registration centre, killing eight soldiers.
#Explosions Reported In #Kabul, Casualties Fearedhttps://t.co/aTaxxhag1k pic.twitter.com/2XmC7VaavE

— TOLOnews (@TOLOnews) May 9, 2018
This is the suicide bomber who was on the run and blew his explosives up right here on a main road's footpath in west Kabul but luckily nobody got hurt. #Kabul pic.twitter.com/gpg9El5bLB

— Ehsanullah Amiri (@euamiri) May 9, 2018
The first attack happened outside a police station in the west of the city, a suicide bomber blew himself up outside.
#Kabul-explosion Share Now #kabul pic.twitter.com/ncLndrQjl6

— Hussain Sadat (@husain_sadat) May 9, 2018
After Explosions; Kabul city blocked! pic.twitter.com/51DrHYKUBo

— Muslim Shirzad (@MuslimShirzad) May 9, 2018
The second attack happened in front of police precinct 10 in Shar-e-Naw in central Kabul.
General John Nicholson, who leads US and NATO forces in Afghanistan, said, "Previously protecting Kabul was a priority for foreign troops. But preventing attacks would be challenging in the sprawling city that is poorly mapped and extremely porous."
Also Read:Two new volcanic eruption in Hawaii's Kilauea, forcing further evacuation