Second Presidential debate: Trump saves face, Clinton holds her own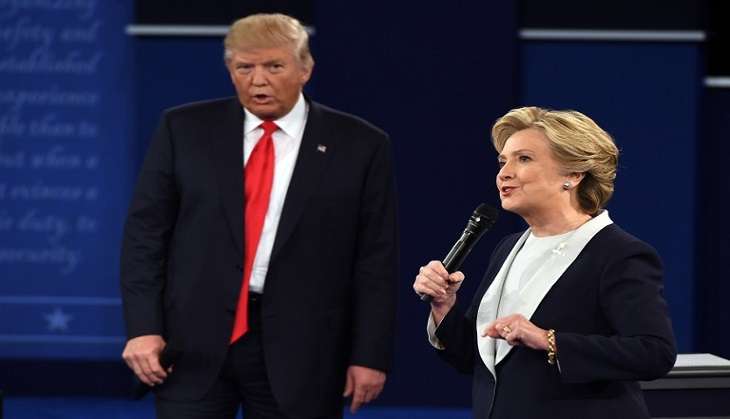 It was a debate far removed from the first. Maybe it was the format. The first was a classic debate format. This one was a town hall (with questions from the audience and the internet) moderated by Anderson Cooper of CNN and Martha Raddatz of ABC News. A man and a woman moderating while Donald Trump and Hillary Clinton faced off.
CNN\'s poll of \'debate watchers\' had Clinton easily winning 57%-34%. 67% thought Trump did much better than expected while only 32% thought Clinton did better. A YouGov poll of 812 registered voters who watched the debate had Clinton beating Trump by a slim margin of 47%-42%.
While Trump - coming off one of the worst weeks for any Presidential candidate ever - may have tried to douse the fire from the release of multiple tapes that contained lewd comments, tried to shift the debate to ISIS. But the winner of the night may well have been outside the debate. Samsung came in with the sneak attack, and as some say, timed it to perfection.
Winner of the debate- Samsung and its press release on the Galaxy 7. #debate

— Carol Roth (@caroljsroth) October 10, 2016
Samsung exec: "did donald trump just say some insane shit?"

PR guy: "yes sir"

Exec: "ok push out the release" https://t.co/4uqQpP7Hof

— ಠ_ಠ (@MikeIsaac) October 10, 2016
Samsung sent out a press release announcing the halting of production on its newest smartphone - Galaxy Note 7. "We are working diligently with authorities and third party experts and will share findings when we have completed the investigation," Samsung told The Verge, after a fifth replacement device in just the last week caught fire in the USA.
Twitter announced that this was the most-tweeted debate ever and the top three tweeted moments are as follows:
Trump says he disagrees with Pence with regard to Syria policy
Trump says he's a gentleman
Trump says Hillary would be in jail in his administration
Trump had the sniffles and was creepily lurking behind Clinton. Clinton, on the other hand, didn't go for the kill. Some say that was good for the campaign (because there are less chances of Trump being replaced with a stronger GOP candidate). Others say that this was Hillary's chance to show that she was ready with an answer and defense to everything the GOP threw at her and finally be ready to take on the job of the President of the United States.
Here is what went down at the second Presidential debate at Washington University in St. Louis:
04
The tapes, respect for women and ISIS
Trump has had a tumultuous week with the release of not one but multiple tapes containing lewd comments . It wasn't supposed to be a topic at the debate, but Cooper and Raddatz just couldn't resist it. Cooper pressed Trump on the 2005 recording which showed him boasting of sexually assaulting women. "You've bragged that you've sexually assaulted women," Cooper said. Trump immediately denied it. "This was locker room talk. I'm not proud of it. I apologise to my family. I apologise to the American people. Certainly I'm not proud of it... You know when we have a world where you have ISIS chopping off heads...."
Cooper pressed on the tapes though, unperturbed by the ISIS talk. "Are you saying that you've never assaulted women?" Trumps' response, ""I have great respect for women, nobody has more respect for women than I do". Cooper asked one last time, "Have you ever done those things?" Trump was just like, no. "No I have not. I'm going to make our country safe."
They're replaying Trump's "well, that was locker room talk, but then again, look at *ISIS*" answer & it is reallllly not a good answer.

— emily nussbaum (@emilynussbaum) October 10, 2016
The subject of emails came up and Trump was quick to pounce on Clinton. And Clinton was just as quick to admit her fault . Trump cut her off saying she didn't know what the letter "C" meant. "There is no evidence that any classified information ended up in the wrong hands", she said. Trump once again tried to attack saying that she was 'lying' and what she did was not just 'fine'. "She said...what she did, the e-mail, was fine. You think it was fine? I don't think so."
Trump vowed to put Clinton in jail if he was elected President of the United States. Trump said he would appoint a special prosecutor to look into Clinton's use of emails because she had endangered national security. He even said that Hillary had 'hate in her heart' and that she was 'the devil'.
"You know it's just awfully good that someone with the temperament of Donald Trump is not in charge of the law in this country," Clinton said. Trump shot right back: "Because you'd be in jail."
"Okay, Donald, I know you're into big diversion tonight, anything to avoid talking about your campaign exploding and the way Republicans are leaving you," Clinton said. This came after the debate moderators asked him to stop interrupting her.
Clinton: "Everything you've heard just now from Donald is not true. it is sort of amusing to hear someone who has not paid federal income tax in 20 years say what he's going to do. Donald always takes care of Donald and people like Donald". "People like Donald who paid zero in taxes, zero for our vets, zero for our military, zero for health and education.. that is wrong."
What Trump did wasn't wrong though. He just used his $916 billion in loses to avoid paying federal income tax.
"Of course I do," Trump said, upon being asked whether he used his declaration of loss to not pay taxes. "Of course I do." "And so do all of her donors," speaking of Warren Buffet. "I understand the tax code better than anybody that's ever run for president," Trump continued.
Huffington Post once again had a lie counter for all of us. During this debate, Trump outscored Clinton 9-1. Not a lot of lies but another victory for Clinton.
The pivotal moment in the debate was when Trump disagreed with running mate Mike Pence. Raddaatz wanted to remind Trump about what Pence said. "Pence said that if Russia continues airstrikes along with the Syrian forces of Assad the USA should be prepared to use military force..." Trump responded with a straight face, "He and I haven't spoken and I disagree. I disagree. We should knockout ISIS".
Pence didn't tweet all night long and rumours were flying fast that he will be pulling out from the ticket. Pence has cancelled a fundraiser for Trump in New Jersey. According to campaign manager Katrina Pierson though, both spoke to each other and Pence will not be dropping out. Still, no one would be surprised if he were to jump from a falling plane before Donald. Oh, and in latest news, sources are saying that the Speaker of the House, Paul Ryan, has "discussed revoking his Trump endorsement" but hasn't made a decision yet.
One of the best tweets on the debate was this succinct summary.
I'm a Muslim, and I would like to report a crazy man threatening a woman on a stage in Missouri. #debate

— Moustafa Bayoumi (@BayoumiMoustafa) October 10, 2016
Trump may have saved face and avoided complete disaster (having to drop out) but Clinton held her own and that was significant. Undecided voters may still be undecided but after tonight's debate it seems that no Clinton supporter will be switching sides. Some Trump supporters may just.
CNN political correspondent Van Jones summary: "My scorecard for Trump. He minimised sexual assault; he threatened to jail Hillary Clinton. He praised Assad and Putin. He thrashed Pence, He promoted Islamophobia and it was his best day in a week. That's Donald Trump for you"!