Sartaj Aziz to visit India for Afghan summit: is this the Donald Trump effect?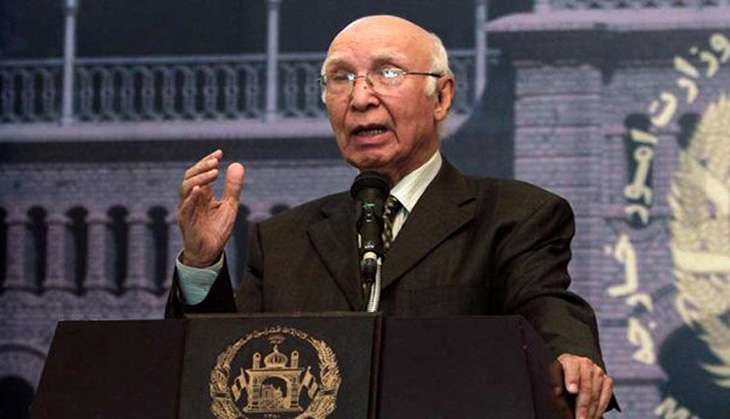 Sartaj Aziz, the powerful foreign affairs advisor to Pakistani Prime Minister Nawaz Sharif, is set to visit India for the Heart of Asia Summit in Amritsar.
"I will participate in the Heart of Asia meeting in Amritsar," Pakistani media quoted Aziz as saying. "It's a good opportunity to defuse the tension."
His statement comes a couple of weeks before Pakistani Army chief Raheel Sharif is expected to retire, and soon after Donald Trump's victory in the US Presidential elections.
Pakistan's Afghan anxiety
This is also not the first time Aziz has expressed his desire to attend the Heart of Asia Summit, a grouping to discuss the Afghan situation. And that gives away the primary reason why Pakistan is keen to attend the conference.
Aziz hinted as much during his interaction with the Pakistani press. "Heart of Asia is for Afghanistan, and Afghanistan is our priority," he said.
Earlier, in April, Aizaz Ahmed Chaudhary, the foreign secretary of Pakistan, had visited New Delhi to attend the senior officials' meet of the Heart of Asia dialogue.
This signal is clear - that Pakistan has taken a serious note of the situation on the Line of Control, where India has been able to consistently counter ceasefire violations, inflicting major casualties.
Recently, in an unprecedented move, the Pakistani establishment, while accepting that seven of its army personnel have died in Indian firing, lodged a protest.
Moreover, it has been six months since the two sides have been in this deadlock of a situation, with things hotting up on the LoC. However, informed sources say there's external pressure on both countries, and as such, things are not expected to escalate.
A security expert points out that now that it's winter, things on the LoC will calm down any way.
"It is a classic policy of one step forward, two steps back," the expert says.
Afghanistan's stand
The fact that India and Afghanistan have a clearly articulated stand on terrorism originating from Pakistan has also rattled Islamabad.
Afghan President Ashraf Ghani, who started his term with several moves to cosy up to Pakistan, has grown frustrated after the outreach did not result in any tangible progress on the peace process with the Taliban.
The violence in Afghanistan has only grown in recent months, with Afghan authorities pointing to the role of groups being patronised by the Pakistani security establishment.
The Trump factor
After Trump became President-elect of the US, the Pakistani press has reporting on the anxiety in the country's establishment, especially due to his hard talk on terror.
"[Aziz's] statement could be a signal to the upcoming US administration that Pakistan is flexible and willing to talk," says a security expert.
Trump's election could also change the global and regional security dynamics, since he has also been talking about taking on China, which is grappling with its own economic slowdown.
"Trump's outreach to Russia is significant. And even if it were to fructify partially, it will change the dynamic. The Russians are working closely with China, but they have been signalling that they are not in a very comfortable spot," a diplomat says.
Moreover, the Russians are also warming up to Japan, which could lead to an interesting quartet of India, Russia, Japan and the US. Japanese PM Shinzo Abe will be meeting Trump soon, and then Russian President Vladimir Putin in Peru, in what is being termed as an important event. Abe termed it a 'high value opportunity'.
Couple of weeks to clarity
Diplomats and security experts say Pakistan is grappling with internal strife and uncertainty precipitated by the anxiety over who would take over from Raheel Sharif as the Army chief. The outgoing chief's carefully-crafted larger-than-life image has taken a beating after a spate of terror strikes and sectarian attacks in Pakistan.
Prime Minister Nawaz Sharif, too, is in a tight spot over the Panama Papers investigations, with the court seemingly in no mood to allow him to bide his time.
Therefore, it would be foolhardy to read too much into all this.
Things are expected to become clearer in the next couple of weeks, once the new army chief is named.
Edited by Shreyas Sharma
More in Catch
Donald Trump's 'illegal immigrant' threat may hit Gujarat's NRIs hard
The impact of Trumpistan on the 'Polarised States of America' and the world
Three good reasons to worry about Trump having the nuclear codes