Aboriginals, Sikhs, 50% women: Canada's new cabinet is awesome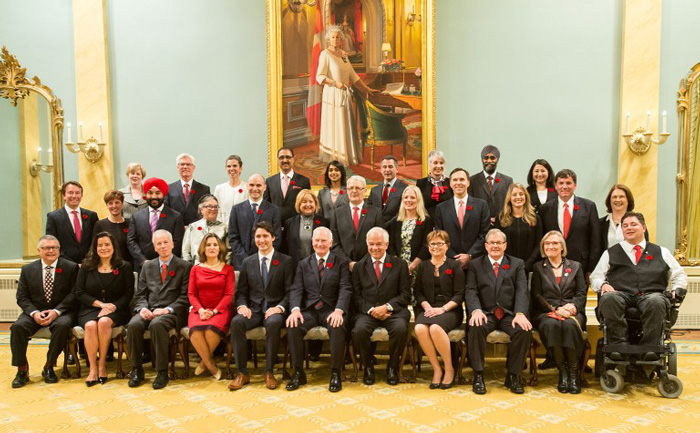 Chew on these facts about the recently concluded Canadian general election:
1) 10 Muslim MPs were elected, the most in the history of the Canadian parliament.
2) 10 aboriginal Canadian MPs were elected, the most in parliamentary history.
3) Two thirds of Canada's MPs are first-timers.
Clearly, Canada is embracing change. By voting overwhelmingly to dump Stephen Harper's Conservatives and elect Justin Trudeau's Liberals, this couldn't be clearer. And while the realities of politics will ensure that actual change takes far longer than anyone would like, Trudeau's initial moves have been promising.
In keeping with the voters mandate for a new Canada, Trudeau has appointed a Cabinet that he says "looks like Canada". Despite Trudeau trimming the Cabinet, from Harper's 39 to its present strength of 30, Trudeau will lead one of Canada's most diverse Cabinets.
It's Raining Women
Trudeau's most obvious, and thus far most celebrated, move has been to bring gender parity to the Cabinet. Of the 30 Cabinet members, Trudeau has selected 15 women. This has made Trudeau the media's darling, especially after he did this:
Even so, it should be noted that Harper's cabinet, with 12 women, was hardly lagging behind. Still, in terms of percentage, Trudeau's cabinet is ahead of Harper's with 50% representation for women.
While lauding Trudeau for it is well and good, he's only keeping up with the Canadian electorate that has put a record number of women into Parliament. With 88 women elected in 2015, over a quarter of the strength of the Canadian parliament is made up of women. The vast majority of these women MPs (50) hail from Trudeau's Liberal party as well, showing a swell of support by Trudeau's vote bank for precisely this.
Read- Nepal Constitution: take everyone along, or prepare for crisis
This trend is merely a continuation of Canada's recent voting pattern, with the previous parliament also consisting of a then-record number of women (76).
Trudeau hasn't handed his women cabinet members just any portfolios either. Important portfolios have been handed to women. From Health (Jane Philpott) to Justice (Jody Wilson-Raybould), it's clear that Trudeau is pushing for women to break through at the highest levels of Canadian politics.
A cabinet that looks like Canada
Trudeau's cabinet is also remarkable for the sheer ethnic diversity represented in it. When Trudeau called it a cabinet that "looks like Canada", he wasn't kidding. Trudeau has made sure to represent the various migrant communities that have made Canada their home.
The cabinet has 3 ministers who weren't born in Canada. One of them, Maryam Monsef, is also the first Muslim cabinet member in Canada's history. At age 11 she, along with her widowed mother and two sisters, fled from Afghanistan to Canada. Today, at the age of just 30, she's the youngest of Trudeau's ministers.
Similarly, Amarjeet Sohi, Canada's new infrastructure minister, was born in India and was even wrongfully imprisoned in Bihar for close to two years on terrorism charges. This was in 1988 on a visit to India, some 7 years after he had immigrated to Canada.
If Canada wanted change, new PM Justin Trudeau's giving them just that, starting with an amazingly diverse cabinet
No less than Canada's new Defence Minister was also not born in Canada. Harijit Sajjan, a decorated soldier who has served multiple tours of Afghanistan, only moved to Canada at the age of five.
This is in sharp contrast to the amount of coverage the origin of Barack Obama has drawn just across Canada's southern border. These choices showcase Canada's desire to establish itself as a cosmopolitan and inclusive country.
In fact, Sajjan and Sohi are only two of the four Sikh ministers in Trudeau's cabinet, showcasing the increasing influence of the Sikh community in Canada.
It isn't just migrant communities who make up the diversity of the Trudeau cabinet. The aboriginal community of Canada, one that has been marginalised, sees two ministers enter the cabinet. While Hunter Tootoo will take charge of fisheries, Jody Wilson-Raybould will take charge of the Justice Ministry.
Not diversity for the sake of diversity
Trudeau has made a conscious effort to keep his cabinet diverse. Even so, most of his appointments have serious professional standing in their respective portfolios. Take for example Jody Wilson the Justice minister who was previously the country's Crown prosecutor. Wilson has been given the portfolio despite her relative lack of political experience.
Harijit Sajjan's military experience has also been preferred to more politically-savvy alternatives for the Defence portfolio.
He isn't the only one though, Bill Morneau, Minister of Finance is a successful businessman with no prior history in politics. Jane Philpott (Health) is a veteran physician as well while Science Minister Kirsty Duncan is a medical geographer.
Also read: Bobby Jindal is foolishly conservative. Why do we claim him?
Disability does not seem to affect Trudeau's faith in an individual's ability to get things done either. Canada's minister of Sport is Carla Qualtrough, a legally blind Paralympian who won medals internationally for swimming. Kent Hehr, Minister for Veterans Affairs was paralysed following a drive-by shooting.
The end result of Trudeau's inclusivity is a cabinet that cuts across age, gender, political experience and ethnic backgrounds.
Yes, it's just the beginning, but if Canada wanted change, they certainly seem to have got that with Trudeau's new cabinet.