PM Modi not interested in helping farmers: Rahul in Madhya Pradesh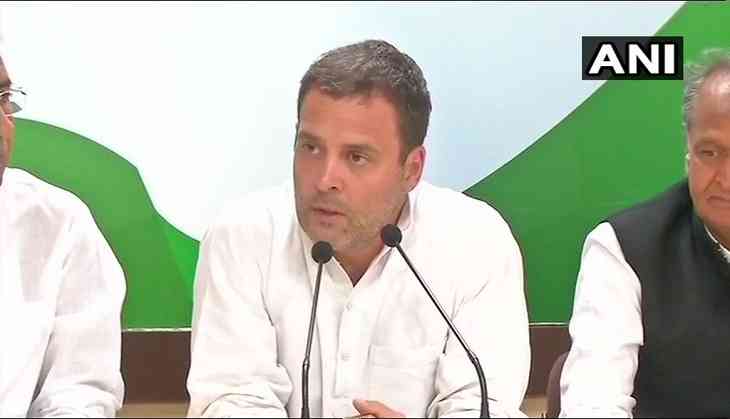 Congress president Rahul Gandhi on Monday took a pot shot at Prime Minister Narendra Modi, saying that he was only interested in helping rich businessmen and not the farmers.
Addressing a rally here, Gandhi said, "I went to PMO (Prime Minister's Office) only once. I told the Prime Minister, farmers are requesting him to waive-off their farm loan. I told him I know he wants to write-off the bank loans of the rich but he should do it for farmers too. He didn't utter a word."
The Nehru-Gandhi scion said that Prime Minister Modi has no space in his heart for the oppressed and women, but only for big industrialists like Punjab National Bank (PNB) scam key accused Nirav Modi and Mehul Choksi.
"Prime Minister has no room in his heart for oppressed and women. He has room only for industrialists. Mehul Bhai, Nirav Bhai, Anil Bhai, Lalit Bhai, he never calls farmers and labourers 'Bhai'. Have you ever heard Modi ji calling poor 'Bhai'? Never. If he isn't in suit-boot, he isn't 'Bhai'," said Gandhi.
The Assembly polls in Madhya Pradesh will be held on November 28 to elect representatives of the 230 constituencies, and the Congress party is eyeing on, what it calls, the farmers' anger against the ruling Bharatiya Janata Party (BJP) government in the state.
Over the last few months, the state has witnessed multiple farmers' protests.
The counting for single phase assembly polls in the state will take place on December 11. The election in Madhya Pradesh is being seen as a direct political battle between the incumbent BJP and the Congress.
Chief Minister Shivraj Singh Chouhan-led government will try to win for the fourth consecutive term, while the Congress will be fighting to regain power after 2003.
-ANI