#ParisAttacks: All Muslims I know dislike the Islamic State as much as I do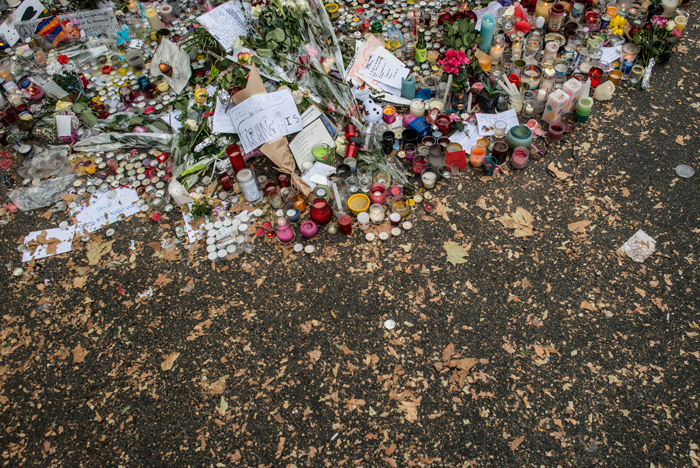 The beginning
Facebook, Twitter broke the news of the Paris Attack
Soon normal life came to a halt
The crescendo
People had to stay put where they were
A State of Emergency was soon declared
More in the story
How the French got back to being themselves
What are the bigger issues here
I was returning from a few nocturnal lengths at the swimming pool when I saw the first message on Facebook.
A friend who lives in the 10th arrondissement had posted a warning: "Friends, there has been gunfire in the 10th and 11th arrondissements, please stay home."
Also read - Finally, a heartening turn of events: Kurdish forces oust ISIS from Sinjar
It seemed both a good advice and strange news, but nothing big at that point - some gunfire heard by a few. But the word spread soon and there were the police and the Army on the streets of Paris.
My 16-year-old neighbour was hosting a party on the sly for his friends. They found out about the attack almost immediately from Facebook. "Only the generation not used to checking Twitter or Facebook every half-an-hour came to know later," he told me.
The immediate reaction of my neighbour and his friends was to scream and panic. Rumours were rife. Later they told me that well before the deadly ending at the Bataclan, they heard about 100 casualties. In fact, the numbers of attacks were expected to reach 13 as it was Friday the 13th.
Out of bounds
All my neighbour's friends were from the 11th arrondissement. They wanted to go home, see their parents. But that part of the town was cordoned off, and the metro line to there shut.
I asked them not to move. They called their parents - some of whom heard about the attack for the first time; all of them heard about the party for the first time.
The parents panicked, too. They asked the kids to stay where they were as it wasn't possible for them to pick up their kids until the next morning - everybody in Paris had been asked to stay where they were.
Interestingly, some of the kids found Uber drivers who volunteered to take them home for dozens of Euros. The party was wasted but as they were anyway there, they kept some techno music on together and had some cosy chats.
'All Muslims I know dislike the Islamic State as much as I do'
Most of my Parisian friends also remained in the 10th and 11th arrondissements. Many of them were stuck in restaurants with curtains drawn, till early morning. The network was saturated and people had difficulties reaching each other.
My younger sister, who was supposed to be home in Montreal, was actually in Boulevard Voltaire at a friend's flat just next to the Bataclan. I came to know via Facebook, where a friend of hers updated her statue to "Safe, Boulevard Voltaire". Fortunately I could speak to her on the phone.
Invasion of happy spaces
The feeling of unease grew as the situation became clearer: Terrorist attacks used to be about bombing public spaces. Now terrorists walk in to places I frequent with friends, my dad, sisters, even young nieces; places where Parisians go to relax and socialise and have fun - a football game, a Cambodian restaurant, a bar, a concert hall - happy places. And they start shooting. This is the definition of terror.
Around 11pm came the most horrifying news of the evening: more than 70 killed at a concert hall - a place where I had been for a Chichi Peralta merengue concert, as if yesterday, with a close friend who now lives in Delhi.
In pictures: Devastating images of Paris after the terror strikes
The President went there with few members of the government. Then he came on the TV to declare a State of Emergency: A state in between normalcy and the State of Siege - one that can be defined as a reinforcement of administrative authorities powers. It includes a curfew, which hasn't been applied, a ban on marches and protests and the reintroduction of border control.
This measure had already been decided, in anticipation of CoP21 and was meant to be applied for one month. Its aim was to secure the Summit by controlling who was entering and leaving the territory.
Many French people were reminded of Hayat Boumediene, wife of the Kosher supermarket hostages taker in the chain of events that followed Charlie Hebdo, who left for Syria without any trouble last year.
The bigger picture
Actually, I feel that border controls are still okay. What would not be okay is the the identity check with ethnic profiling in Paris that we all know would happen widely in the coming months.
I wonder how the different security agencies of the government will deal with CoP21 at the end of the month.
I remember the Charlie Hebdo march with Presidents Abbas, Hollande, Prime Ministers Merkel, Cameron, Renzi and Netanyahou - the latter flanked and covered by two bodyguards holding him by their arms all the time.
The security agencies made it almost miraculously safe. It was impressive, but only for a few hours. Will the leaders be able to come out like that at the Climate Change Summit?
I also remember how the crowd at the march celebrated the police, whom the French people - including me - usually love to hate. So many of them died in service during the terrifying events.
The state of Emergency means the closure of all public spaces managed by the city government for a few days: museums, outdoors markets, schools, libraries, music academies and of course the 38 swimming pools of the Capital, like the one I went to the day before.
The comics I planned to borrow from the library will have to wait a few more days. But the arrondissement city halls will still celebrate weddings. (Here, I would like to put a heart smiley.)
Debates will be on
Finally, the Islamic State owned up responsibility for the attack. While a Syrian passport was found near one of the Kamikaze, another one was identified as a French citizen. Of the others, no one knows anything at the moment.
Most Muslims I know, I would say all Muslims I personally know, practicing or otherwise, fear and dislike the Islamic state as much as I do.
I don't forget how many Syrians are fleeing the Islamic State. We know it will lead to debates about refugees, about migrants and about Islam.
The debate about refugees until now has mostly been on how European countries who still feel the effects of the crisis have the ability to sustain refugees. There are people who claim refugees have rights and those who don't believe so. Those who believe refugees are here to take advantage of the welfare state and those who know they would love to be back home.
'World leaders marched together after Charlie Hebdo. Can they do it this time?'
Someone asked on Facebook: after how many such days will we, the Parisian people, flee on a boat and seek asylum in a foreign country?
Yesterday's killers were Kamikaze, those who killed themselves in the end. This raised a societal question none can escape: about our failure as a nation, our failure to integrate a percentage (we may debate what percentage) of the population.
Picking up the pieces
At 1 am the night after, the mother of the 16-year-old neighbour upstairs called me to ask how many of his friends were sleeping over. At 5 am I got a message from a friend who works at a vegetable market, whom I was supposed to meet. She said she wasn't going to work and didn't want to go to Paris.
Anyway, all the markets were closed. I spent the day reading the news, sending and receiving texts and calls, sometimes from abroad, speaking to friends and family. Most of them got on with their lives.
At 4 pm I decided to go buy some food. I live on the periphery of the Capital's biggest supermarkets. Everything was normal. The grey weather added to the deep sad shade of the day.
No army or police was in sight in our town. Even the police station was shut. Perhaps they had been called on duty in Paris?
The supermarket was full of people buying food. Some shops in neighbouring mall were shut and I could see two girls closing their shop, wanting to go home safely before night. I finally decide to cook something decent, a good winter split peas soup, perhaps.
I will go out and meet friends as soon as I feel safe enough and will try to keep going the exact way I used to do.
READ MORE - #ParisAttacks: France should learn from US mistakes post 9/11
#ParisAttacks: Is it ISIL's way of pushing France out of Syria?