Pakistan working on a strategy to bring Jihadis into mainstream: Pak media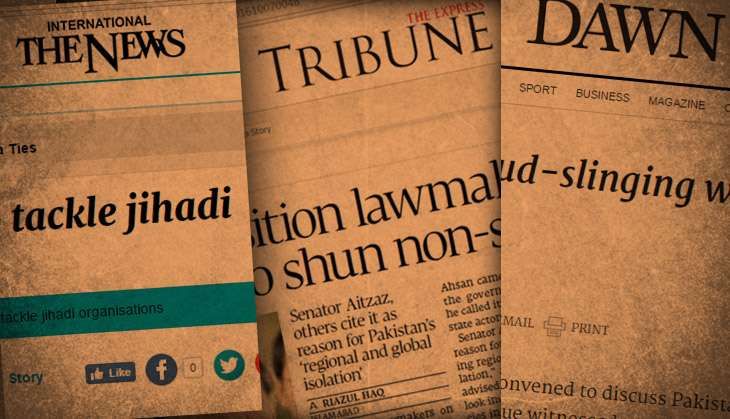 A day after the Pakistani media reported that the civilian government in Pakistan had directed the military to up the ante against terror groups, there is hardly any coverage on the issue on Friday. Even Dawn, the newspaper that had originally reported the government's directive to the army, has no reports on any follow-up developments. There are no editorials and opinion pieces on the issue either.
Occupying prime space in most national newspapers are three other developments.
One, a huge ruckus between government and opposition in the special session of the country's Parliament, convened to demonstrate solidarity on the Kashmir issue.
Two, on a much-publicised meeting between Pakistan Prime Minister Nawaz Sharif and Chairman of NATO Military Committee General Peter Pavel.
The third story is a comment made by Pakistan's Army Chief that the army will not let any aggression go unpunished.
There are a few interesting reports, though, like one in which the Dawn has covered the government-opposition fight from the perspective of Pakistan's isolation in the international community. The newspaper reports that Leader of the Opposition in the Senate Chaudhry Aitzaz Ahsan said that the government's foreign policy had failed as Pakistan had been left isolated, after several SAARC countries refused to attend the summit that Islamabad was to host.
The Express Tribune's take on the fight in Parliament says that opposition MPs told the government that "non-state actors" were the prime cause of chaos and unrest "inside and outside the country" and the government should shun them.
The News International reports that a strategy was already being prepared to "tackle jihadi organisations", by disarming them and stopping their funding. However, the 3-point strategy, according to the report, will also feature attempts to "incorporate them into the political mainstream" and to promote their welfare activities.
This development, if true, is alarming because many of these organisations like Hafiz Saeed's Jamaat-ud-Dawa run terror as well as large charity outfits. Any effort to accord special treatment to their charity operations only means allowing them to retain their resources which they could divert towards terror-related activities anytime again in the future. The dangers of bringing them into the political mainstream can not be overstated. Imagine a terrorist of today as tomorrow's parliamentarian.