Pakistan needs to change its approach for bilateral progress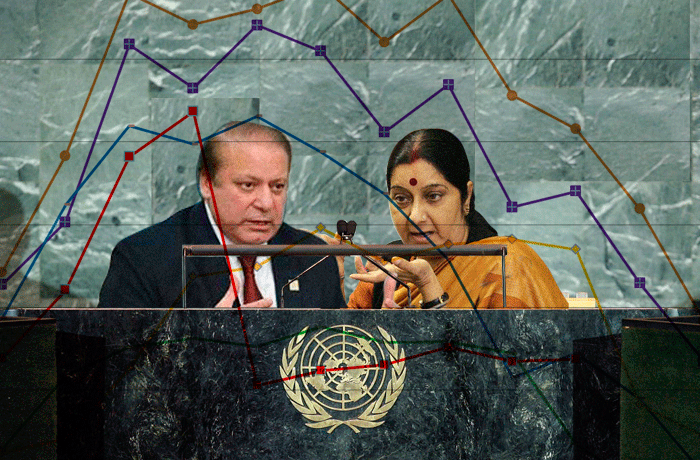 Pak attack
PM Nawaz Sharief brought out the full suite of Pakistan\'s anti-India accusations at the UN
Pakistan does this when it wants to divert attention from internal matters
All propaganda
India stuck to its position that Pakistan must give up terrorism
Indeed, Pak must change its attitude for bilateral relations to go anywhere
More in the story
Pakistan's statement to the United Nations General Assembly (UNGA) at the beginning of each annual session is a barometer of its relations with India.
References to contentious issues, including Jammu and Kashmir, are routine and mild when the prevailing mood is warm and optimistic.
However, if the ties are in the negative zone or if Pakistan wishes to divert international attention from its internal situation, the full range of anti-India accusations are brought out.
On this occasion, Prime Minister Nawaz Sharif displayed "the full Monty" in his address to the UNGA; old charges against India were reiterated and a new one was added.
A new dimension
The Kashmir issue occupies a large and unchanging space in Pakistan's national psyche. It is the anchor of its India policy and, in its view, the main cause of India-Pakistan problems.
At the UN it asserts that the issue can be resolved only through the implementation of UN resolutions. All this was reiterated in Sharif's speech.
He went further to club it with Palestine as a matter of foreign occupation and as part of Muslim suffering worldwide. In the past, too, Pakistan has so characterised Kashmir, but at the UN it only does so sometimes.
Sharif alleged that "our immediate neighbour", meaning India, is fomenting instability in Pakistan. This was the first time when such an allegation was made at the UNGA plenary.
Pakistan has levelled charges of Indian interference in Baluchistan and Khyber Pakhtunkhwa provinces and will distribute a dossier attempting to substantiate these charges.
The purpose of the reference was obviously to divert attention from its cross-border terrorism against India and Afghanistan.
The attempt will not succeed for Pakistan's role in using terrorism as an instrument of state policy and in supporting terrorist organisations is well known.
Propaganda and provocation
Nawaz Sharif's four point proposal peace initiative was completely propagandist and provocative. The latter, because Pakistan knows well that India cannot accept anyone of them.
Prima facie, India should consider the formalisation of the 2003 Cease Fire Agreement, but Pakistan knows that India cannot accept any role for the UNMOGIP (United Nations Military Observer Group in India and Pakistan). By including it, Sharif made his motives suspect.
A call for a reaffirmation of the UN Charter principle of not to use force or threaten to do so is playing to the gallery at one level. But at another level, it is to ensure India does not resort to military means to counter a Mumbai-like terrorist attack in the future.
Sharif's 4-pt proposal peace initiative was completely propagandist and provocative
Pakistan is aware that the Charter gives states the right to self-defence, which includes use of force to deter. Pakistan wishes to use the Charter selectively. Ironically it is Pakistan that has, on at least one occasion, insisted that reference to not use force or threaten to do so be omitted from a joint text.
A clever ploy and a strong rebuttal
A demand for the demilitarization of Kashmir is a clever way of referring to the UN Resolutions on the issue. It is also divorced from ground realities in view of the continuing instigation of cross-border terrorism.
Pakistan has long desired that Indian forces vacate their positions on the Saltoro Ridge adjoining the Siachen Glacier. It is aware that India cannot do so because if it withdraws and Pakistan occupies those posts then the Indian Army will be only able to do so in the course of a full-scale war.
The growing presence of China in Pakistan-occupied Kashmir (POK) has reinforced India's need to remain on the heights. Indeed the time has come to formally take Siachen off the bilateral agenda.
India's response to the phoney peace initiative was clear and forceful. It adhered to its basic position that Pakistan must give up terrorism and India was willing for dialogue, but terror and talks cannot go together.
India also indicated a willingness to go ahead with the Ufa process, thus keeping the door to dialogue open, if it was satisfied that Pakistan was serious and credible on terror.
This was the crux of its reply. The rest were "debating" responses at junior levels. The only noteworthy assertion was that Pakistan must vacate territory under its illegal occupation. Such a point is seldom made though it represents the formal and legal Indian position.
What now
The UN exchange is over. India has come through well with a firm and reasonable approach. Where do the relations go from here? With India having stated a willingness to go ahead with the Ufa process, the ball is in Pakistan's court.
That is the process that the two countries had accepted. Pakistan, by proposing the four points, wishes to divert attention. India should ignore them.
At Ufa, Pakistan had agreed that the talks will be on terror and stabilisation of the LoC and the international border in Jammu and Kashmir. By wanting to discuss other issues during the NSA talks and meet the Hurriyat it ensured that they could not take place. It needs to change that approach.
Vivek Katju was India's ambassador to Afghanistan, Myanmar and Thailand. He retired as a secretary in the ministry of external affairs.