Pak's 'confession' game: now ex-Pak Taliban spokesman claims India supported it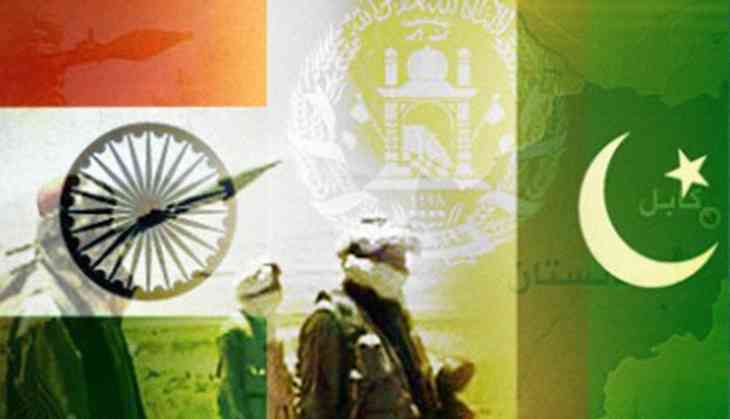 Pushed into a corner over its continued support to terror groups, the Pakistani security establishment seems to be unnerved and working overtime.
In a fresh, albeit expected development, ISPR, the media wing of the Pakistani military, has released yet another video confession, this time of Ehsanullah Ehsan, the ex-spokesperson of Jamat-ul-Ahrar, the dreaded terror group, a breakaway faction of the Tehreek-e-Taliban Pakistan (TTP).
The confession, which comes days after a secret Field General Court Martial sentenced former Indian Navy officer and businessman Kulbhushan Jadhav to death on charges of sabotage and espionage for Indian security agencies, is being aggressively pushed to showcase the complicity of Indian security agencies in fomenting trouble in Pakistan.
And like a scripted public relations exercise, Ehsan is expectedly heard saying all the things that Pakistan accuses India and Afghanistan of – funding terror groups, supporting them in Afghanistan et al.
But it has some glaring contradictions like claims that India provided Pakistani documents to make their movement easier in Afghanistan.
"After the operation in North Waziristan, we fled to Afghanistan," Ehsan says in the confession."Over there, we established and developed contacts with India and RAW.
"They (the TTP leadership) got their (Indian) support, their funding and took money for every activity they did. They pushed the TTP soldiers to the frontlines to fight against the Pakistan Army and went into hiding themselves," the text of the confession carried by several Pakistani media outlets reads.
Interestingly, the video carried by the Express Tribune doesn't show Ehsan mentioning R&AW or Afghanistan's National Directorate of Security (NDS).
Indian government sources refused to attach any credibility to the claims made in the video.
Doesn't hold much ground
Both India and Afghanistan have long held that the Pakistani security establishment is complicit with terror outfits, which have been inflicting attacks in both the countries.
In another blow to Pakistan, a recent Newsweek report quoted senior American security expert Bruce Riedel suggesting that the ISI may be sheltering Al Qaeda chief Ayman al-Zawahiri in Karachi.
A senior Pakistan analyst says while the details of internal strife within the TTP over leadership and the break up of the organisation confirm what the security agencies have been saying, the rest of it doesn't hold much ground.
Another expert explains that the video confession could be in line with Pakistan's diplomatic overdrive. "They are trying very hard to tarnish India with the same brush that New Delhi has been accusing them of by coming up with such confessions," the expert maintains.
The ISI had done a similar exercise with Latifullah Mehsud, the TTP number two, who the Afghans claimed was 'snatched' by the Americans and taken to Bagram. He was later extradited to Pakistan. His confession too, was released in a similar fashion.
And like Jadhav's videographed confession, Ehsan's looks like it has either been taken under duress, or he was completely tutored, according to experts who have seen and read the contents of the confession.
A security expert says it is unlikely that Pakistan would link it up with the Jadhav case and expose itself further. The Pakistani army is struggling to provide credible evidence against Jadhav, who India claims was abducted from Chabahar in Iran, where he ran his business.
Absurd statement
At one point, Ehsan says: "These [terrorists] used to keep in contact with Afghan and Indian security forces before they moved anywhere in the country. They used to grant them passage and guide their infiltration attempts into Pakistan.
"These [terrorist] organisations have established committees in Afghanistan through which they communicate and coordinate with RAW. The Indians had given them special documents to help them move around Afghanistan with ease. In Afghanistan, these documents function like Pakistani ID cards. Without these documents, it is very difficult for terrorists to move around Afghanistan, considering the security situation in that country."
One expert found it absurd as to why these terror operatives would need Indian help with documents in Afghanistan. "It is strange how Ehsan is heard saying that Indians would provide documents that would function like Pakistani ID cards in Afghanistan and make the movement easier. This is absurd."
Why would they need Indian support in procuring documents if the Afghan security agencies were helping them? And if India were to provide documents, why would it give them Pakistani ID cards and not give them Afghan documents, Afghan passports et al?
Differing accounts of Ehsan's arrest
Ehsan, according to reports, was captured by the ISI and kept in detention for many days before he was shown as arrested, according to reports in the Pakistani press. Some reports say he was abducted from Afghanistan, while others claim he was one of the eight JUA operatives that ISPR claimed had surrendered on 5 April. ISPR announced his arrest on 17 April, but did not share other details of where he was arrested from and in what circumstances.
Ehsan, meanwhile, claims: "The reasons I have discussed (in the statement) here turned me away from these organisations and motivated me to turn myself over voluntarily to the Pakistan Army."
India appeals against Jadhav's death sentence
Meanwhile, in the Kulbhushan Jadhav case, the Indian government has repeatedly been demanding consular access. In a fresh development, India's High Commissioner in Islamabad has officially appealed against the death sentence.
Jadhav's family has also requested for visa to be able to go and visit him in Pakistan.