Pak confused: Why Sartaj Aziz's stand on Kulbhushan Jadhav makes little sense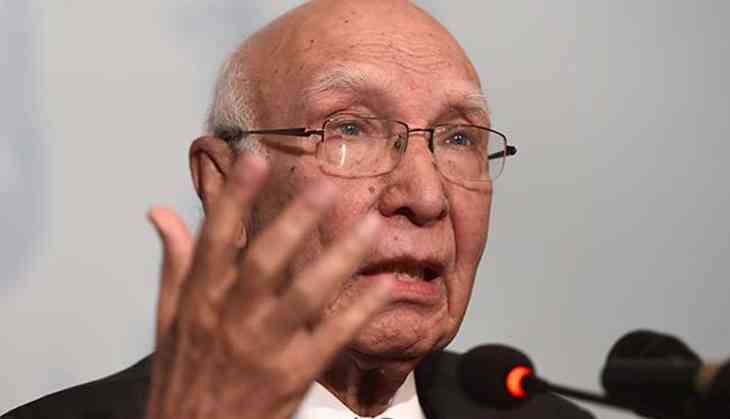 Sartaj Aziz, the powerful foreign affairs advisor to Pakistani Prime Minister Nawaz Sharif addressed a press conference on Friday explaining in detail how Kulbhushan Jadhav, the businessman and former Naval officer accused of espionage and sabotage, has been given a fair trial.
However, Aziz's details raise more questions than they answer. Instead, they put the entire proceedings in a dock and suggest that Jadhav may not have been given a fair trial at all, unlike what the Pakistani government claims.
Aziz, in his Friday presser gave a timeline of proceedings. Kulbhushan Jadhav, according to him was apprehended on 3 March, "after he illegally crossed over into Pakistan from the Sarvanan border in Iran." According to Aziz, Jadhav was found in possession of an Indian passport issued by the government of India on 12 May, 2015 and valid until 11 May, 2024 – that is a period of nine years. Indian passports, when issued have a validity of ten years or five years, meaning Jadhav's passport, if legally issued, should ideally be valid till 11 May, 2025 and not 2024.
Aziz details how Jadhav's confessional video statement was done on 25 March, 2016, a good three weeks after he was apprehended. And a the initial FIR by the Counter Terror Department was only registered on 8 April, 2016, more than a month after he was apprehended.
Aziz then explained how initial interrogation was done on 2 May, 2016, that is two months after he was apprehended.
However, Asim Bajwa, the then spokesperson of ISPR, has held a press conference on 29 March, claiming how Jadhav was a contact man for a senior R&AW officer, and his other operatives in Pakistan was tasked to disrupt development of CPEC, with Gwadar port as a special target, according to a report in Dawn.
Security experts have raised serious questions if Pakistan carried out the initial interrogation only on 2 May, how could the DG ISPR come out with such claims even before Jadhav was interrogated. And this begs the question if he was kept in illegal confinement, and tortured, which led to his confessional video statement on 25 March. Or if Aziz is plainly lying about the whole proceedings?
"The timeline itself shows the farcical nature of the farcical trial carried out in Pakistan," Vivek Katju, a former diplomat points out.
Aziz, in a statement in the Senate, had earlier questioned the evidence against Jadhav and said that it comprised of mere statements. The Pakistan foreign office, had, however, later clairified that Aziz's statement was misreported.
Meanwhile, in India for example, even when a spy is arrested, the law demands that they be presented before a judicial magistrate within 24 hours of the arrest.
In Jadhav's case it took more than a month to even register an initial FIR, according to Aziz's own admission.
However, Jadhav has been tried under Section 59 of the Pakistan Army Act, a draconian law which can be summarily used to shut all other judicial remedies which would otherwise be available if an accused is tried in a civilian court.
Meanwhile, according to the timeline of the events given out by Aziz, Jadhav's detailed interrogation was done on 22 May. And a Joint Investigation Team was announced on 12 July, 2016.
The timeline given by Pakistani Foreign Affairs Advisor also details how a confessional statement under 164 Crpc was done on 22 July, 2016, more than four and a half months after he was apprehended on 3 March.
Aziz did not specify the contents of the confession done under Section 164 unlike the video confession of March which was telecast on TV.
He, however, claimed that Jadhav sponsored attacks in Gwadar and Turbat and other areas in Balochistan. Details of the nature of evidence which link Jadhav to these attacks was not forthcoming from Aziz. Nor did Aziz elaborate on what evidence the Pakistani security agencies have in their possession apart from Jadhav's own confession which proved that he was still a serving officer in the Navy. It is this claim that which led to his secret trial in an army court.
India has demanded that they be provided with the chargesheet and judgment.
It is also bizarre how the Field General Court Martial was carried out without the key evidence that Pakistan had sought from India. According to the version of the processes put forth by Aziz, the FGCM proceedings started on 21 September, 2016, second proceeding took place on 19 October, 2016, the third proceeding on 29 November, 2016 and the final fourth proceeding on 12 February, 2017.
"Letter of Assistance requesting specific information and access to certain key witnesses was shared with the Government of India on 23 January, 2017. There has been no response from the Indian side so far," Aziz said in the presser.
Indian assistance was sought only after the third proceeding. If Indian support was important to the whole case, as Pakistani officials claim, how could the court proceed without those key witnesses and specific evidence?