Pak Army uses Panama Papers to put Nawaz Sharif on the mat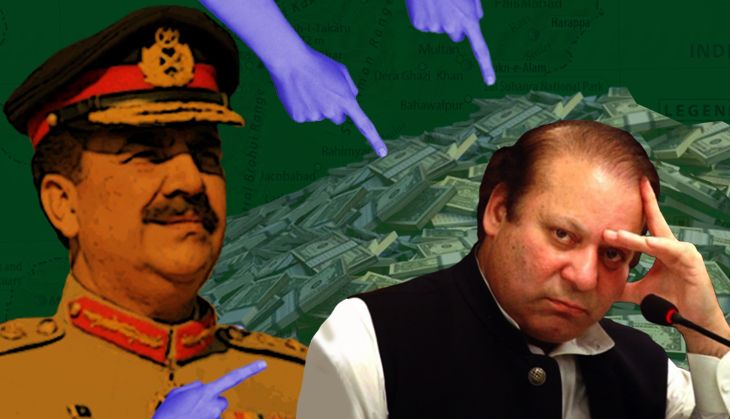 There is little doubt that the Pakistan army is once again putting Prime Minister Nawaz Sharif under great pressure. It is doing so in a sophisticated, though not very subtle, fashion on an issue that the Sharif family is particularly vulnerable-corruption. Two significant and contrasting developments on the corruption issue over the past few weeks have put the army leadership and the Sharifs at odds, the former in glowing light and the latter in dark hues.
The Panama papers revealed that Nawaz Sharif sons Hassan and Hussain and daughter Maryam are the beneficiary owners of offshore companies. These companies have been conduits through for investments abroad including in high-end London residential property. This information revived the widely held impression in Pakistan that the Sharif family has made ill-gotten gains that have been spirited outside Pakistan.
With his children under direct attack Nawaz Sharif took the extraordinary step to directly address the nation to defend his family's record. He recounted the political and financial attacks it had faced for decades but had always cleared its name and had bounced back through hard work and integrity.
He vowed to set up a judicial commission to investigate the Panama papers information. His associates emphasised that the Nawaz Sharif children had done nothing illegal. Strangely in the midst of a political embarrassment Nawaz Sharif went to London ostensibly for a medical check-up!
PM Sharif under attack
As the army watched the developing controversy in initial silence, PTI leader Imran Khan sensed an opportunity to press Nawaz Sharif down. He rejected the idea of a judicial commission headed by a retired judge and has demanded that the matter be handed over to the Pakistan Chief Justice for a probe under a sitting Supreme Court judge. On account of the controversy, no retired judge has yet accepted to head an inquiry commission. There is talk of a Joint Parliamentary Committee to examine the allegations.
As Nawaz Sharif returned to Pakistan Gen. Raheel Sharif entered the fray, though indirectly. He linked the fight against corruption to the struggle against terrorism and emphasised that, "across-the-board accountability is necessary for the solidarity, integrity and prosperity of Pakistan".
To  show that he practiced what he preached reports surfaced on 21 April that Raheel Sharif had removed from service twelve army officers including a three star general, Lt. Gen. Obaidullah Khan Khattak, as well as a two star general and several brigadiers. This step was taken after an army inquiry found them guilty of corruption.
It would not have been easy to go public with the action taken against Lt. Gen. Khattak for he served as the Commander of the army's Strategic Forces Command which is in charge of Pakistan's nuclear weapons. Raheel Sharif has overlooked that questions will be raised about the army's scrutiny processes for appointments in this crucial command, especially for at the commander's level. This demonstrates the negative feeling within the army against Nawaz Sharif.
All this leads to the question: will Nawaz Sharif be able to survive the latest onslaught and, if so, will he retain any political strength. A connected question is about the future of Raheel Sharif who is due to retire in November this year.
Raheel Sharif is immensely popular for the firmness he has shown in taking on the Tehreek-e-Taliban-e-Pakistan (TTP) in North Waziristan and other areas of FATA. He has also taken on the Sharifs in launching army action against Pakistan directed terrorist groups in Punjab after the Easter Sunday Lahore terrorist bombing.
Raheel Sharif's hoardings adorn Pakistani cities but he has announced that he will retire at the conclusion of his term. Knowledgeable Pakistani interlocutors find this declaration credible for they feel that Raheel Sharif will not want any blemish on the memories of his brother and uncle who are Pakistani heroes and were posthumously awarded the country's highest gallantry award in operations against India.
The question then is if the general will want Nawaz Sharif also to go before he hands over to a successor who will be chosen by the Pakistan Prime Minister. Two years ago the army had politically mauled Nawaz Sharif. Imran Khan and Tahir-ul-Qadri were its proxies. That was because it had to show Nawaz Sharif that his popular mandate notwithstanding he should realise his limits when it came to matters that the army considers its domain. Now it will insist that the Panama papers inquiry be thorough and if that leads to Nawaz Sharif having to quit then so be it.
On his part Nawaz Sharif is marshalling his political supporters including like-minded parties. He has indicated a willingness to face "ruthless accountability". However, the leading Pakistan newspaper editorialised today, "Confidence in the Prime Minister and his government stands shaken".
With that Modi's Pakistan initiative is evaporating. Will he still persist with the notion that Nawaz Sharif is a worthwhile interlocutor?
Edited by Aditya Menon
More in Catch:
Abdul Basit's message is clear: Pakistan is on the offensive now
Sailor or spy: is the Indian arrested in Pakistan really an R&AW agent?
Jalalabad attack: Modi needs to give Pakistan a fitting reply