Munich attack: 'acute terror situation' leaves at least 9 dead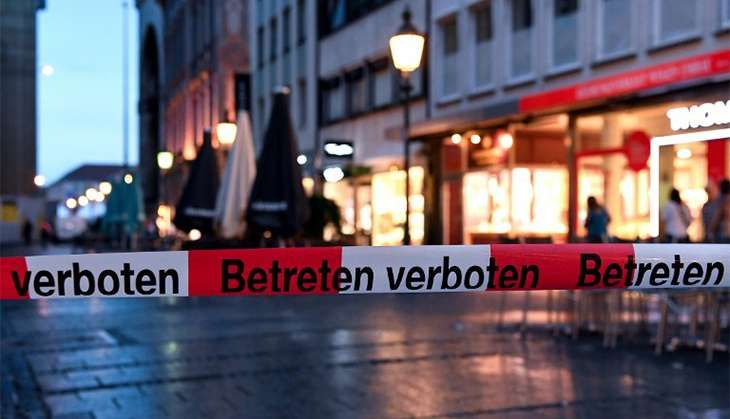 Munich is in lockdown - there are reports of three gunmen on the loose in Munich following a series of shootings in a mall and a metro station. So far, 8 people have been confirmed killed. A ninth body has been found but the police have yet to identify if it is one of the attackers.
UPDATE: #Munich police send robot to investigate suspected shooter's body & backpack https://t.co/tEG2xWBxHP pic.twitter.com/9bpvptPBQq

— RT (@RT_com) July 22, 2016
Sadly there are eight fatal casualties now.#gunfire #munich #oez

— Polizei München (@PolizeiMuenchen) July 22, 2016
We are verifying the possibility of one dead person being involved in the shooting, #München, #oez, #Schießerei

— Polizei München (@PolizeiMuenchen) July 22, 2016
The local police have said at least three gunmen may have been involved in the attack at the Olympia-Einkaufszentrum mall - and warned there could be suspects who are still "on the run and dangerous". The mall is reportedly the largest shopping centre in the southern German state of Bavaria.
Shortly after the Olympia shootings, shots were also allegedly fired in Munich's Marienplatz metro station, an approximately 20-minute drive away.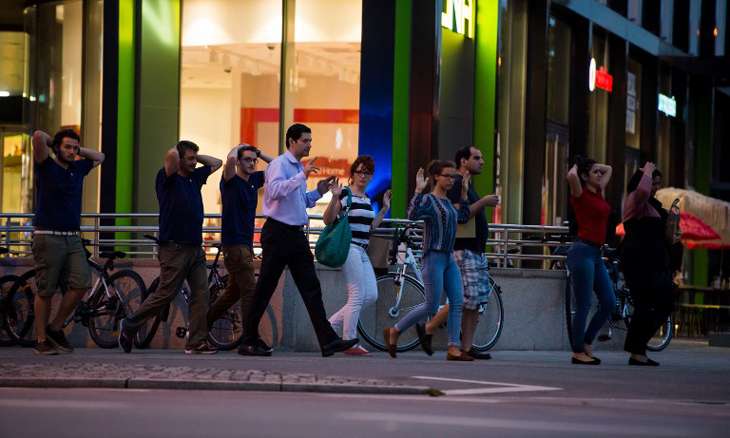 People being evacuated from Olympia mall. (Stringer/AFP)
A video posted on social media allegedly showed a man opening fire outside a McDonalds near the mall:
Raw Video: Munich Shooter https://t.co/vh84TuRN7l pic.twitter.com/TmrdycVNPl

— The Voice of America (@VOANews) July 22, 2016
A spokesperson for the police said that the "acute terror situation" has sparked the biggest police operation in Munich for more than a decade, adding: "We believe we are dealing with a shooting rampage."
Citizens have been warned to stay in their homes.
Also read - After Nice, it's Germany: 17-year-old axe-wielding teen injures 20 on a train
Unconfirmed reports of more violence and possible #gunfire in the City Center. Situation is unclear. Please avoid public Areas. #munich #oez

— Polizei München (@PolizeiMuenchen) July 22, 2016
People stranded by the emergency and unable to get home are being offered shelter by locals. The initiative was launched with the Twitter hashtag #Offenetur (open door).
German newspaper Bild has reported that the police are using armoured vehicles and helicopters for their operation. Several highways north of Munich have also been sealed off by police.
Reuters' video agency Rupty posted a video of survivors leaving the Olympia shopping centre:
Accounts affiliated to the Islamic State have already vaguely claimed the attack. "Thank God, may God bring prosperity to our Islamic State men," said one affiliated account on Twitter. "The Islamic state is expanding in Europe," claimed another.
The attack is the third major act of violence against civilian targets in Western Europe in 8 days. Previous attacks in France and Germany were claimed by Islamic State and the Munich police has said they suspected the latest assault is a terrorist attack.
Just a week ago, an axe-wielding teenager went on a rampage on a German train, wounding four people before he was shot dead. ISIS claimed responsibility for that attack.
Also read -Twitter trolls ISIS: Will it now 'claim responsibility' for missing socks as well?
World leaders and prominent politicians have offered their support from around the globe to the German people.
President Barack Obama said: "Our hearts go out to those who have been injured. It's still an active situation. "Germany is one of our closest allies, so we will pledge all the support that they may need in these circumstances."
UK Foreign Secretary Boris Johnson said: "Deeply shocked and saddened by Munich shootings. "My thoughts are with the victims, their loved ones and all of Germany at this time."
Monitoring the horrific situation in Munich. We stand with our friends in Germany as they work to bring those responsible to justice. -H

— Hillary Clinton (@HillaryClinton) July 22, 2016
It's worth noting that today is the five-year anniversary of attack in Norway by Anders Breivik, a neo-Nazi, who killed 77 people and wounded 319. Breivik is serving a 21-year prison term for his actions, the maximum allowed under Norwegian law. That sentence can be extended indefinitely.
Also, the Olympic mall is next to the Munich Olympic stadium, where the Palestinian militant group Black September took 11 Israeli athletes hostage during the 1972 Olympic Games. The athletes and terrorists were eventually killed during a failed rescue attempt.
More in Catch - 80 dead, 100 injured as truck deliberately rams crowd celebrating Bastille Day in Nice
Circle of death: Dallas proves again that violence begets violence
Istanbul airport terror: As many as 36 dead in suspected ISIS attack