Modi in Israel: Shalom, Namaste and a lot of bonhomie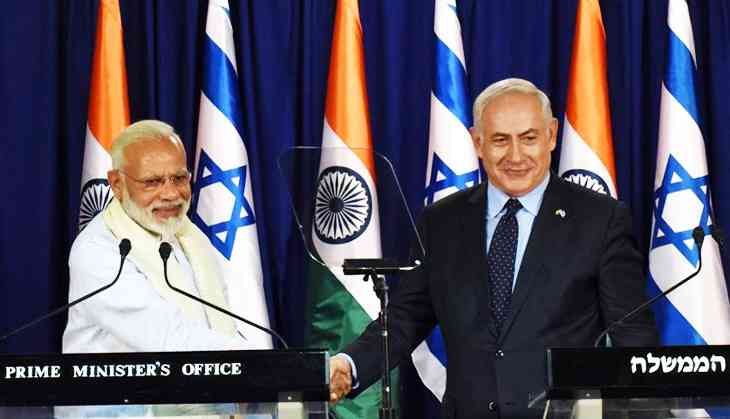 (AFP PHOTO / POOL AND AFP PHOTO / DEBBIE HILL)
After the much talked about 'Shalom Namaste' start by Israeli Prime Minister Benjamin Netanyahu to mark Narendra Modi's three-day visit to Israel, the latter focused on strengthening ties further with his pre-dinner statement.
"The link between our people goes back to thousands of years when the first Jews landed on India's south-western coastline," Modi said and went on to talk about how Indian Jews are a vibrant connect to this history.
"We are proud of Jewish sons and daughters of India like Lt. General JFR. Jacob, Vice Admiral Benjamin Samson, Master Architect Joshua Benjamin, and film actors Nadira, Sulochana, and Pramila whose diverse contributions have greatly enriched the fabric of Indian society," Modi added.
The Indian government has been sympathetic to the Palestinian struggle even though its partnership with Israel in both economic and security spheres has seen phenomenal growth. With Modi firmly in the saddle, it was expected that the relationship with Israel would witness a boost, for not just Modi, but the BJP and the RSS both have been strong votaries of strengthening ties with the country.
The strengthening of ties with Israel seems to be an ongoing trend in the region (the Middle East) that is currently witnessing a serious tumult. However, regional partnerships are on an unprecedented upheaval with Muslim monarchies of the Gulf, like the Saudis, easing ties with Israel.
India and Israel seems to be doing that and more as the talks centered around tackling terror and newer initiatives, collaborations between the two countries. The sky isn't the limit for India-Israel ties, Netanyahu reportedly said as he pointed to how both the countries were collaborating in space technology.
Flowers & plans
Netanyahu described Modi as a great Indian leader and a world leader before accompanied Modi on his visit to the Danziger Flower Farm on the way to Jerusalem on Wednesday. At the farm, Modi, was presented with the first bunch of chrysanthemum flowers named after him.
"At the Danziger Flower Farm, advanced agriculture technologies were showcased by the Israeli Government," PM Modi tweeted.
Visited the Danziger Flower Farm, where I saw pioneering work done in floriculture. https://t.co/JtcoECBv6O pic.twitter.com/Y0vTGPPB4l

— Narendra Modi (@narendramodi) July 4, 2017
Crysanthumun flower will be named in honour of PM @narendramodi. The flower will be called 'Modi.' pic.twitter.com/4qLALtxHzP

— PMO India (@PMOIndia) July 4, 2017
Netanyahu and Modi also visited the Yad Vashem, the Holocaust memorial.
At @yadvashem, I paid tributes to the women, men and children whose sacrifices can never be forgotten. pic.twitter.com/rEFwPf0Sb6

— Narendra Modi (@narendramodi) July 4, 2017
"Yad Vashem is a reminder of the unspeakable evil inflicted generations ago. It is also a tribute to your unbreakable spirit to rise above the depths of tragedy, overcome hatred and forge ahead to build a vibrant democratic nation," Modi said in his pre-dinner dinner statement.
"Yad Vashem tells us that those who believe in humanity and civilised values must come together and defend it at all costs. As such, we must resolutely oppose the evils of terrorism, radicalism and violence that plague our time," Modi added.
Look back in diplomacy
Modi arrived in Tel Aviv on Tuesday evening to kick start his three-day historic visit on Tuesday evening. This is the first-ever visit to Israel by an Indian prime minister. Modi was received at the airport by his Israeli counterpart Benjamin Netanyahu, who welcomed Modi with "Aapka swagat hai mere dost (We welcome you, my friend)".
Hello Israel! Today I begin a special & historic visit with the aim of further strengthening the relations between India and Israel. pic.twitter.com/q8mfeaciIu

— Narendra Modi (@narendramodi) July 4, 2017
"We have been waiting for you for 70 years," Netanyahu added.
Modi's visit comes after twenty-five years of diplomatic relations between the two countries. It was Ariel Sharon, who visited India during Atal Bihari Vajpayee's tenure as the prime minister. Sharon was the first Israeli PM to visit New Delhi.
Modi, too, reciprocated Netanyahu's welcome in Hebrew with 'Shalom' and that he was delighted to be in Israel.
"My honour to be the first ever Indian PM to undertake this ground breaking visit to Israel," Modi said.
He recalled the Israeli Operation in Entebbe, Uganda on 4 July 1976 where Netanyahu's elder brother lost his life as Israeli security forces rescued nationals taken hostage by Popular Front for the Liberation of Palestine.
"We have to secure our societies against the common threat of terrorism," Modi said in his statement even as he described how India considers Israel an important development partner. "We also want to put in place a robust security partnership to respond to shared threats to our peace, stability and prosperity. I will work with Prime Minister Netanyahu to craft and build a clear action agenda to realise these objectives," Modi said in a subsequent address to the press later in the evening.