Masala chai: London Mayoral elections just saw some serious Indian-wooing
Sambit Pal
| Updated on: 10 February 2017, 1:50 IST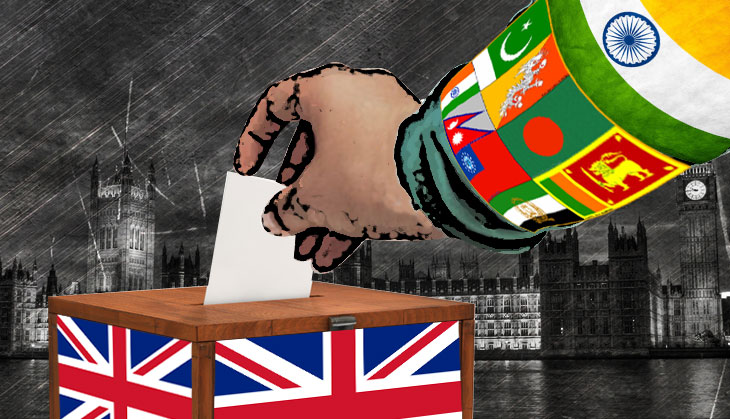 Mayoral elections
London holds elections for its next Mayor on 5 May.
Both Conservative and Labour Party candidates are trying to woo the Indian origin voters
But social and economic factors have caused tensions in these political campaigns
More in the story
Why have Indian origin voters become important?
What ails the political scene in London?
"Jeetega bhai jeetega" (Hindi) or "Jitbe, priyo neta jeetbe" (Bengali) may be commonly heard poll slogans in India. A Bharatiya Janata Party candidate might like to flash his photograph alongside Prime Minister Narendra Modi for the election campaign. Better still, remember the 'chaiwala' vs 'boy-born-with-silver-spoon' campaign during the 2014 general elections in India?
Read: 'Emperor of Kashmir' running for London mayor. This is not a joke
A similar campaign has been replicated. This time it's a fight between the humble 'son of a bus driver vs son of a crorepati'. Politicians are burning the midnight oil and crunching numbers to calculate how the Muslim minority and Hindus will vote.
Hold on.
Don't tax your brain to figure out which Indian state we are talking about. It's not happening in India, but in London. One gets the taste of Indian elections' masala as London prepares to elect its Mayor on 5 May 2016. In an unprecedented election campaign, South Asians, in particular voters of Indian origin, have become the talking point.
The Conservative candidate, Zac Goldsmith, son of a multi-billionaire (ex-brother-in-law of Pakistani cricketer-turned-politician Imran Khan) has released music videos in Hindi, Bengali, Urdu, Tamil and distributed leaflets with photographs of him with Narendra Modi only to woo the 'Indian Hindu' voters.
On the other side, Labour Party candidate, Sadiq Khan, has projected himself as the son of a bus driver born in Pakistan. He could be the first Muslim mayor of London. Even though they are claiming to be for "all Londoners," both are targeting the ethnic south Asian vote banks. How did Indian origin voters become important in an election far away from Indian soil?
The simple answer probably lies in the demography of London, a city of migrants. According to the 2011 census data released by the Mayor of London's office, among the non-white British population, the highest number of Londoners is from India. Pakistan and Bangladesh follow closely in fifth and sixth position respectively. Bengali, Gujarati, Urdu and Tamil feature among the top 10 non-English languages spoken in London. People of Indian origin dominate 30% of the 32 boroughs in London.
But there are hidden social and economic truths, which create tension in the latest political campaigns in London.
The Right
"The Indian community is hugely important not only for politics. They are important for our business, culture and economy," says Zac Goldsmith, the Conservative candidate. In the middle of a busy campaign schedule we catch him on a rare bright and sunny Saturday morning at Harrow, a north-western London borough dominated by south Asians.
He makes no bones about engaging with the Indian community. "The Indian community contributes disproportionately to our capital's business, about 7% of our GDP," says Zac.
As always, he is trying to reach out to the voters, projecting himself as a down to earth man as he hugs an old friend or cuddles a cute kid in the perambulator. Strategically not seen travelling in a car or getting off one, he tells his campaign team, "Every single conversation is important."
It is important. The challenge is to bring the swing voters to his side. Traditionally, the Indian ethnic electorate of London has supported the Labour Party. As the Indians and south Asians migrated to the UK in the 60s and 70s, they were engaged in menial jobs and registering with the trade unions that made them side with the Labour Party. But the scene is changing with the younger generation.
Also read: London Mayoral candidate Sadiq Khan has links to extremist groups?
"Now the second generation is well-educated and established. So for their economic interests they are supporting the Tories who will protect their businesses," explains Pritesh Patel, a local councillor. The Conservatives are trying to tap into this younger lot now.
So it's here that Narendra Modi makes his entry.
Why was it necessary to bring Modi into this election and also accuse Labour leaders of keeping a distance from the PM? "Zac Goldsmith's picture with Narendra Modiji carries the right message for the Indian community. It says, 'Hey we care about you Indians. We are your friends'," says Manji Kara, a Conservative councillor from Harrow, who migrated to the UK about 40 years ago.
Maitreesh Ghatak, a professor at the London School of Economics and a Londoner for nearly one-and-a-half decades explains it succinctly, "Modi symbolises a more assertive form of Indian national pride. It is no wonder that the British politicians will press that button to win the hearts of voters of Indian origin," says Professor Ghatak,
"When ethnic identity and competing nationalisms become dominant factors in world politics, there is no reason to believe that echoes of that will not reach the shores of British politics," he adds.
And the Left
In the eastern part of London, in front of New Cross station, another man is addressing 40-odd supporters who are about to hit the streets to knock on the doors of voters. "The other guy had a negative campaign, a desperate and divisive campaign," says Sadiq Khan, the Labour candidate, without naming his Tory rival. "We are London. We will have to show the world we are a great harmonious city. That's the reason why we need to win."
In this polarised campaign, his rivals have accused him of being 'supportive of extremists' and it created a huge controversy. Questions have been raised about how decisively he can handle a Paris or Brussels-like attack in London.
While Goldsmith's targeted campaign backfired a little and he knows he has to shed the image, Khan's plan is to get rid of the 'first Muslim Mayor of London' tag. "I am for all Londoners. I am for Muslims, Hindus, Christians, Jews, and Sikhs," he tells his supporters.
Many are miffed with this kind of campaign in the London Mayoral election. "I have never seen such a racial campaign in London in my lifetime. London politics is taking a different colour. Probably he will poll Pakistani Muslim votes, but there is no reason to project him as a Muslim first. He is a Labour candidate. That's it," says a senior Labour politician from Harrow Council on the condition of anonymity.
His media managers are protective of him. They don't want much media attention when Sadiq goes knocking on the voters' doors. The reaction of the voters is uncertain even in core Labour strongholds. Still, he is trying to portray himself as a 'common man' on the street, his selling point. He is managing traffic and asking his supporters to clear-off the roads, or shaking hands with the people on the streets or in the cars as they slow down, requesting them to come and vote for him.
The truth
Above race and religion, the concerns for any Londoner are safety, housing crisis, transport, economy, and protecting the green belt. More than mobilising specific communities, the concern for politicians in the last few days of campaigning, has been to inspire voters in general to go to the polling station and vote for them. British citizens are quite apathetic to polling stations. And the candidate who manages to get the maximum number of voters out of their homes and to the polling stations will win.
Edited by Anna Verghese
More in Catch:
AgustaWestland: how Singhvi tore apart NDA's case against Congress
Move over pessimism. We just got a beautiful lesson in hope courtesy Leicester City
Uttarakhand: Centre may agree to a floor test. Will 9 Cong rebels vote?
Punjab gangster gunned down in HP. Rivals fight for credit on Facebook