Is Pak silencing dissent? Govt's critics go missing, state hand suspected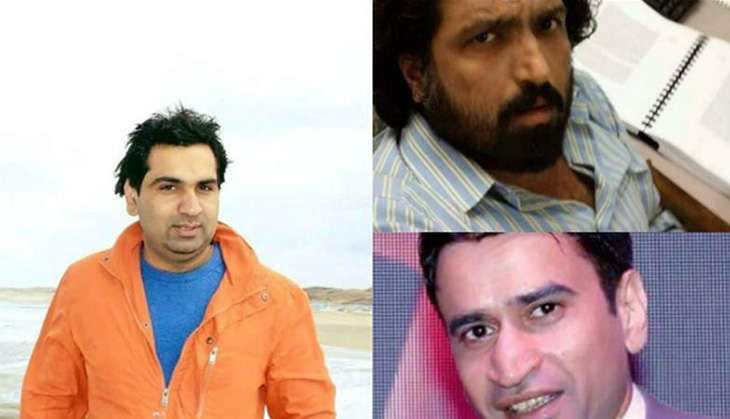 Disappearances and deaths of journalists and activists who dare speak against the establishment aren't uncommon in Pakistan - the country is routinely ranked among the world's worst countries for journalists.
But the recent spate of abductions of social media human rights activists known to be vocal about their secular viewpoints between 4 and 7 January has led to unprecedented protests at press clubs across the country. The main demand has been for the safety of the activists and that they be brought back, while constantly questioning where the activists are being kept and whose hand is behind these "forced disappearances".
Also read -Is Pak's cybercrime bill the most dangerous in the world?
And for good reason, the four activists - poet and prominent academic Salman Haider, Ahmed Waqas Goraya, Aasim Saeed and Ahmed Raza Naseer - are known for never shying away from being critical of the government and the Pakistan Army, ISI and the state of affairs in the country's Balochistan area.
Protest against the abduction of #SalmanHaider and other social media activists at Islamabad Press club. pic.twitter.com/tkzpagubxV

— Sijjeel (@sijjeel87) January 10, 2017
On 11 January, after reports of disappearance of another rights activist - Samar Abbas, who heads the Civil Progressive Alliance Pakistan (CPAP) - surfaced, Interior Minister Chaudhry Nisar Ali Khan said that the government is making "concerted efforts" to recover the missing activists.
There are unconfirmed reports that there are five more activists who have also been possibly abducted. According a tweet from human rights activist and journalist Beena Sarwar, the real number of people simultaneously abducted may actually be 12.
Who is setting this agenda? Who is behind this campaign in which some 12 bloggers/social media activists have... https://t.co/OjAsijcsLz

— beena sarwar (@beenasarwar) January 10, 2017
Protest against the abduction of #SalmanHaider and other social media activists at Islamabad Press club. pic.twitter.com/tkzpagubxV

— Sijjeel (@sijjeel87) January 10, 2017
Human Rights Watch has taken note of the abductions and has asked the government to investigate. The body even insinuated that since the abductions took place in such a simultaneous manner, there is a likelihood of the government being involved.
"The nature of these apparent abductions puts the ... government on notice that it can either be part of the solution or it will be held responsible for its role in the problem," said Brad Adams, HRW's Asia director.
Inability of the Pakistani state to #RecoverSalmanHaider by now exhibits its sheer incompetence, or much worse, its complicity.

— Umair Javed (@umairjav) January 8, 2017
Even a group of MPs have voiced their concerns about the silencing of these activists. In a parliamentary resolution, they wrote: "The pattern of these disappearances suggests that it is a planned and coordinated action, undertaken to silence voices which are critical of prevalent socio-political issues in Pakistan."
While there are reports of many activists, who fear their number may be next simply for practising democratic dissent, of deactivating their Twitter and Facebook accounts, there are many others who are ensuring that the spotlight remains on the missing activists by using hashtags such as #RecoverSalmanHaider, #RecoverAsimSaeed, #RecoverWaqassGoraya and #RecoverAllActivists as the protests go worldwide.
It can be us tomorrow, come and join us in these protests to bring our activists and bloggers back safely. #RecoverAllActivists #Netfreedom pic.twitter.com/oDHKKIGclk

— Nighat Dad (@nighatdad) January 9, 2017
The missing
Salman Haider
A human rights activist and lecturer in the gender studies department at Fatima Jinnah Women University (FJWU), Haider is known for his Urdu poetry which critiques the many socio-political issues entrenched in Pakistan. He is also an editor with Tanqeed, an online magazine that has been very critical of army operations in Balochistan.
"He could be heard and read at any occasion. From Shia killings to the APS massacre, from attacks on the Hazara community to the plight of missing persons in Balochistan, he was the voice of the voiceless, the armour of the defenceless. He was a rare voice of resistance marching through the barricades, tearing apart heaps of lies," wrote Dawn, the country's leading English newspaper, for which Haider has written for previously.
Haider's car was found Islamabad-Rawalpindi motorway on 6 January after his wife received an odd text message from his phone saying he was abandoning his car there.
His poetry too, shows he knew just how tenuous a situation it is in Pakistan for those who resist the establishment. Just last year, he penned a poem about human-rights abuses in Pakistan's Balochistan province. In it, he has a few lines about the disappearances of his friends:
"Abhi mere doston ke dost laa-pata ho rahay hein
Phir merey doston ki baari hai
Aur uske baad main
Woh file banun ga
Jisey mera baap adalat le ker jaye ga..."
(Right now, friends of my friends are disappearing,
Then it will be the turn of my friends
After that
I'll become a mere file
That my father will take to the courts...)
Ahmed Waqas Goraya and Aasim Saeed
The two activists run a Facebook page - Mochi - which holds nothing back when it comes to critcising the military. The banner on their page reads: "We respect Armed Forces of Pakistan as much as they respect the constitution of Pakistan".
The most recent focus of the page has been the crackdown by the army on political groups in Karachi. The two have also made their views clear on the army interfering with politics and the corruption among the upper echelons of the armed forces.
Saeed was reportedly abducted from his home in Lahore on 6 January, hours after returning from Singapore. Goraya, another online activist who is usually based in Holland, was picked up in the same day.
Ahmed Raza Naseer
Nasser, a blogger who suffers from polio, was reportedly picked up from his family's shop in Sheikhupura on 7 January - some 40 km from Lahore - his brother Tahir told AFP news agency.
Strong words
Raza Rumi, a writer who left the country in 2014 after being attacked by gunmen who shot his driver dead, told AFP that "the state has controlled TV and now they're focusing on digital spaces."
When a state/society is threatened by unarmed, peaceful activists on #socialmedia & tolerate armed jihadists, what do you call it? Madness? https://t.co/xBD9Z7dyyp

— Raza Ahmad Rumi (@Razarumi) January 8, 2017
In a scathing editorial published on 10 January, Dawnwrote about the "dark new chapter in the state's murky, illegal war against civil society".
"The sanitised language - 'missing persons', 'the disappeared', etc - cannot hide an ugly truth: the state of Pakistan continues to be suspected of involvement in the disappearance and illegal detentions of a range of private citizens," it said. "Why are so many in government and across the political spectrum silent in the face of state repression?"
Bilal Farooqi, a journalist with a large social media following, toldThe News: The message being given through these abductions is that anyone who raises their voice against the growing religious extremism and enforced disappearance of people in Balochistan and Sindh and criticises the state's policies will be dealt with in a manner that others will fear following their examples."
Not the first time, likely not the last
This is hardly the first time activists have been targeted for espousing their views on the internet or on ground. In April 2015, prominent Balochistan rights activist Sabeen Mahmud was gunned down after she hosted a session on atrocities in eastern province.
In May 2016, former journalist Khurram Zaki, a social media campaigner and civil society activist, was gunned down by unknown assailants in Karachi. His Facebook page called Let Us Build Pakistan (LUBP), aimed to "spread liberal religious views and condemned extremism in all forms".
Earlier in 2014, lawyer Rashid Rehman was assassinated after he agreed to defend a college lecturer accused of blasphemy.
These are but a few examples, there are many others who disappear and never make to the front pages of newspapers and websites.
It is clear Pakistan's long history of muzzling voices that dare speak up is not a thing of the past. Perhaps this is the case that could change the norm.
But most likely, this is just the beginning of another cycle of vengeance. In the very least, the strength of the protests across Pakistan is heartening.
More in Catch - Keep talking: Balochistan and the murder of Sabeen Mahmud
Book review: Raza Rumi gives a precise diagnosis of what ails Pakistan