Know 22-year-old 'just another Indian-American guy' except that he wants to be California governor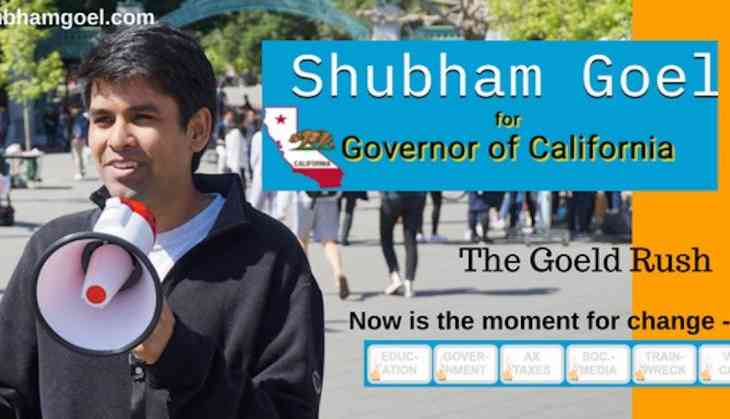 The 22-year-old Indian-American Shubham Goel aims at changing the problems California is going through. With a mic in hand and a message of change, Goel has decided to run for the governor election.
He is using social media platform like Facebook and Twitter to campaign his political agenda. In a couple of videos that he has posted, he is seen with a megaphone in hand on the streets of California state.
These are some of the video and picture of self-proclaimed Governor candidate-:
Campaigning for Governor of California in Virtual Reality worlds! Virtual Reality is full of possibilities which is what our state needs & can easily integrate in our education system to benefit students' learning!#VirtualRealityManager #California #Governor #VirtualReality #VR pic.twitter.com/F96EJshik7

— Shubham Goel (@ShubhamGoel4635) May 31, 2018
A virtual reality manager by profession posted a video on Twitter where he is seen in a dark blue t-shirt at a carnival, seeking support from people.
He said,"Technology has been able to fix a lot of issues. I want to run for governor just to implement technologically feasible platforms," He even added that California is struggling and this is the moment for a change!
Goel recently graduated from the University of California or UCLA and holds a degree in economics and film studies.
The key reason for Goel's Governor run is that he wants to show that to run for office, one needs to have efficiency, platforms and conviction and not money, fame and political backing.
Goel's seven-point platform for Governor run includes centralising and digitalising profiles on social media. Besides, their profiles will highlight economic interactions in past years.
Also Read:Girl, 10, paraded naked in Pakistan in broad daylight as punishment