Hundreds of Kailash Mansarovar pilgrims stuck in Nepal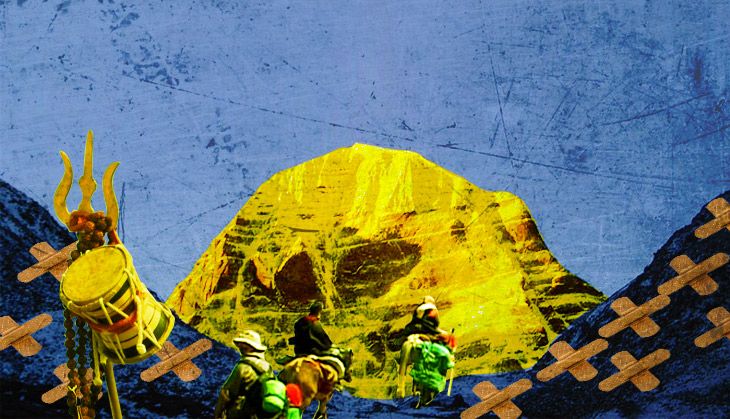 Several hundred pilgrims on the Kailash Mansarovar Yatra are stranded in Hilsa, a hamlet on the Nepal-Tibet border, and Simikot, the administrative headquarters of Humla district in the mountains of northwestern Nepal.
According to information given by a pilgrim to this reporter, the pilgrims are part of the Yatra contingent which went through private tour operators.
Catch couldn't independently verify the number of pilgrims stuck in Hilsa and Simikot, but relatives have taken to Twitter to inform the Ministry of External Affairs about the pilgrims' plight. According to one tweet, the number of people stuck in Hilsa is 350.
External Affairs Minister Sushma Swaraj took to Twitter on Thursday, 26 May, and said that Pradeep Rawat, joint secretary in the ministry, has been instructed to get in touch with the stranded pilgrims. The MEA, however, says it is still trying to get details, while the Indian Embassy in Kathmandu also did not have any details, and promised to get back.
Recounting the torture
Parvathi Kumar, a former prime time news presenter with the Doordarshan, is among the pilgrims stuck in Hilsa. She says that while some two hundred people are stuck with her in Hilsa, more pilgrims are stranded in Simikot, and there are very few flights available for their journey back to Kathmandu.
Kumar claims that the pilgrims are being "treated worse than animals". Speaking to Catch on the phone from Hilsa, says more than 20 people have been put up in a room fit for four people.
"I understand it is a tough journey, and I was not expecting a Mediterranean cruise, but denying basic facilities is simply inhuman,"she says, while narrating how there were several elderly people among the group too. "There is no proper arrangement for food and drinking water," she says.
Private operators charge anything between Rs 1.4-2 lakh per person. Kumar points out that the operators promised them a 'luxury helicopter tour'.
However, for her it has been torture since the journey began. Things have been particularly bad since the roads have not been rebuilt after last year's devastating earthquake.
"The road route is not functional," she says, adding that helicopter operators have overbooked their choppers many times beyond capacity.
Feeling shortchanged
Kumar had booked her journey through Kailash Journeys, a well-known operator based out of Kathmandu.
The group of pilgrims were promised that from Kathmandu, they would be flown to Nepal Ganj, and then straight to Simikot. However, the helicopter took them to Surkhet in stead of Simikot.
"Everyday, for three straight days, they would say that we will shortly leave for Simikot, from where, we were supposed to go to Hilsa, and then to Kailash Mansarovar. There were just far too many people for the available helicopters," Kumar recounted.
She could only get to the holy destination on 22 May, after a three-day delay. "I missed the holy Buddh Purnima," Kumar says.
Moreover, instead of the two-day stay, the pilgrims were just allowed to be there for a night, and had to leave the next morning.
"Because of this, several people fell sick, as they took a dip late in the evening when it was very cold," she says.
However, Pramod Gautam, from Kailash Journeys' office in Delhi, says the problem arose because China gave more than the usual number of permits this year. He says while 25-30 people are in Hilsa, an equal number are in Simikot. "The flights operate as per the schedule. Moreover, it was very cloudy in those parts," he says, while that the company's representative is present with the group of pilgrims.
Restricted access
The Kailash Mansarovar Yatra is fraught with risk for pilgrims, as it involves negotiating an altitude of almost 20,000 feet above sea level.
The Yatra operated by the Ministry of External Affairs follows stringent rules. A select number of pilgrims, numbering around 1,000 and chosen through a computerised lottery system, are sent on the Yatra through two routes, the old one which goes through Lipulekh Pass in Uttarakhand and the newly-opened route through the Nathu La in Sikkim.
Many who cant get through the Ministry's draw of lots take to private operators.
"There needs to be a check on these private operators," Kumar says, adding that she hopes to get back to Delhi soon.