Hundreds die in 'relentless fighting' in South Sudan. Civil war 2.0?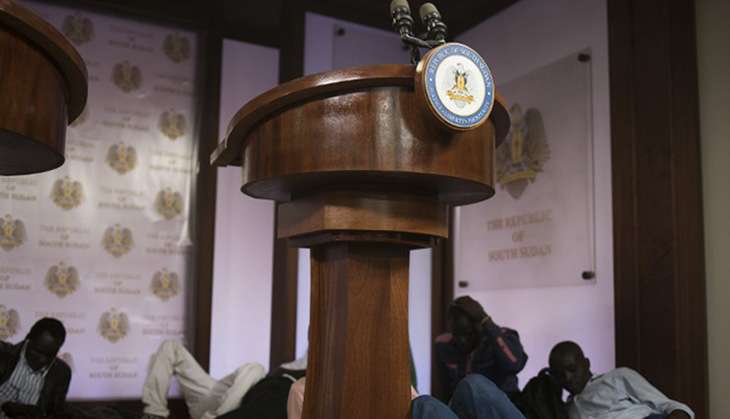 Violence that initially began on Friday night has now escalated in Juba, the capital of South Sudan - the world's youngest country.
The health ministry RSS&feedName=worldNews&utm_source=Twitter&utm_medium=Social&utm_campaign=Feed%3A+Reuters%2FworldNews+%28Reuters+World+News%29" target="_blank" rel="nofollow">told Reuters said that nearly 300 people have now been killed, including 33 civilians - up from an initial 150 dead on Friday and Saturday.
Friday, the day before the country's fifth-ever independence day, saw scattered gun battles between forces loyal to the country's President, Salva Kiir, and forces loyal to its vice president, Riek Machar.
Heavy gunfire was exchanged across neighbourhoods during the night, including outside the presidential palace, where the two leaders were meeting.
On Sunday, the gunfire erupted again, spreading to different parts of the capital, including near the main army barracks and Juba International Airport.
Smoke rises as gunfire rages on at Jebel Kujur, near Eye Radio and UN base pic.twitter.com/DAju42bNAt

— Eye Radio Juba (@EyeRadioJuba) July 10, 2016
Officially, Juba is on fire. The Munuki area has been set ablaze and residents are now running towards the Tomping area

— The Kenyan Aviator (@kenyanaviator) July 10, 2016
Reports that heaviest fighting coming near UN base, where thousands of civilians are sheltering. #SouthSudan https://t.co/D9rr7OHanG

— Andrew Green (@_andrew_green) July 10, 2016
Tanks and heavy artillery were used to pound targets across Juba, including UN camps holding thousands of refugees. Kiir's forces also reportedly sent helicopter gunships into action.
Hind Mi24 gunship over Juba pic.twitter.com/XPphqLMMJZ

— AnnaCavell (@AnnaCavell) July 10, 2016
One resident, who only gave his name as Steven, said he had seen hundreds heading to a UN compound. "I saw dead bodies of civilians and others ... moving with blood on their bodies," he told Reuters by telephone.
According to the South Sudan Tribune, Machar has requested military support from Omer Bashir in Sudan.
Dr. Riek Machar request military support from Omer Bashir of Sudan. Sudan airforce expected to bomb targets in South sudan shortly.

— South Sudan Tribune (@ssudantribune) July 10, 2016
In fact, according to Col. William Gatjiath Deng, a spokesman for Machar, the country is "back to war".
Col Gatjiath, military spox for Riek Machar says 100s of his troops died today, & #SouthSudan is "back to war" - BBC pic.twitter.com/1ijOrhpy0w

— Live From Mogadishu (@Daudoo) July 10, 2016
But the most recent tweet from South Sudan Tribune claims that the two leaders may just hold talks.
President Salva Kiir making phone call to Dr. Riek Machar coordinated by the President of Kenya and JMEC.

— South Sudan Tribune (@ssudantribune) July 10, 2016
Brittle alliances
Tensions between the forces of Kiir and Machar, always lurking beneath the surface, had last erupted in December 2013, when the situation had escalated into a national bloodbath.
Tens of thousands of people died, and over two million were displaced, during the bloody two-year civil war that was fought along ethnic lines.
Kiir is from the Dinka, South Sudan's biggest ethnic group, while Machar is from the second largest group, the Nuer. The two groups have a long bloody history where both have routinely engaged in all-out war.
The 2013 civil war broke out when Kiir sacked Machar, accusing him of launching a coup - an allegation Machar strongly refuted.
The country's army split into rival factions and Machar fled the capital and became the leader of a formal rebellion. He only returned last year in August under a peace agreement that finally ended the conflict.
One of the most underdeveloped countries in the world, despite being oil rich, the country is so short of money that no official anniversary events were planned.
A worried UN
The United Nations, which still wields considerable influence in the country - because it helped engineer its independence from Sudan in July 2011 - has said that the latest violence highlights "a lack of commitment to the peace process".
#Juba clashes nearly 7 hrs on, all sides responsible have proven relentless, the #SouthSudan|ese people deserve Peace @unmissmedia

— UNMISS (@unmissmedia) July 10, 2016
UN Secretary General Ban Ki-moon has urged the country's leaders to discipline military leaders and work together to implement a peace deal. UN peacekeepers are already sheltering 170,000 civilians at six sites, and that number is continuing to grow. A 17 June note to the UN Security Council from Ban Ki-moon on the protection of civilians sites said 40-45% of the 12,000-strong peacekeeping mission was dedicated to guarding those compounds.
The UN Security Council to meet later on Sunday over renewed fighting in #SouthSudan pic.twitter.com/MHDMRbATtH

— Brian Khaniri (@BKhaniri) July 10, 2016
The United States Embassy in Juba warned that the capital was not stable, and warned civilians against venturing outside.
"The situation in Juba remains fluid," the embassy said in a statement. "Government leaders are attempting to restore calm. However, these actions are not yet successful. Large numbers of troops remain on the streets."
Kenya has also called on Kiir and Machar to resolve the latest crisis and to ensure heavy weaponry and soldiers were moved out of civilian areas.
Incidentally, Indian Prime Minister Narendra Modi reached Kenya on an official visit on Sunday.
Hello Kenya! Delighted to visit this friendly nation, with whom India has enjoyed close ties historically: PM pic.twitter.com/j64mZrNQ6o

— PMO India (@PMOIndia) July 10, 2016
Not particularly media friendly
Kiir recently took to Twitter in February 2016 and hasn't yet gotten the "blue tick" yet, but if you go through his account, it's clear to see it belongs to a leader with not much social media experience. He tweeted this on 9 July:
The future security arrangement is 2 relieve the hostile patrolling of army soldiers loyal to a leader not a country pic.twitter.com/XcZGlvutBa

— President Salva Kiir (@PresSalva) July 9, 2016
future #Juba security
- 1320 Guards for shared unified command
- 500 Military police, 200 from IO
Total force in Juba: 4830 soldiers &police

— President Salva Kiir (@PresSalva) July 9, 2016
Machar has even fewer tweets to his name - 95 - despite joining Twitter back in April 2011. He has no affirmative blue tick either.
His last tweet is from 29 March, unsurprisingly about more security forces.
All the 1390 JIP and guards will be transported to Juba throughout the week. 2/2

— Dr Riek Machar Teny (@Drriekmachar) March 29, 2016
Al Jazeera posted an interview of both leaders talking about South Sudan's shaky peace on 9 July. You can watch it here: