Experts say Trump in the White House likely to strengthen India-US ties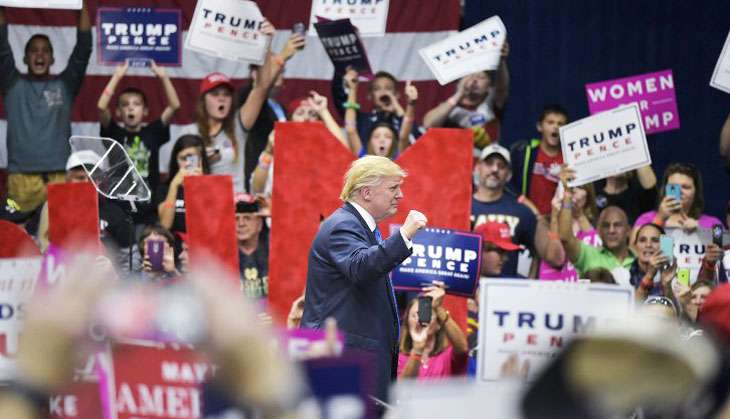 Experts say Donald Trump as US president likely to strengthen India-US ties (AFP Photo/Mandel Ngan)
Donald Trump in the White House, which has left the US bitterly divided, may be good news for India. Many are drawing comparisons with BJP's landslide victory in 2014, claiming that it is a vote against the arrogance and corruption of the Washington elite.
Fresh faces
Diplomats and experts on India-US relations say that his presence will only strengthen bilateral ties and that his campaign positions on important geo-strategic issues, which, if become part of the new administration's policy, would also work to India's benefit.
Even so, there is also clarity that the relationship may not see a drastic change as it will take a while before the new administration settles down and there is clarity on how far Trump wants to take the existing ties forward.
Also read - Across the world, stunned leaders react to the Trump's US election victory
India will have to deal with the fresh faces who will form part of Trump's core team, instead of the usual faces in the US establishment as both among the Democrats and the Republicans were against him.
A strengthening of ties?
Vijay Chauthaiwale, the in-charge of the foreign affairs wing of the ruling-BJP says, "Trump's victory will strengthen the bilateral ties. He has also expressed strong views on terror which would work to India's advantage when the country is battling terror and calling for more global cooperation."
A former diplomat pointed out how Trump's campaign saw an unprecedented outreach to the Indian diaspora, signalling a good future for the India-US ties. At an event by the Hindu Republican Coalition, an Indian diaspora support group, Trump had called India a key strategic and natural ally and promised to take the relationship to new heights.
Prime Minister Narendra Modi, while congratulating President-elect Trump, tweeted: "We appreciate the friendship you have articulated towards India during your campaign, @realDonaldTrump." And that "We look forward to working with you closely to take India-US bilateral ties to a new height. @realDonaldTrump." He also spoke to him on the phone.
The BJP welcomed Trump's win with GVL Narsimha Rao, the party's spokesperson saying, ""BJP conveys its best wishes to Donald Trump. Congratulations to him and we hope under his leadership the Indo-American relation which have been constantly improving for several years will continue to grow."
Congress president Sonia Gandhi, too, welcomed the win.
Continuing to build on the bedrock of strong Indo-US relations. PM spoke just now to @realDonaldTrump to congratulate him on his election.

— Vikas Swarup (@MEAIndia) November 9, 2016