Experts say Trump in the White House likely to strengthen India-US ties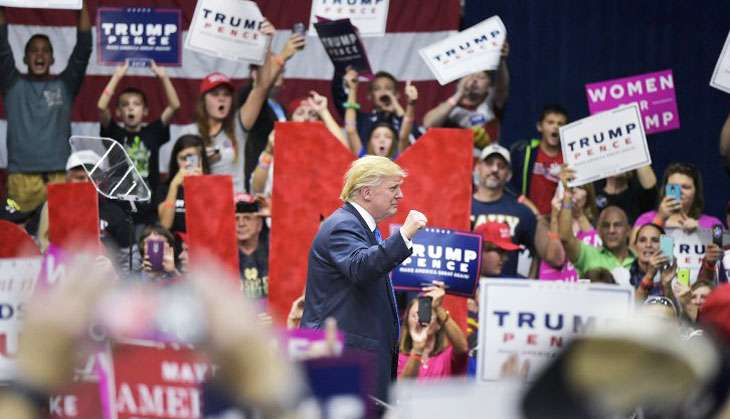 Donald Trump in the White House, which has left the US bitterly divided, may be good news for India. Many are drawing comparisons with BJP's landslide victory in 2014, claiming that it is a vote against the arrogance and corruption of the Washington elite.
Fresh faces
Diplomats and experts on India-US relations say that his presence will only strengthen bilateral ties and that his campaign positions on important geo-strategic issues, which, if become part of the new administration's policy, would also work to India's benefit.
Even so, there is also clarity that the relationship may not see a drastic change as it will take a while before the new administration settles down and there is clarity on how far Trump wants to take the existing ties forward.
Also read - Across the world, stunned leaders react to the Trump's US election victory
India will have to deal with the fresh faces who will form part of Trump's core team, instead of the usual faces in the US establishment as both among the Democrats and the Republicans were against him.
A strengthening of ties?
Vijay Chauthaiwale, the in-charge of the foreign affairs wing of the ruling-BJP says, "Trump's victory will strengthen the bilateral ties. He has also expressed strong views on terror which would work to India's advantage when the country is battling terror and calling for more global cooperation."
A former diplomat pointed out how Trump's campaign saw an unprecedented outreach to the Indian diaspora, signalling a good future for the India-US ties. At an event by the Hindu Republican Coalition, an Indian diaspora support group, Trump had called India a key strategic and natural ally and promised to take the relationship to new heights.
Prime Minister Narendra Modi, while congratulating President-elect Trump, tweeted: "We appreciate the friendship you have articulated towards India during your campaign, @realDonaldTrump." And that "We look forward to working with you closely to take India-US bilateral ties to a new height. @realDonaldTrump." He also spoke to him on the phone.
The BJP welcomed Trump's win with GVL Narsimha Rao, the party's spokesperson saying, ""BJP conveys its best wishes to Donald Trump. Congratulations to him and we hope under his leadership the Indo-American relation which have been constantly improving for several years will continue to grow."
Congress president Sonia Gandhi, too, welcomed the win.
Continuing to build on the bedrock of strong Indo-US relations. PM spoke just now to @realDonaldTrump to congratulate him on his election.

— Vikas Swarup (@MEAIndia) November 9, 2016
The BJP welcomed Trump's win with GVL Narsimha Rao, the party's spokesperson saying, ""BJP conveys its best wishes to Donald Trump. Congratulations to him and we hope under his leadership the Indo-American relation which have been constantly improving for several years will continue to grow."
Congress president Sonia Gandhi, too, welcomed the win.
Reassurances from the embassy
After the victory, Richard Verma, the US ambassador in New Delhi, sought to reassure how the bilateral ties go beyond the friendship between the US president and the Indian Prime Minister. "The US-India relationship is vitally important, it is bipartisan and it is only growing stronger. Here's to another four years of robust US-India Dosti," the ambassador said.
Trump's victory, as a former diplomat says, is a result of US' post Cold War policies on the trade and security front reaching a dead end, with the national debt reaching a mammoth 20 trillion dollars and the country inciting wars, policies of the Bush-era which were carried forward by the Obama administration. Trump, in his campaign, championed himself as a disruptor, selling the dream of 'Making America great again'.
Kanwal Sibal, former foreign secretary, says that there will be a slowdown in the dynamism of India-US relations. "Trump will only take office in January and it will take six months to an year before the new administration settles down after Senate clearances," Sibal says, while adding that it is not clear who would be the new secretary of state or the defense secretary as even the familiar Republican faces had been vocal against Trump.
Tackling terror
India is expecting that Trump's hard talk on terror would offer it an issue both the countries have convergence on.
Sibal, too, thinks that India and US would have a better understanding on issues like terror and Islamist fundamentalism. However, he is not very sanguine if the US policies on Pakistan would see a major shift under Trump, something India is watching keenly.
"His views on Muslims, terrorism are also in the context of homeland security. I do not think that their focus is Pakistan," Sibal says.
Chintamani Mahapatra, a professor at JNU, explains how Trump has a robust stand on terror is something which India has also been championing. After multiple attacks emanating from Pakistan, including the one in Pathankot and then at Uri, India has launched an offensive to diplomatically isolate Pakistan, lest it acts on terror outfits.
Trade talk
Mahapatra says with businessman Trump in the saddle one expects more cooperation on the trade and investment front. "In his victory speech he spoke of doubling the American GDP. One expects him to work towards shoring up the trade and investment," Mahapatra says.
Trump's protectionist agenda during the campaign had made countries anxious. The way he spoke about the Chinese and Indians stealing the jobs was not taken too kindly in the country.
"That was just election rhetoric," Chauthaiwale says. "What he spoke during the campaign and what he actually does once he is in office remain to be seen."
"His position on protectionism is more in the realm of the manufacturing sector. India, on the other hand is more in the services sector," Sibal explained, while indicating that such policies will have some spill over impact on India. "However, the target is China, which should benefit us, and Mexico" he says.
Sibal says the slowdown in the trade agreements, since Trump has promised a relook, would also help India. For example, India is not a part of the Trans Pacific Partnership agreement. However, Mahapatra says that the Republicans, unlike the Democrats are enthusiastic on the TPP and may ask Trump to reassess his position.
However, even then it will take a long time to fructify. Another former diplomat explains that Trump's reservations on TPP, which he likened to the rape of the country, manage to remove the contentious Investor-state dispute settlement procedures would be a welcome development for India. Similarly, NAFTA amendment too would work in India's favour.
China and Russia
Like the TPP, Obama administration's strategic pivot to Asia policy could also go to the dogs with Trump in White House. This may give China more elbowroom, since this approach was specifically designed to counter an aggressive Chinese expansionism in the region.
Sibal says with Trump promising a working relationship with Russia, another global hegemon, India has reason to cheer. For if the Russians and the Americans have a good relationship, it would give them lesser reasons to be wary of India-US ties and try to cosy up to China. While India and the US have seen enhanced cooperation on global security sticking points like the situation in Afghanistan, India has been reluctant to take sides in the Middle East theater which has been a mess since the Arab spring.
Edited by Aleesha Matharu
More in Catch - Congratulations America! You've failed the world by electing Trump
US elections: India-US ties may not change dramatically even if Trump wins