Donald Trump's googly on two-State solution could mean the end for Palestine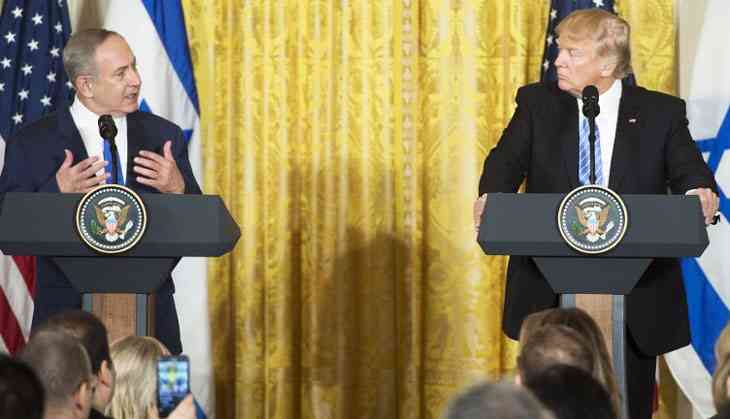 No American President has ever walked away from the two-State solution in Palestine, ever since the fateful decision of the United Nations to partition Palestine and create two states – Israel and Palestine. President Trump may have gone back on this longstanding American policy, in a few amazing bytes of obfuscation recently, at the joint press conference with the visiting Israeli Prime Minister Benjamin Netanyahu in Washington.
Trump said that he is "looking at two-state and one-state, and I like the one that both parties like……I can live with either one". Netanyahu could not have got a better gift from an American Administration even in his dreams.
On the issue of Jewish settlements on Palestinian land which are illegal under international law, Trump asked Netanyahu to "hold back…for a little bit" on building these controversial and disputed settlements. This was rolling back the campaign rhetoric when Trump had said that Israel should continue building settlements. This rollback is a gentle cautionary signal to Netanyahu. Trump had earlier walked back from the another significant marker of American foreign policy when he reiterated the "One China Policy", after making a lot of noise in his campaign trail about dropping this policy. China pushed back and Trump settled for the default baseline.
Netanyahu has never been a fan of the two-state solution which was premised on two independent nations one Jewish and the other Arab/Palestinian - existing side by side. Netanyahu had conditionally committed, to the two-State goal in a speech in 2009 and has not repudiated it since then.
Yet he has spoken about "state minus" option which would essentially give Palestinians autonomy, with attributes of statehood, but not full sovereignty. Israel will never give up control of borders with neighbouring Arab States because of its fears of an "existential" threat.
Ever since negotiations began between the Israelis and the Palestinians in the early 1990s, as part of the Oslo Peace Process brokered by the Americans, the dumping of the two-state solution is nothing short of a huge earthquake in American policy towards Palestine.
Pro-Israel bent
Trump had made know his strong preference for Israel during the election campaign, often marked by extreme rhetoric on many issues. Trump and Netanyahu may be looking for ways to re-engineer new alignments in the region, with Arab nations and Israel coming together to tackle their common strategic interest in confronting Iran.
Trump had promised to scrap the Iran Nuclear Deal during the election campaign. It is not secret that Israel was dead against the deal and this led to strained relations with the Obama Administration. Trump has now played his hand on Palestine. What comes next is anyone's guess. Is a one-state solution possible? What shape will it take?
Netanyahu would have returned to Israel feeling elated that he got Trump to be ambivalent about the two-state solution. Netanyahu has often argued that he would never be able to convince his right-wing extremist Jewish coalition partners to agree to a Palestinian State. If he were to press for a Palestinian State his government would not survive for even a day.
Netanyahu nevertheless harped on the two-state solution to fob off the Obama Administration. Given the asymmetry in power between the Israelis and the Palestinians, Netanyahu has received the green signal to remove the brakes on Jewish settlements in occupied Palestinian land and harden Israel's negotiating position on the intractable final status issues like the status of Jerusalem, security of borders, return of refugees and related issues.
The CIA Director Mike Pompeo had met Palestinian President Mahmoud Abbas before the Trump-Netanyahu press conference in Washington. Media leaks indicate that Abbas made it abundantly clear to Pompeo that there would never ever be an alternative to the two-state solution, a position which HAMAS also shared without reservation and that there would be no compromise on Gaza and the West Bank forming one political entity.
Power play
There was a time when many Israelis and their supporters deflected the issue of a Palestinian State by claiming that Jordan was the Palestinian State. There were never any serious takers for this view and Jordan always fiercely opposed this move to subsume its identity and become a Palestinian State.
It is a historical irony that Jordan, like Iraq and Syria were post-World War I imperial creations of the British and the French. Jordan and Iraq were created from Ottoman-ruled territories to accommodate and compensate Hussein ibn Ali, Sharif of Mecca, a descendant of Prophet Muhammad, who lost out to the Saud family which conquered most of the Arabian Peninsula, to establish the Kingdom of Saudi Arabia. While Iraq succumbed to military coups, Jordan is still ruled by a scion of the Sharif Ali family – King Abdullah is the great-great grandson of Sharif Hussein ibn Ali.
Israel today is viewed as a potential ally by conservative Gulf Arab nations who are more unnerved by Iran's growing regional clout after the nuclear deal and the intervention of Iran's security forces and its ally, the Hizbollah, the Lebanese Shia militia.
The irony of an Arab-Israeli tacit alliance against Iran is the 21st century manifestation of the Kautilyan doctrine of "my enemy's enemy is my friend". The main hurdle to this unlikely, but increasingly tacit coalition against Iran, is the issue of Israel's acceptance of the two-nation solution. This is likely to lead to greater pressure on the Palestinian leadership to negotiate and compromise with Israel for a comprehensive peace settlement.
After Israel's creation, early Palestinian resistance led by the legendary Yasser Arafat, fought for a single Palestinian State. When the European-based Zionist movement was making inroads into Palestine in the 1930s and 1940s, the Palestinians and their Arab brethren rejected any compromise with the Jewish people who were seen as European colonialists.
European Jews migrated to Palestine after Nazi Germany's Holocaust against European Jews. Palestinian resistance collapsed after the demise of the Soviet Union and Yasser Arafat moved into the American camp and became a party to the Camp David Accords, the Oslo Peace Process and agreed to legitimise the Partition and the two-State solution.
The Palestinians are today nowhere near achieving their own independent State. Negotiations have floundered and Israel has grabbed more and more Palestinian territory to build Jewish settlements to fulfill the Zionist dream of one State from the Mediterranean to the Western shores of the Dead Sea.
The erosion in the support for the two-State solution has gradually gathered steam and the Trump Administration may become a catalyst for this solution. As settlements have proliferated, it has become exceedingly difficult to separate the Jewish and Palestinian population and talk of a one-State solution has moved into the mainstream. The struggle between the land-grabbing Zionists and the Palestinians will become further vitiated, as Palestinians intensify their struggle for liberation from Jewish apartheid policies.
The problem with the one-State solution is that it will merge Israel, West Bank and Gaza into one territorial unit, giving all residents equal rights. This might lead to the Jewish population becoming a minority in this composite State. This is anathema for the Zionists. The likely course that Israel will adopt may well be a modified form of the current status quo and push for a permanent settlement, by granting autonomy to the Palestinian towns and villages, with overall security and economic control in the hands of the Israel.
In pursuit of this goal, Israel will seek help from important Arab states, with American backing, to convince the Palestinians to settle for a quasi-State. Pressure is already building up as a US Congressional delegation is visiting Israel to examine whether the American Embassy should be moved to Jerusalem which Israel claims as its eternal capital, a position not recognised in international law.
Except for two countries, all embassies are in Tel Aviv, including that of India. As PM Modi prepares to visit Israel later this year, these developments will weigh on Indian policy makers, though what kind of Palestinian State finally emerges from these developments, is unlikely to impact India-Israel ties.