Donald Trump moves from 'I' to 'We' as he's sworn in as USA's 45th President
On Friday, 20 January, 2017, Donald Trump was sworn in as the 45th President of the United States of America at Capitol Hill in Washington DC.
Trump enters the White House with the lowest approval rating for an incoming president, however his inaugural speech betrayed no sign of that as he went all out.
While Donald Trump's inauguration speech began graciously enough, it soon spun off into one reminiscent of his campaign speeches. It was essentially a shorter version of his Republican National Convention speech. While the grand setting did elevate the poignancy of the speech, it was clear that all Trump was really doing was reiterating the promises he'd made on the campaign trail.
"America first. AMERICA FIRST," Trump shouted towards the end of his speech. "From this day forward a new vision will govern our land," he said. "From this day forward, it's going to be only 'America First'".
"We've defended other nation's borders while refusing to defend our own," said Trump, in a speech that was littered with appeals to nationalism of the kind he espoused whilst putting together his presidential run.
Take no prisoners
Unlike his victory speech, this wasn't a speech to change the minds of the section of America that dislikes President Trump. Unlike his pledge to carry everyone forward that he made after winning the election, it now seems like Trump is taking a slightly less accommodating approach to dissenters.
The politicians he'd been so gracious about, upon learning the election results, were also in the firing line, with more than one barb aimed at them. Instead of showing graciousness and inclusivity, he chose to throw his fellow politicians under the bus, making them seem like the enemies of the public.
While this may pander to his followers who were hoping for this sort of behaviour, Trump may soon find that Washington is a hard place to navigate without friends. With an opposition that's already dead set against him, Trump had better hope that his words today didn't alienate politicians in his party as well.
Power to the people
"The forgotten men and women of our country will be forgotten no longer," shouted Trump, proudly saying that his administration will hand power back to the American people.
"Today's ceremony has very special meaning because today we are not merely transferring power from one president to another or from party to another," he said. "We are transferring power from Washington D.C. and giving it back to you, the people."
At one point, the newly sworn in President shone the spotlight on an American middle class troubled by drug abuse, unemployment (definitely not the case) and poverty. He promised a new dawn of prosperity. "This American carnage stops right here and stops right now," Trump said.
"Whether we are black or brown or white, we all bleed the same red blood of patriots," he said.
We, not I
Trump is well known for his ego. All through his campaign this shone through with his many references to how great he was. He was the one man solution to all America's problems and, as a result, it was no surprise that his speeches were littered with the word 'I'.
That seems to have changed, at least if his inaugural speech is any indication.
"We assembled here today are issuing a new decree," Trump said during his inauguration speech, one of many examples of the collective being put above the personal.
In fact, there were 63 mentions of 'we' in the inauguration speech and just three mentions of 'I'. Contrast this with the RNC speech where instances of 'I' outnumbered that of 'we'.
At the RNC, Trump had said, "I will outline reforms to add millions of new jobs and trillions in new wealth that can be used to rebuild America."
That rhetoric has now changed to "We will bring back our jobs."
Trump takes over @POTUS
Donald Trump has taken over the @POTUS Twitter account. Barack Obama moves to the @POTUS44 account. The new @POTUS account features zero tweets but did have a cover image from Barack Obama's first inauguration ceremony in 2009 rather than Trump's.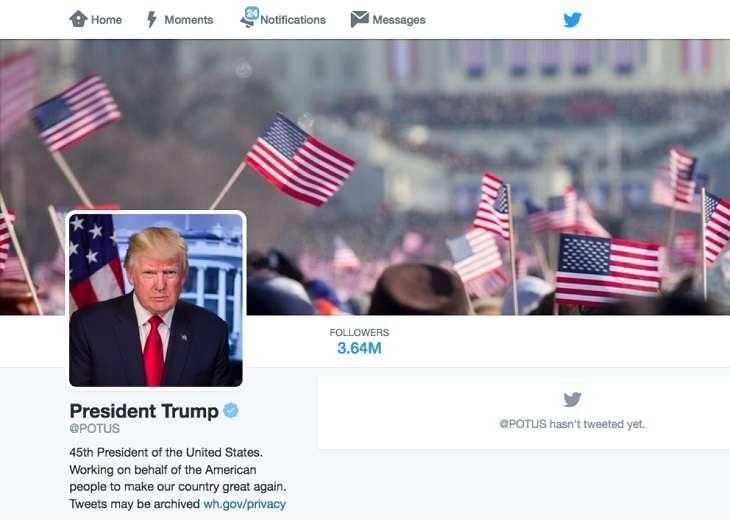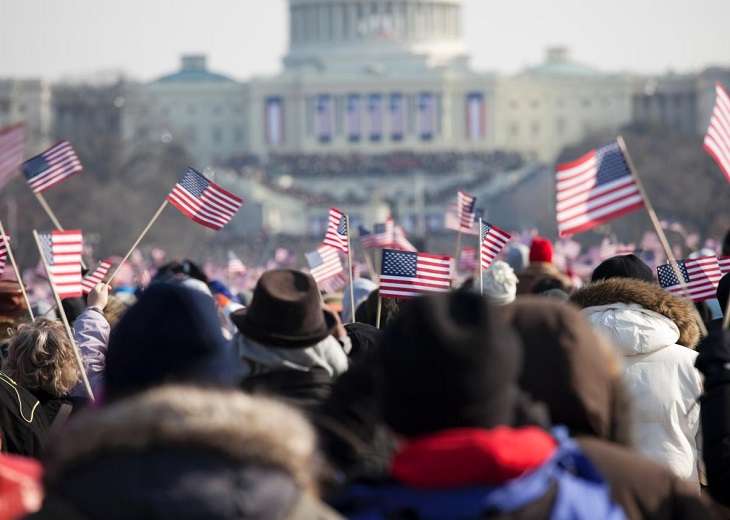 Quickly though, the image was change to the American flag.
While he has taken over the @POTUS account, Trump continues to Tweet from his own account, @realDonaldTrump. Take a look:
Today we are not merely transferring power from one Administration to another, or from one party to another – but we are transferring...

— Donald J. Trump (@realDonaldTrump) January 20, 2017
power from Washington, D.C. and giving it back to you, the American People. #InaugurationDay

— Donald J. Trump (@realDonaldTrump) January 20, 2017
What truly matters is not which party controls our government, but whether our government is controlled by the people.

— Donald J. Trump (@realDonaldTrump) January 20, 2017
Climate change
Just short of noon on Friday, 20 January, the official White House page still had a lengthy page informing the public about the real threat of climate change. It also listed the steps the federal government took to fight it. At noon, as Trump took office, the page was gone. Wiped. There was absolutely no mention of global warming or climate change. Nada.
There is only one mention of climate change after the flip happened. It comes under Trump's "America First Energy Plan". In that, Trump says he will destroy former President Obama's climate action plan.
The website just says, "The requested page "/energy/climate-change" could not be found".
Insert Image


Other omitted issues
It wasn't just climate change that got the boot. There were other important issues also facing the axe.
BREAKING: White House website has removed climate change, LGBT rights and healthcare from its 'issues' section

— The Int'l Spectator (@spectatorindex) January 20, 2017
Impeach Trump
The campaign to impeach Donald Trump has officially started just after the business mogul took office. The website went live just after noon. It's being lead by two advocacy groups.
At the moment, the website is fluctuating between being down and staying alive thanks to the immense load.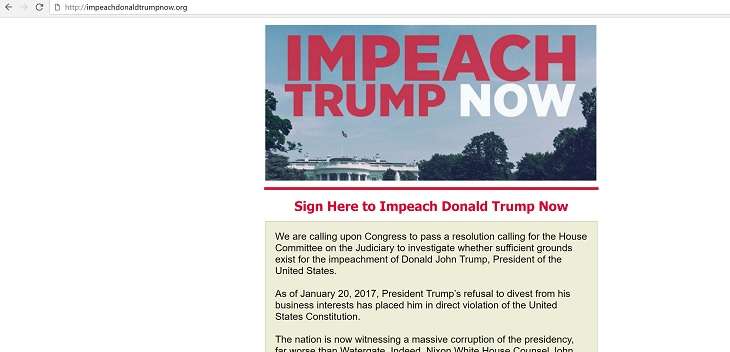 The organisers behind this campaign are Free Speech for People and RootsAction. Their case basically boils down to Trump's "insistence on maintaining ownership of his luxury hotel and golf course business while in office."
However, they weren't the only ones protesting Trump's presidency, plenty of people protested the event as well, leading to the arrests of more than 95 people.