Donald Trump isn't just hated, he's also a liar. His speech proves it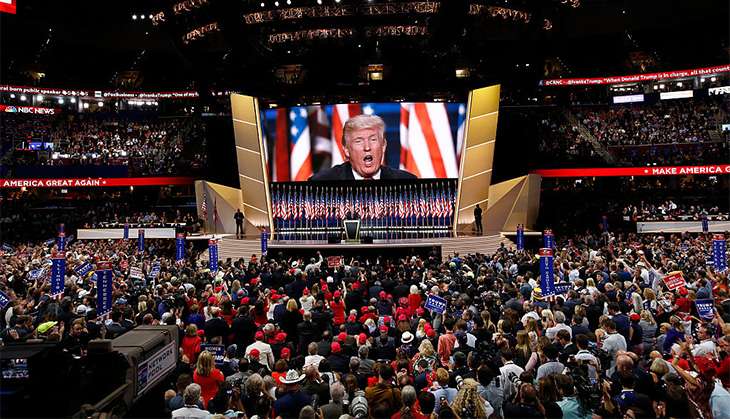 Somewhere in this world, wherever Vladmir Putin is right now, he must be smiling. After Donald Trump\'s acceptance speech at the Republican National Convention, Putin must be on top of the world, as he isn\'t the most hated politician out there. That award goes to Mr. Trump. Besides the fact that he is hated, he is also a liar, as a number of media houses have posted about today. They ran live blogs fact-checking the Republican presidential nominees speech.
Well, in case you missed his it, here are some key takeaways from Donald Trump\'s speech on 21 July, the closing speech of the Republican National Convention:
"Our Convention occurs at a moment of crisis for our nation," was what Trump began his speech with. "The attacks on our police, and the terrorism in our cities, threaten our very way of life. Any politician who does not grasp this danger is not fit to lead our country."
This has been the cornerstone of Trump's campaign so far and he isn't relenting. "Make America Great Again" by shutting America's borders to immigrants and strengthening the nation's defense.
"Americans watching this address tonight have seen the recent images of violence in our streets and the chaos in our communities. Many have witnessed this violence personally. Some have even been its victims.
"I have a message for all of you: The crime and violence that today afflicts our nation will soon - and I mean very soon come to an end. Beginning on January 20th 2017, safety will be restored."
Yes, we are waiting for 20 January with bated breath. From the day Trump takes over as President of the United States, safety will be instantly restored.
"Decades of progress made in bringing down crime are now being reversed by this administration's rollback of criminal enforcement. Homicides last year increased by 17 percent in America's 50 largest cities. That's the largest increase in 25 years."
Donald Trump has made the public strongly feel, that the United States is on the verge of collapse from "crime and violence". He further goes on to say, in his smug voice, that the only way around this and the only way to avert it, is by electing him as President. There are two major sources of inspiration for Trump, vis-a-vis his crime politics.. Firstly, we can hark back to Richard Nixon's famous "law and order" presidential campaign of 1968 and secondly, the politics in New York that eventually helped Rudy Giuliani's election during the 80s and 90s.
As we all know, crime has declined since the peak of the epidemic hit the nation in 1991. Homicides are low going by historical standards, so when Trump says, "Homicides last year increased by 17 percent in America's 50 largest cities. That's the largest increase in 25 years. In our nation's capital, killings have risen by 50 percent. They are up nearly 60 percent in nearby Baltimore," he is right. The percentage increase may have been large but it's only because the numbers the year previous, were very low to begin with.
Another major part of Trump's speech was his focus on immigration. Another foundation of Trump's so far successful campaign. "Nearly 180,000 illegal immigrants with criminal records, ordered deported from our country, are tonight roaming free to threaten peaceful citizens."
While Trump may have gotten this one right, there is just one thing wrong. 180,000 is a large number, yes but to assume that all of them are 'threatening' peaceful citizens is very much questionable. Nonetheless this isn't the first time Trump has harped upon this rhetoric.
"The number of new illegal immigrant families who have crossed the border so far this year already exceeds the entire total from 2015. They are being released by the tens of thousands into our communities with no regard for the impact on public safety or resources."
The thing to note here is that Trump is not talking about calender year but fiscal year.
"What about our economy? Again, I will tell you the plain facts that have been edited out of your nightly news and your morning newspaper," Trump starts his bit on the economy.
"Another 14 million people have left the workforce entirely," he loudly exclaims. This fact is completely wrong. Since 2009, the number of people in the workforce has actually increased, not declined. According to Vox, " In January 2008, there were 154 million people in the US labor force. Last month, there were 158.9 million. Close to 5 million people have been added to the labor force."
What Trump really is talking about is the Labor Department's measure of people not in the workforce. In the time since Obama took office, the US population has increased, country has aged and many a person has retired. More stuents are getting college degrees. The only place where Trump may have a point is in the labor force participation - ie. the share of people with jobs and those searching for work. That number has declined from 65.7 percent to 62.7 percent.
"In 2009, pre-Hillary, ISIS was not even on the map. Libya was stable. Egypt was peaceful. Iraq had seen a big reduction in violence. Iran was being choked by sanctions. Syria was somewhat under control.
"After four years of Hillary Clinton, what do we have? ISIS has spread across the region and the entire world. Libya is in ruins, and our ambassador and his staff were left helpless to die at the hands of savage killers. Egypt was turned over to the radical Muslim Brotherhood, forcing the military to retake control. Iraq is in chaos. Iran is on the path to nuclear weapons. Syria is engulfed in a civil war and a refugee crisis that now threatens the West. After 15 years of wars in the Middle East, after trillions of dollars spent and thousands of lives lost, the situation is worse than it has ever been before."
The roots of ISIS can be traced as far back of 2004, where it was formed out of remnants of al-Qaeda in Iraq. It was a time when not Obama was President, a time when Hillary Clinton was not secretary of state, but a time when George Bush, a Republican, was President. So, he may be right that ISIS wasn't on the map around 2009, but certainly it was a presence. One cannot just blame any one person, or any secretary of state, for widespread violence in the Middle East. ISIS existed under the name only until 2013.
"The Iran deal ... gave back to Iran $150 billion and gave us nothing - it will go down in history as one of the worst deals ever made."
Well, Trump was plain wrong when talking about the $150 billion figure. Some experts say, that as a result of the nuclear agreement, the value of "unfrozen" Iranian assets is closer to $100 billion than $150 billion, much of which is tied up in other debts.