Disturing! Woman is beaten in front of crowd in Indonesia for having sex without being married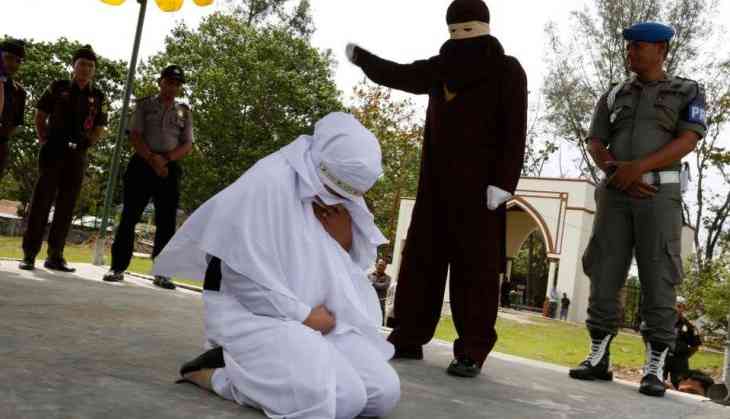 A woman was beaten in front of crowd up to 30 times as sex outside wedlock is condemned under Islamic law in Indonesia.
Woman was whipped in front of a baying crowd this week for having sex without being married.
Her partner were both punished in the deeply conservative Aceh, the only province in Indonesia which still implements the law.
The shocking pictures show the woman on her knees on a stage in front of the mob, which had gathered and were sitting under a marque.
She winces and looks to the ground as she is repeatedly caned by a man dressed in black and wearing what appears to be a white eye mask.
A lot people in the crowd made videos and photos on their phones in some snaps.
The horrific punishments are often live-streamed and shared on the internet, though it is believed this one was not.
The Sharia law also forbids gay and lesbian relationships.
A gay couple in Indonesia were publicly caned last week after authorities became aware of their fling.
And last week, two Indonesian Christians were publicly flogged in front of a baying mob in the same province for playing a children's entertainment game.
Aech governor Irwandi Yusuf has said he may consider to hold them in prison instead.
Also Read: Bravo! Man groped a waitress in restaurant in USA. See what she did next will inspire you