#DemTownHall: It's Clinton vs Sanders in the run-up to New Hampshire primary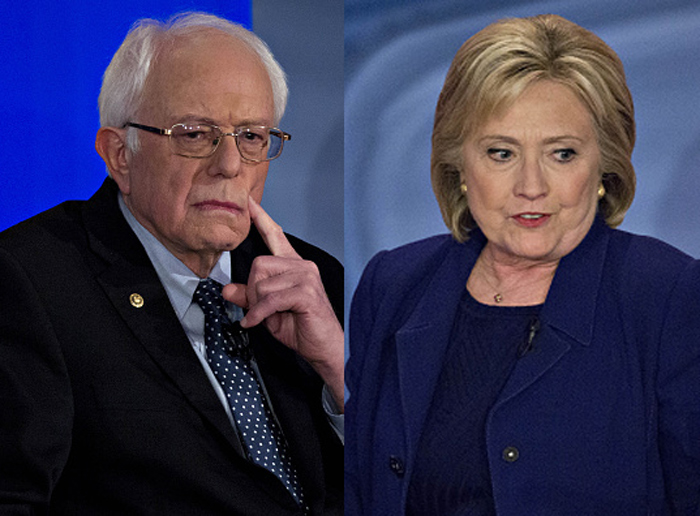 The United States Presidential Elections are heating up and when people choose to watch Presidential campaigners instead of popular television shows, you know it is peak election time. This time it was the Democratic Town Hall on CNN with moderator Anderson Cooper.
I had to choose between Younger & Town Hall & I chose Town Hall so this election is clearly driving me crazy. (Will watch Younger later.)

- emily nussbaum (@emilynussbaum) February 4, 2016
"One of the things that Senator Sanders and a lot of your critics point is, you made three speeches for Goldman Sachs. You were paid $675,000 for three speeches. Was that a mistake? Was that an error in judgement?" Hillary Clinton may have given no ground to Senator Bernie Sanders during Wednesday's Democratic Town Hall in New Hampshire, but her poor explanation for her ties to Wall Street may having you thinking that it was Sanders who took home the night.
The setup of a Town Hall is far-less confrontational than a debate format and allows for less direct answering and lengthier answers.
The range and quality of the questions at the CNN town hall are so impressive. Raising the bar for future debates/forums. Kudos to audience.

- Dan Balz (@danbalz) February 4, 2016
Those audience questions were among the best I've heard this election season. Good work New Hampshire! #DemTownHall

- WIRED (@WIRED) February 4, 2016
Also allows viewers to hear things they wouldn't normally here at a debate. Refer to the video below where Sander's talks about the worst album ever made:
"I made speeches to lots of groups." Hillary responded to questions about her three speeches in 2013 to Goldman Sachs from host Anderson Cooper. "Well, I don't know. That's what they offered. Every Secretary of State I know has done that." Upon being further pressed, Hillary said, "I wasn't committed to running. I didn't know whether I would or not". That's pretty absurd. To anyone awake and remotely following the Presidential race back then, they would know, more than Clinton it seems, that she would most definitely be running to become the next President.
Clinton once again reminded Cooper and the rest of America that she represented New York - where Wall Street resides - and that she didn't at all regret taking money from the big banks. Instead, she just pointed to her plan to reform the financial services industry.
Sec Clinton, you've earned hundreds of thousands of dollars speaking at colleges--while bemoaning high tuition. Contradiction?#DemTownHall

- Larry Elder (@larryelder) February 4, 2016
Clinton also refused to be influenced by the money. "Anybody who knows me that thinks they can influence me - name anything they've influenced me on," she said. "Just name one thing. I'm out here every day saying I'm going to shut them down, I'm going after them, and I'm going to jail them if they should be jailed. I'm going to break them up."
One of the other questions most noteworthy came from an audience member Michael Thiele and was on expanding the US military abroad and had concerns about Hillary's "history of interventionist foreign policy". He asked, "As a voter opposed to the United States being the world's policeman, can you assure me you would not expand our military involvement abroad?"
Her answer was something none of us expected:
"No, I can't, Michael," Clinton responded. "I'd like to be able to say that i could but here's what I can say - I have learned and I have been really in the crucible of making a lot of hard decisions over the last years and military force must always be a last resort, not a first choice."
The other major talking point at the Town Hall was when the two sparred over progressive record. The two escalated their row over their very own "progressive records". Sanders turned everyone's attention to Clinton's super PAC and the wealthy campaign donors from Wall Street. "I do not know any other progressive who has a super PAC," Sanders said. Sanders accused Hillary of being progressive on "some of the days". "Some days, yes. Except when she announces that she is a proud moderate, and then I guess she is not a progressive."
Clnton had told moderator Anderson Cooper what she thought was amusing. That Sanders was setting himself up as the gatekeeper of who is a progressive or who is a liberal within the Democratic Party.
Hillary defended her record and said that under Sander's definition, current President Barack Obama and Vice-President Joe Biden would not be called progressives. Sander's had earlier taken note to the fact that Hillary waited many months before announcing her opposition to both the Trans-Pacific Partnership trade deal and the Keystone XL pipeline.
Hillary did take to the press afterwards to say that Sander's comments on her being a progressive on certain days was a "low blow".
The next contest is next Tuesday on 9 February with the New Hampshire Primary. The race has only just truly begun. There is just one more thing before 9 February rolls around. The MSNBC debate at the University of New Hampshire. Watch out for more fireworks.