Chinese media blames Hindu nationalism for Doklam standoff, says India is jealous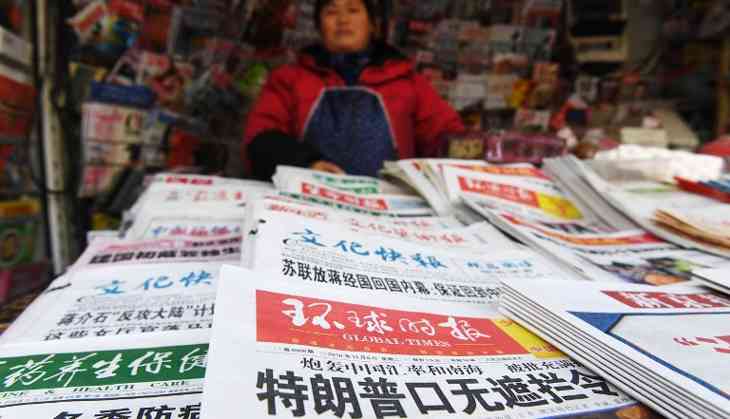 With no resolution in sight in the ongoing India-China standoff in Doklam on the Sikkim-Bhutan-Tibet tri-junction, now into its second month, the media in both countries have been reporting on the matter on a daily basis.
China has clearly said that diplomacy would only be possible if India unilaterally withdraws all troops back to its side of the border.
More than India, it has been the Chinese English media that has been ratcheting up the rhetoric against India, particularly the state mouth piece Global Times. But those articles are probably just the tip of the iceberg as most Chinese scholars write in their own language, which means that their pieces are not widely read outside the country.
'India's nationalistic fervour'
In an op-ed titled 'Hindu nationalism risks pushing India into war with China', while describing how "New Delhi has continued its provocation", Yu Ning writes of how "anti-China sentiments are rising in India with an upsurge of nationalism".
"China's development is seen as a misfortune to India. The faster China grows, the more fearful they are. Nationalist fervor that demands revenge against China has taken root in India since the border war. The election of Indian Prime Minister Narendra Modi has fueled the country's nationalist sentiments," he writes.
"Where the China-India competition goes hinges on each side's strength and wisdom," he says. "India is weaker than China in terms of national strength, but its strategists and politicians have shown no wisdom in preventing India's China policy from being kidnapped by rising nationalism. This will put India's own interests in jeopardy."
He ends with a warning: "India should be careful and not let religious nationalism push the two countries into war."
'All-out confrontation'
That is not the only editorial in Global Times in recent days that has slammed India and accused it of being jealous of China's standing in the world. Another titled 'India's provocation will trigger all-out confrontation on LAC' reiterates how "New Delhi is deeply concerned with China's rapid rise" and that the Doklam standoff is "a competition of military strength, as well as a competition of overall economic strength".
"China must be prepared for future conflicts and confrontation. China can take further countermeasures along the Line of Actual Control (LAC). With growing national strength, China is capable of deploying resources in remote border areas. It is conducive to the economic growth of these regions, as well as to safeguarding integration of China's territory," he writes.
The editorial goes on to add that India should prepare for "all-out confrontation" if a conflict is triggered.
'A deaf ear'
An editorial in People's Daily China also speaks of how rising nationalism in India is to blame for the month-long stand-off and how India should not turn a deaf ear to the Chinese and cause itself more embarrassment.
"India's illegal move in Doklam runs contrary to the fundamentals on international relations it has advocated since 1950s along with China and Myanmar. The five principles of peaceful co-existence include mutual respect for sovereignty and territorial integrity," it says.
"In recent years, some Indian civil groups, tinted with intense nationalism, have been constantly stirring up anti-China sentiments, even clamoring to boycott 'the commodities of hostile countries' at a time when the situation on China-Indian boundary intensified," it adds.
The paper does acknowledge that the Indian Foreign Secretary Subrahmanyam Jaishankar "recently made positive remarks in Singapore, saying that 'India and China should not let differences become disputes'."
The piece ends by saying that China wants to solve the problem peacefully by diplomatic means, "but the precondition is that the trespassers of India must withdraw unconditionally".