Balochistan won't settle for anything less than freedom: Kareema Baloch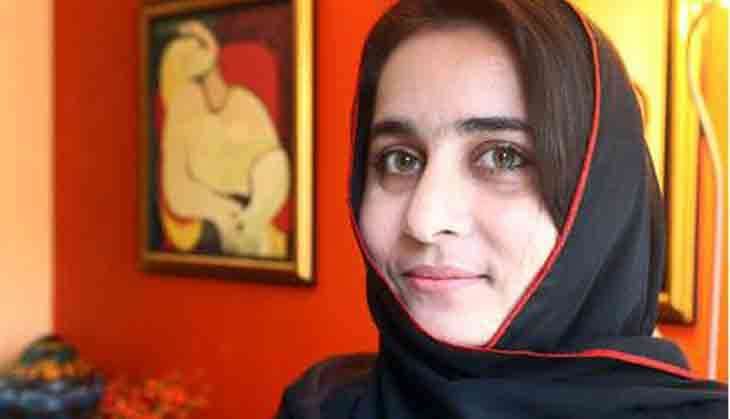 Prime Minister Narendra Modi initiated new politics in his annual Independence Day speech on 15 August for the first time. He drew India's attention to Balochistan, PoK and Gilgit.
As a result, Balochistan got imprinted in the minds of the common man in India as a grave issue.
The mention of this province has made Pakistan go on the offensive. Activities have increased in the province and Pakistan has also banned Balochistan Students Organisation (BSO) which was active in the struggle for Balochistan's independence.
Pakistan declared BSO as an agency of RAW, an intelligence arm of India, and also a terrorist organisation, including it in the list of other terror outfits.
BSO's leader Kareema Baluch, 32, is in Toronto living in exile and has recently been charged with sedition.
Kareema had shared a video on social media after Modi's speech. Referring to Modi as her brother, she sought his help on the eve of raksha bandhan to gain independence for Balochistan.
Speaking to Catch, Kareema opened about her organisation, Balochistan's campaign for independence and allegations of the province being an Indian agent. Here are some excerpts from the interview:
How far has Balochistan's struggle for freedom progressed?
The movement started on 27 March 1948, with Pakistan forcefully occupying our territory. Despite our long-drawn battle with several ups and downs, we have not been able to remove them from our land.
On the contrary, the Pakistani army, military intelligence and ISI have brought in a flood of war crimes. The houses of Baluchis have been burnt down. They have brought about mass displacement and have resorted to mass killings. There have been bloodbaths in Balochistan.
But Pakistan's position is strong. The world considers Balochistan to be a part of Pakistan. Even elections are held and your representatives participate in the proceedings of the Pakistan Assembly.
This is a false notion you harbour. The fact is that Pakistan has no sway over the people of Balochistan, nor is it possible to stop them from having their own say and their own ways.
The truth is that Baluchis did not vote. Polling stations were no more than death beds. The MPs voted and from the lot, people were elected by members of Nawaz Sharif's party.
I should make it clear that our people do not elect the chief minister. It is a decision that Pakistan army and ISI takes. They appoint the CM.
How can you say this with so much authority and conviction?
In the last election, I was hiding in Balochistan. The army and and frontier corps threatened the people to go and vote in masjids and bazaars. They tried to spread terror among Baluchis with warnings like 'burn you alive' or 'bury you alive'. But fear has departed from the psyche of Baluchis.
Though the leader who becomes the CM may appear to be independent, the reality is that he is under the control of the army.
The parliamentary framework of Balochistan is all a sham, elections in Pakistan go through the rituals without any substance in them.
'Aapkee Tanzeem' is banned and declared a terrorist organisation. So how is Aapkee Tahreek carrying on?
We could never carry on our activities in freedom. There was always a whip ready to lash us and drive the spirit out of tanzeen.
Zakir Mazid of the army kidnapped our vice chairman; comrade Shafi. He was picked up in 2010 and his dead body was found the next day. Bodies of comrade Qyoom along with many other zonal members were found dangling from trees in deserted places. We were still carrying on under those conditions and have persisted in doing so post ban as well.
Before the ban was imposed literature, magazines, books and pamphlets related to our movement were taken away from hostels, markets and other places and they were consigned to flames.
Even the library was not spared. We are aware that our rulers do not hesitate in committing crimes and conducting combat. We have the experience to face them but we cannot share our strategy with you.
Why has the Pakistan government declared you as a terrorist?
The Pakistan state itself is a terrorist. Its army and frontier corps slaughter the Baluchi community. Being called a terrorist by Pakistan makes no difference to me. They also call me an agent of RAW, but these are old allegations and this propaganda affects neither me nor my freedom movement 'tahreek'.
What are your demands?
For the restoration of Balochistan, we want complete freedom. We are freedom fighters, not separatists. History is witness to the fact that Balochistan has never been part of the sub-continent but on 27 March 1948, it was captured.
I do not know if Pakistan will exist or not but Baluch has always be alive and be a free community. For 70 years we have been fighting the slavery of a state just so that we are alive for posterity. We are not going to compromise without freedom.
Has there been any dialogue between Pakistan and your organisation?
Dialogue is really farfetched. They have attacked my house with mortar four times. The army, frontier corps and the secret agency have had my mother and sisters in a line and threatened to shoot them.
They asked us to leave and go somewhere else, but we are fighting. I have been underground for years.
In Balochistan, there are military check posts every 5 to 10 km. Passengers are repeatedly asked to get off buses, their luggage is inspected and they are made to stand in the sun for hours and are tortured.
All these things have been recorded in photos and videos - yet our movement goes on without a dialogue. Pakistan does not believe in dialogue.
Pakistan claims that RAW has backed BSO...
Not just the organisation, the whole freedom movement was alleged to be the doings of RAW agents. In the name of RAW Pakistan kills the big intellectuals and citizens of the movement and puts the blame on RAW.
If you happen to travel to Quetta and stand at a checkpost - you will be able to see another check post up ahead. Even bags of small children going to school are checked.
Everywhere their vans and vehicles, patrol teams move around like shadows still there are attacks. Why and how do these attacks happen?
After all this, Pakistan goes to the world to collect funds, calling itself a victim of terrorism. The warships and aeroplanes it receives as help are deployed against us.
Just know this - in order to continue its fight in Balochistan - Pakistan gets its funds from other countries.
Which are the countries helping you?
The Balochi movement for freedom has never received help from any country. Had we taken help, our movement would moved a step ahead. After 67 years we are still where we were and continue to fight with our resources.
Pakistan sometimes names Afghanistan, at other times Hindustan, how do we know what the truth is?
There is a blackout of Balochistan in the international media. The specialised journalists are no more. The other provinces of Pakistan and human rights agencies are not allowed to venture there.
No doubt surveys are conducted at times but the army keeps shadowing them. There are some in Karachi and Islamabad who share our perspective, but their voices are silenced as soon as it rises for us.
Sabeen Mehmood who was killed in Islamabad in 2014 is one such example. Before she died she had run a programme in her office on Balochistan.
For the first time, PM Narendra Modi has spoken about Balochistan. Will this be beneficial for you or will it increase the troubles?
Whether someone speaks or not, whether we gain or lose, we will not leave our land. We have raised our issues on the international fora for years but it has gone unheard. Now that PM Modi has spoken about it the world should ponder over it.
This is all we want from him because the world is ignorant about our plight in spite of mass graves being found here repeatedly. If our issue is raised again and again everyone will know and a debate will ensue.
What kind of support do you want from Modi - moral, military intervention or some other?
Pakistan is committing brutality on unarmed people. Understandably, we want a military intervention but we will carry on our movement with what we have.
It cannot be that we come out from Pakistan and become a puppet in the hands of Hindustan.
If the world does not help we will persist fighting like this. It will be right if other countries, along with Hindustan, build diplomatic pressure on Pakistan
What do you expect from Modi? He has not succeeded in bringing international countries in his favour on the issue of Kashmir yet...
We have no expectation but want the truth to be known. We want the Pakistani's on your land to be exiled. Pakistan always declares Balochistan an internal matter, but in 1948 it crossed its border and captured Balochistan. Pakistan hides this truth but now the life of this lie has come to an end.
Do you have any structure of Balochistan's independence?
We are democratic people and along with Balochistan National Movement, all our efforts are focused on forming a secular state. Religious dogmatism is a gift of Pakistan.
Instead of modern education, it has erected madrasas, Islamic education, and jihadi camps. Unlike them, we will never let religious inclinations turn into fanaticism.
You are the face of the freedom movement and a woman too. In your dream for Balochistan where do the women stand?
I am not a great admirer of separating men and women by looking at them. It is better to look at them as equals and consider their qualities. The rights men enjoy, the same rights women should have as well.
Our movement has this perspective and in units where women are in a greater number - they are all fighting for independence.
Edited by Jhinuk Sen