As killings unfold in Rakhine, Rohingyas in India struck with worry and fear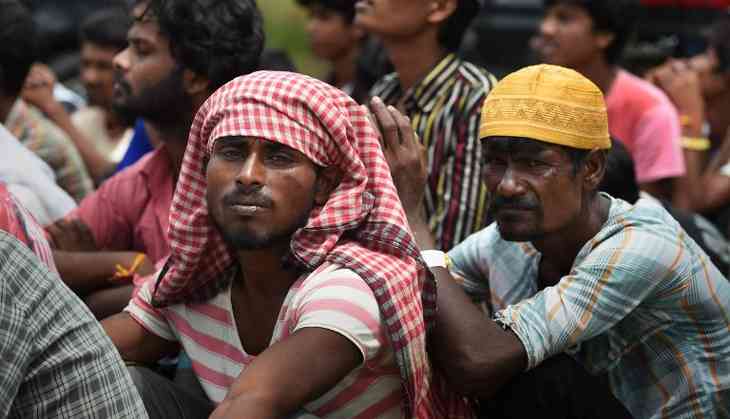 The ongoing exodus from Rakhine means that nearly half of Myanmar's one million Rohingyas may have been forced from their homes, a new statement by Brussels based Crisis Group says.
Since 25 August, UNHCR says more than 2.9 lakh Rohingyas have crossed over into Bangladesh in what is being seen as a very serious crisis and equated to ethnic cleansing.
India, with its ambitious regional interests in minds, has decided to openly support the Burmese regime. This became evident when India refused to sign the Bali Declaration at the World Parliamentary Forum on Sustainable Development'. The declaration had a reference to the violence in Rakhine.
Earlier, Prime Minister Narendra Modi had audaciously decided to sidestep the issue in his public statements during his three-day visit to the Myanmar, his first bilateral visit to the country.
However, a recent statement by the MEA conveyed how India, "remains deeply concerned about the situation in Rakhine state and the outflow of refugees" and urged that "the situation is handles with restraint and maturity" and called for the restoration of normalcy.
The statement came after the Saturday evening meeting between Foreign Secretary S Jaishankar and Bangladeshi High Commissioner to New Delhi where the latter is said to have conveyed how Bangladesh wants the international community to come forward and put pressure on Myanmar.
Palpable fear and worry
Even as the MEA is concerned about the outgo of 'refugees' from Rakhine, in New Delhi, the Rohingya population is anxious. Noorul Amin is not sure if he can continue to stay in India. Fear has taken over after the Ministry of Home Affairs directive on 8 August, which branded them as illegal immigrants and asked the states to constitute a task force to identify them so that they may be deported.
A Rohingya who came to India in 2010, after spending months in Bangladesh, Amin has so far faced no problems except the occasional snakes which appear in the settlement which is next to an open drain. "I want to thank Modiji for allowing us to live here," he told this reporter at his stone house in Shram Vihar camp in New Delhi where he lives with 375 other Rohingya refugees.
Amin hails from Tula Toli village in Rakhine, and escaped to Bangladesh leaving behind his mother, two sisters and a brother, in 2010.
Tula Toli is one of the worst affected villages. For three days, Amin's calls to his family have gone unanswered. Their neighbour, hiding in a jungle, whom Amin could speak to on the phone has told him that most villagers have been rounded up and shot dead by the Burmese security forces.
Amin fears a similar fate awaits him if he is deported. "I don't want to go back. There is nothing left in my village," the daily wager told Catch. The case to deport Rohingyas from India is being heard at the Supreme Court at present.
More than a thousand people are said to have died since 25 August. Images of the dead, floating in the Naf River as they try to cross over, unending queues of the young and old on the border, or the images of the villages on fire, are telling signs of the tragedy which unfolds in Rakhine.
On Eid-ul-Zuha, Amin looks lost, like many others in that camp, worried about the danger their relatives who are still in Rakhine are in.
Political silence
In the neighbouring shanty, Hafiz Ahmed, is worried, too. Ahmed told Catch how he hoped that PM Modi during his visit to Myanmar, would be able to cajole the Myanmarese government to initiate some kind of a political solution.
But during his three day visit, Modi, craftily, steered clear of mentioning the humanitarian crisis in any of his public statements. Instead he expressed concerns over extremist violence.
"We share your concerns about extremist violence in Rakhine state and specially the violence against security forces and how innocent lives have been affected," Modi said in his press statement after meeting State Counsellor Aung San Suu Kyi.
He then went on to express hope for a solution. "We hope that all the stakeholders together can find a way out in which the unity and territorial integrity of Myanmar is respected and at the same time we can have peace, justice dignity and democratic values for all," the statement read.
The joint statement released during the visit talks of India offering to contribute to the Rakhine State Development Programme by undertaking both infrastructure and socio-economic projects, particularly in the spheres of education, health, agriculture and allied activities, agro-processing, community development, construction of small bridges, upgradation of roads, small power projects, livelihood activity, setting up of training centres, promotion of household crafts, conservation of environment and cultural heritage and so on.
Even as it notes that the situation in Rakhine has both a security and a developmental dimension. India's important Kaladan Multi Modal Transport Project ends at the Sittwe port - which India has built in Rakhine.
India's pragmatic stance
However, in private, India is said to have taken a more pragmatic stance. Indian officials are said to have encouraged Myanmar to adopt the recommendation of the Kofi Annan Commission.
As a former Indian diplomat said, lecturing Myanmar would not have done any good. It would be better to nudge slowly to implement certain things than just forcing your opinion, which would not have been acceptable either to State Counsellor Suu Kyi or the Burmese military, he says.
According to him, it is perhaps one of the reasons why the Prime Minister chose to not talk about the crisis in Rakhine as it suits India to engage in a back channel dialogue with the important neighbour.
Power games
With an aggressive China in mind, trying to expand its influence in the neighbourhood, the stakes are high in Myanmar, especially after it opened up in 2012. China has seen a few setbacks to its big ticket projects in Myanmar, including the Myitsina Dam, creating more space for Indian investments.
Rakhine is important too for the important Sino-Myanmar gas pipeline passes through it, something India was eyeing but lost to China. Rakhine is also home to India's ambitious Kaladan Multi Modal project.
Keeping local Buddhists humoured is the important goal, as Myanmar's small Rohingya population has no say in any power games.
Politically, it makes sense for the foreign policy establishment to be seen on the side of the government in Myanmar as they face severe criticism from other governments.
'Noble' Suu Kyi
The Myanmar government itself is trying to brazen its way through the atrocities being inflicted on its own citizens. This is despite the fact that the horrors emerging from Rakhine are well documented despite the government's virtual blockade where journalists are being denied access barring those who are taken for guided tours.
Walking for days to safety across the Naf River, thousands of people have been witness to the violence that has been unleashed by Myanmar security forces in Rakhine even as Suu Kyi blames an iceberg of disinformation to pin blame on her detractors.
An Indian diplomat who served in Myanmar says it is not wise to blame Suu Kyi alone as she is a politician in a country where the military still enjoys tremendous power, including the control of the all-important important ministries of defence and home.
The ARSA angle
On 25 August, the Rohingya insurgent group known as Arakan Rohingya Salvation Army (ARSA) had launched its attack on police posts and an army base. That the attacks came just a day after the Kofi Annan Commission submitted its reports led to confusion about the intentions of the group. The group has announced a unilateral ceasefire today.
Suu Kyi, as a former Indian official says, was bold enough to say that she would consider the recommendations of the Annan Commission, despite no support from the Burmese society and its different ethnic groups. But the attacks seem to have undone that in the short run in the very least.
The emergence of ARSA is being looked at with concern not just in Myanmar but also in India and Bangladesh. ARSA came to the fore first in October 2016 post the attack on border guards that had resulted in multiple casualties.
In the shadows
Indian and Bangladeshi intelligence agencies claim that attacks on 25 August were guided by Pakistani ISI.
A report, which appeared on the day the Prime Minister arrived in Myanmar, talks about an intercepted phone call where Brigadier Ashfaq of the ISI is heard talking to Hafiz Tohar, whom the agencies claim is a Lashkar-e-Taiba (LeT) trained chief of the then Aqa Mul Mujahidin (AMM), and hails from Kyauk Pyin Siek village of Maungdaw, Rakhine.
Tohar merged his group into the ARSA after it was formed in the summer of 2016 and is widely believed to be behind the deadly attacks on Myanmar security forces from 9 to 10 October last year and on 25 August this year.
The calls were intercepted by both Indian and Bangladeshi agencies on 23 and 24 August and it was noted that the conversation dwelt on the attacks on Myanmarese security forces in Rakhine.
This plot by the ISI also involved the Bangladesh Nationalist Party (BNP) cooperation, in the party's efforts to unseat the Awami League government led by Sheikh Hasina and to boost the Rohingya insurgency.
According to the report, Ashfaq, who looks after the Eastern operations of the ISI, has flown to London to meet Begum Khaleda Zia and her son Tariq Rahman and is learnt to have spoken of the need of support from both the BNP and the Jamat-e-Islami to boost the Rohingya insurgency.
In December 2016, an ICG report, based on interviews of some of the members of the group, states that the outfit ARSA, with 20 people at the top, is run from Saudi Arabia and that "all are Rohingya émigrés or have Rohingya heritage. They are well connected in Bangladesh, Pakistan, and possibly India". It said that to gain legitimacy for the attack, the groups use fatwas or religious decree, some of which may have come from India.
"Fatwas (religious rulings) to this effect were apparently obtained shortly after 9 October in several countries with a significant Rohingya diaspora, including Saudi Arabia, Dubai, Pakistan, India and Bangladesh," the report reads.
A matter of security
Security analysts in Delhi say that the impoverished 40,000 Rohingyas, spread all over the country from the sensitive Jammu and Mizoram all the way to Chennai, are susceptible to radicalisation and could be possibly used by the Pakistani agencies to foment trouble. There is a sizeable Rohingya settlement in Pakistan too and the refugee population are known to maintain contact.
The Indian security establishment has been constantly relaying concerns about the Lashkar-e-Taiba trying to expand its reach to the Rohingya inhabited areas of the Bangladesh-Myanmar border through Jamat-ud-Dawa run charities. It is worried about the connection with the Jamaat-ul-Mujahideen Bangladesh (JMB), a Bangladesh-based group which is said to behind the attack on Holey Artisan Bakery in Dhaka in July 2016, beside other acts of violence.
Interestingly, ISI's support to ARSA, and the subsequent Indian and Bangladeshi intelligence input has been able to convince the Myanmar military regime that a foreign country - a veiled reference to Pakistan - is involved in planning attacks on Myanmar's soil.
This has led to increased security collaboration between India and Myanmar and has opened up the possibility of trilateral intelligence sharing between India, Bangladesh and Myanmar - something which should aid India in not just dealing with the threat from ARSA, but also from other organisations like the ULFA(I), NSCN(K) and NDFB(S), who are known to have their cadres in the neighbouring country.
In the case of Naga outifit NSCN(K), experts have been advocating how both India and Myanmar need to take advantage of the death of SS Khaplang which created an opening for dialogue with the insurgent outfit.
For India, experts say ARSA does not constitute a direct threat. The drug trade, and the insurgents in the Northeast are a bigger worry.
The search for truth
The Myanmar government says ARSA, members of which were initially referred to just as Bengali terrorists, which later changed to ARSA extremists, wants to establish an Islamic republic in Northern Rakhine, the epicentre of violence.
This assertion has found ready takers among the right wing groups in India, who anyway look at Rohingyas with contempt.
But it does not echo with either the organisations who have been following the insurgent group or even analysts in New Delhi who have followed the region.
Anagha Neelakantan, the Asia Programme Director of Crisis Group, says, "There is no evidence that ARSA's agenda is similar to that of transnational jihadists. So far, it is about the Rohingya cause - citizenship in Myanmar, and I would imagine reversing some of the extreme and systematic discrimination faced by Rohingya in Myanmar - and not about establishing an Islamic state."
She advises Myanmar's friends and neighbours to "urge the government to ensure the military response is proportionate, does not target civilians, and does not treat all Rohingya as supporters or members of the militant group ARSA."
Even a top security analyst in Delhi says it would be foolhardy to just look at ARSA as a foreign supported outfit. And that this grouping is mostly a result of years of repression by Myanmar's regime.
According to International Crisis Group in a latest statement claims it is deeply dangerous to claim that current crisis is being fuelled by militants with transnational jihadist aims "while there may be domestic political imperatives or gains to be had for politicians in the region to make these claims..."
ICG says continuing with massive military response against general population is fraught with risk of this population being exploited by jihadist groups. It is yet to figure out patterns of funding and arms.
Stuck in the middle
Meanwhile, in India, as cries for deporting the Rohingyas grow, the UNHCR is learnt to be continuing with the registration of those who have entered the country. Activists point out that Rohingyas, especially those who have their relatives already in India, continue to come even as the government has started to talk tough.
"UNHCR has not received any official communication from the government in this regard and there are no reported instances of deportations of UNHCR registered Rohingya from India," the India office of the UN Refugee Agency says, suggesting that there is still ambiguity on the fate of the more than 40,000 Rohingyas who are living in India.
Stripped of citizenship, most of them do not have any documents that are recognised by Myanmar's government. Activists who have worked with them say the government in Rakhine took back their original identity cards and handed them a white piece of paper as an identity - something which can be easily debunked.
In such a scenario, deporting them, as the government of India and Bangladesh wishes to do, is not going to be easy. Sabbar, a Rohingya activist in Delhi too points out how the Indian government has not been able to deport even those few Rohingyas who have been in detention in several states, including in Mizoram and West Bengal.
A refugee crisis
Moreover, for India, the more than 2.7 lakh new refugees who have crossed over to Bangladesh in just last two weeks is sign of worry. UNCHR office in Geneva says the camps in Cox's Bazar close to the border with Rakhine in Bangladesh are bursting to the seams, and that there is an urgent need for more land and shelters.
The Bangladesh government has made it clear that it does not want more refugees. It is already home to more than 40,00,000 Rohingyas and says it is temporarily taking them on humanitarian grounds even as Sheikh Hasina calls for the international community to intervene.
As a stop gap arrangement, to make sure, the huge numbers does not lead to tensions with the locals, the Bangladeshi government is even said to have revived absurd Shutter Island-like plans of keeping the Rohingyas at Thengar Char, an island in the Bay of Bengal.
It is expected that with a dearth of options, the new lot of refugees would likely make their way to India.
But how welcomed would they be? As one saw in Jammu where a spate of anti-Rohingya protests have broken out or in the Northeast where politicians complain that the region has its hands full when it comes to accommodating 'outsiders', not very. The rise of the political clout of the right-wing also means there will be less scope for the Muslim Rohingyas to find any kind of peace in India.

In such a scenario, the only hope for the Indian government rests with coaxing Suu Kyi to implement the Kofi Annan Commission report and to figure out a way to rehabilitate the one million strong Rohingya population which has been facing the brunt of the ultra-nationalist madness in the largely Buddhist country.
As Neelakantan says, Myanmar's friends and neighbours should note that the crisis in Rakhine state needs a broad political, and not just military strategy. "To this end, the government should very quickly announce its timeline for implementing the proposals of the Rakhine Commission (headed by Kofi Annan), whose final report it welcomed last week. Myanmar's friends and partners should provide the government with strong support to implement this."
Neelakantan had some advice so that the likes of Suu Kyi are not allowed to get away with their "iceberg of disinformation" claim and feign that nothing is happening.
"They must reiterate that allowing free humanitarian and media access to the affected areas is the best way to reduce provocative misinformation and polarisation, and restore some level of trust," she says.
Edited by Aleesha Matharu