Animal cruelty in Indonesia: Monkey dressed up as girl, chained, tortured and forced to beg on roadside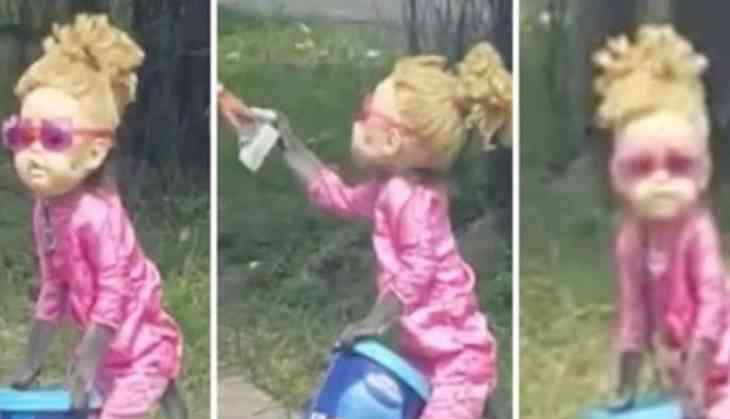 In a shocking event, a video was filmed which showcase a monkey dressed as a blonde doll wearing fancy sunglasses to beg for money and 'entertain' tourists on the roadside.
In a disturbing clip, the monkey has chained to the roadside dressed up as a girl who is also and who is also holding a bucket to collect money from people who are crossing the paths.
The video was filmed in Bogor, Indonesia, shows the monkey wearing a pink colored dress with a full head mask of a blonde girl wearing sunglasses acting along with the music playing in the background.
The monkey curiously looking for the people who are walking in the street to give some money. Many drivers dropped cash in the bucket - at one point, someone hands the monkey some money and he takes it and put it in the bucket himself.
The act is reportedly known as Topeng Monyet, translated as Monkey's Mask, and sees macaques dressed as humans and doing a number of bizarre tasks such as riding bicycles. They're usually chained up so they can't run away.
Topeng Monyet has been banned in Indonesia's capital city Jakarta after a campaign in 2013, however, it is still common in other parts of the country.
Some monkeys were rescued from Jakarta and were unable to return to the forests. It was reported that they were taken from there because of severe physical and mental trauma.
The video went viral as soon as it was posted on social media. There were nasty comments from people who were horrified with the way the animal was being treated. One person wrote: "Poor monkey! Chained by his neck and tortured just to please human beings."
Animal rights group Animal Friends Jogja (AFJ) has previously called for a ban across the whole country. Angelina Pane from AJF said: "Our investigation reveals that the long-tailed macaques undergo three to six months of training in a process that is very cruel."
She also warned that the animals could pass diseases on to humans, noting that 11.3 percent of the long-tailed macaques used in the shows carried tuberculosis.
Also Read: Swedish DJ Avicii died of apparent suicide; 'he could not go on any longer', says family