All at sea: why Sri Lanka's upcoming election matters to India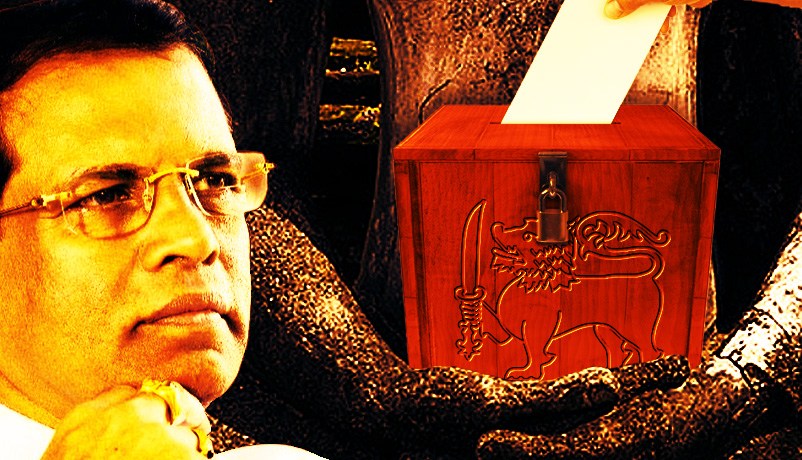 Big election
President Maithripala Sirisena has called parliamentary polls on 17 August
Former president Mahinda Rajapaksa is contesting to become PM
He was defeated by Sirisena, his former minister, in presidential polls in January
Since both leaders belong to the SLFP, the party stands divided
Key concerns
Sirisena says he won\'t appoint Rajapaksa PM if their party wins
It\'ll be against the mandate of the presidential polls, he argues
But he may have to if Rajapaksa gets enough sway over the party
Potential fallout
If Rajapaksa does become PM, the state will be pulled in different directions
Sirisena and Rajapaksa don\'t agree on many issues, policies
Post-war reconstruction, economy could suffer; foreign policy may be contested
India\'s worries
As president, Rajapaksa titled more towards China than India
He got China to fund Colombo Port City, let its submarines prowl the ocean close to India
India has been largely left out of post-war reconstruction, peace process
Colombo has reportedly bought 24 JF-17 aircraft, developed jointly by China and Pakistan
Sri Lankan President Maithripala Sirisena has, as promised, called parliamentary polls on 17 August. It will be no ordinary election, for more than one reason.
In the running to become prime minister is Mahinda Rajapaksa, whom Srisena had defeated in the presidential election in January this year.
Sirisena, a minister under Rajapaksa, had quit their Sri Lanka Freedom Party, or SLFP, to stand against the former strongman, and prevailed. The verdict was believed to signal the end of the decades-long Rajapaksa family rule in the island nation.
After his victory, Sirisena's ambivalence on his predecessor's political comeback was the talk of the town. Now, his sudden statement on Rajapaksa has got everyone talking.
Sirisena has declared he will uphold the mandate of the presidential poll - for change and good governance - and won't invite Rajapaksa to become prime minister if the SLFP, which is part of the United People's Freedom Alliance (UPFA), wins a majority.
Challenger returns
On the face of it, Sirisena is projecting himself as a statesman who won't take sides in the election, even of his own party.
His posturing, however, hasn't gone down well with the party leaders who had broken ranks with Rajapaksa to support Sirisena in January.
In January, Sirisena beat his former boss Rajapaksa. Instead of fading away, Rajapaksa is plotting a comeback
His supporters fear that Sirisena's stand to remain neutral will only strengthen Rajapaksa's hold over the party's candidates, especially at a time when he is going strong on electoral issues. it might even reinforce his chances of staging a comeback.
And if he does, they fear, all accusations of corruption and nepotism against him would fall flat. Worse, given that the rival factions of Srisena and Rajapaksa don't agree on many issues and policies, governance could suffer.
A sea of problems
Sri Lanka can barely afford that. It is faced with several challenges that require urgent attention, post-civil war reconstruction and rehabilitation being on top of the list.
The country has to reduce the trust deficit between various communities, resolve the core issues of the decades-long civil strife, fix the war-torn economy and delicately balance the interests and concerns of major international players and India.
The elephant in the room is the United Nations Human Rights Council (UNHRC) report on war crimes, due in September. Colombo has little elbow room at the UNHRC and can only hope for greater support from India.
Neighbourhood watch
While India voted against Colombo at the UNHRC in 2012 and 2013, it changed tack to abstain in 2014. None of the votes gave New Delhi any strategic advantage.
By the time the new war crimes report comes up for voting, there will be a new government in Colombo. It would be prudent for New Delhi to convey its stand well in advance, win the confidence of the new regime and regain the strategic space it has lost due to the machinations of some motivated groups in the West.
Narendra Modi was the first Indian prime minister to visit the Tamil areas in March this year and seek to build bridges between them and Colombo. Now, India urgently needs to take control of the post-conflict reconstruction, partnering Colombo as well as the political and social set-up in the country's north and east.
Apart from New Delhi and the West, China is also closely watching the unfolding political situation in the island nation.
Rajapaksa's tilt towards Beijing when he was president - inviting it to help build the Colombo Port City and the Maritime Silk Route and looking the other way while Chinese submarines roamed the Indian Ocean backwaters - had caused concern in New Delhi, and rightly so.
It is against this background that the approach of Sirisena's chosen prime minister Ranil Wickremesinghe towards China needs to be viewed.
New Delhi has always maintained that as a sovereign country, it's Sri Lanka's prerogative to pursue independent foreign and economic policies. However, it has also reiterated its faith that Colombo will not do anything to imperil India's strategic and security interests.
Feeling left out
In this context, reports of Sri Lanka acquiring 24 JF-17 aircraft from China are worrying. The JF-17 Thunder is a multi-role combat aircraft developed jointly by the Pakistan Aeronautical Complex and China's Chengdu Aircraft Corporation. It is deployed for aerial reconnaissance, ground attack and aircraft interception.
Colombo has denied these reports, but given that Beijing was its trusted arms supplier during the war against the Tamil separatists, the denial doesn't sound convincing.
Another worry is that to India's detriment, western players have hijacked the post-war peace process and reconstruction.
Recently, Atul Keshap, President Barack Obama's ambassador-designate to Sri Lanka, told the Senate that the US wanted to build lasting peace among the island nation's various religious and ethnic groups.
"We want to help build a lasting peace and fellowship among Sri Lanka's ethnic and religious communities, including credible justice, accountability and reconciliation that can facilitate closure for those who suffered and lost loved ones during the war," Keshap was quoted as saying at his confirmation hearing by PTI. "It is important to get this right, and the UN and the international community can lend useful insight to the efforts of the Sri Lankan people."
That India's assistance and legitimate concerns were not even mentioned was not lost on New Delhi.
That is why it would do well if India were to keep a close watch on the 17 August election.