Alarm call: why the Dhaka attack is Bangladesh's moment of reckoning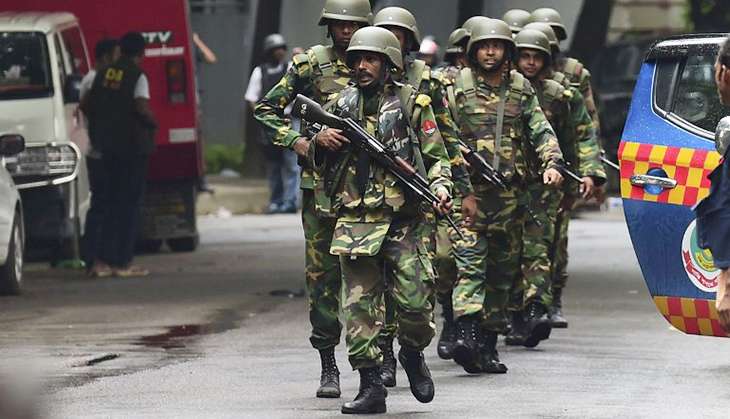 Friday's late night terrorist attack on a popular restaurant in an upscale neighbourhood of Dhaka was waiting to happen. It came on the back of several gruesome killings of secular bloggers, both Muslim and Hindu, and non-Muslim priests in Bangladesh over the last three years.
The terrorists stormed the restaurant screaming "Allah-u-Akbar (Allah is great)", leaving no one in any doubt as to their religious affiliation and their commitment to violent jihad. They were well armed and prepared to die for their cause. The Islamic State has claimed responsibility for this terrorist outrage. The IS had earlier exhorted Muslims to mount such attacks during the holy month of Ramzan when people are out on streets and in restaurants after breaking the day-long fast from dawn to sunset.
Also read - Nightmare in Dhaka: how the terror attack unfolded and what was behind it
The restaurant Holey Artisan Bakery is located in Gulshan, a posh residential and commercial area of Dhaka adjacent to the Baridhara diplomatic enclave, where foreign missions are located and where most foreigners live. Given its location and attractive continental cuisine, the restaurant was frequented by foreigners and Bangladeshis alike. The target was carefully chosen. Killing foreigners ensures the widest international publicity. Western media outlets have given wide coverage to the attack, many calling the terrorists "gunmen". Western media sources have a deliberate policy to label terrorists "gunmen" when such incidents take place in non-Western countries. If this incident had taken place in one of the capital cities of the Western world, the perpetrators would not have been labelled "gunmen", but terrorists ab initio.
After negotiations failed to resolve the hostage situation, commandos of the Bangladeshi security forces stormed the restaurant early Saturday morning, killing six terrorists and rescuing 13 people, including one Japanese and two Sri Lankans. One terrorist was captured alive. The terrorists killed 20 people at the restaurant, reportedly all non-Muslim, and two policemen who had first responded to the shooting. The slain diners are reportedly mostly Italians and Japanese, and they were hacked to death, indicating the fascination of radical Islamists for causing shock and awe through spillage of blood and gore.
A 19-year-old Indian girl vacationing in Dhaka with her parents was among those killed.
The terrorists also took 35 people hostage. And as the hostage crisis was underway, a Hindu priest was hacked to death inside a temple in Satkhira, a district bordering West Bengal. Last week, a Hindu priest had been hacked to death outside his temple in Jheniadah district. Radical Islamists are clearly going after soft targets, knowing the Bangladeshi government and security forces cannot safeguard individuals and people gathered at public places - restaurants, malls, streets.
Wake-up call
The Dhaka attack should be a wake up call for Prime Minister Sheikh Hasina to get serious about radical Islamists and their international backers, who are targeting the country to destabilise her secular-leaning regime. This attack was calculated to escalate the level of radical Islamist violence. The earlier attacks on individuals were conducted by machete-wielding killers, but this time the attackers were well armed with grenades and automatic weapons.
This attack also has serious implications for India's security, especially in states neighbouring Bangladesh. Indeed, the Indian government has put out an alert in all these states.
In a televised address, Hasina deplored the terrorist act as anti-Islamic. She vowed to fight such attacks and urged all citizens to come forward and help the government. She also mouthed the clichéd argument that terrorists have no religion. The fact remains that the terrorists who carried out this outrage certainly believed in Islam and thought they were doing the work of Allah by indulging in violent jihad.
Hasina's regime has cracked down on many Islamist parties and radical elements. She has accused opposition parties of ganging up with radical Islamist and criminals to undermine her government through such attacks. The execution of several Jamaat-e-Islami leaders lends some credence to her argument although these groups have denied such accusations.
Danger zone
Whether the latest attack was directed by the IS or al-Qaeda remains to be seen, but there is little doubt that the attackers were home-grown, and not particularly well trained. Hasina's statements point to a global connection that is believed to run via Pakistan, Canada, UK, US and the Gulf, nations which host large Bangladeshi expatriate populations. Many expatriates are ideologically opposed to Hasina and believe violence is the only way to fell her government. Recently, Singapore deported several Bangladeshi workers after they were found to be plotting violence in their homeland.
While the IS or al-Qaeda could have provided the inspiration, the resources for the attack - money and weapons - could have been provided by elements opposed to the Hasina government. Pakistan certainly has enough motivation to destabilise the Hasina regime through its proxies in the Islamist parties and even in the mainstream Bangladesh Nationalist Party led by former prime minister Khaleda Zia.
Relations between Bangladesh and Pakistan have hit rock bottom after the execution of Jamaat-e-Islami leaders who were found guilty of committing atrocities at the behest of the Pakistani Army during the War of Liberation in 1971. Pakistan's reaction to the executions left no one in any doubt that it felt deeply aggrieved that its friends and proxies were being systematically eliminated.
Moreover, Hasina's crackdown on radical Islamists and Indian insurgent groups has upset Pakistan's policy of destabilising India's Northeast from Bangladeshi soil.
Bangladesh is entering an era of instability brought about by radical Islamist violence. To safeguard itself, it needs to create smarter intelligence networks, co-opt moderate Islamic groups and take preemptive action against radical elements. This would mean monitoring madrasas and other educational institutions where radicalisation takes place and counselling the students against radicalisation.
To ensure this effort is successful, India, along with other friendly countries, must take the responsibility to to provide technological and material support to Bangladesh. The war on terror cannot be fought without international cooperation. Besides helping vulnerable nations such as Bangladesh, the global community must sanction countries that nurture and deploy terrorists as tools for achieving geopolitical goals and ensure they adhere to the norms of civilised behaviour.
More in Catch - Bangladesh's growing Islamist violence and how it can destroy the country
Here's why the Dhaka restaurant attack is ringing alarm bells for Bangladesh