After Nice, it's Germany: 17-year-old axe-wielding teen injures 20 on a train
UPDATE: ISIS has now claimed responsibility for this attack
A 17-year-old teenager armed with an axe and a knife attacked and injured about 20 passengers on a train in Wurzburg, Germany. Three people were seriously injured while another sustained light injuries. This, before the attacker was shot dead by the police on the evening of Monday, 18 July.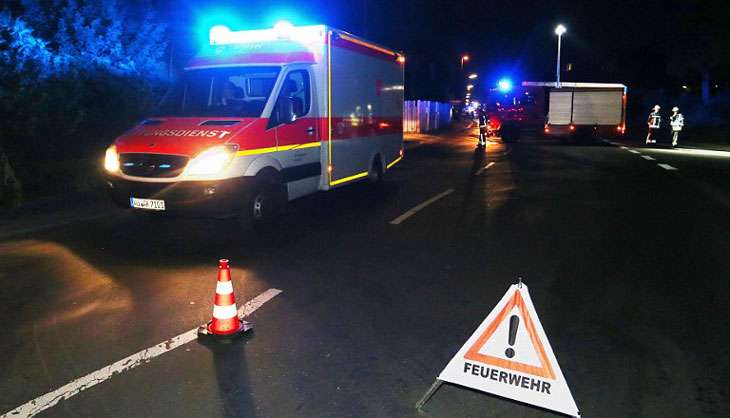 Karl-Josef Hildenbrand/dpa/AFP
According to Bavaria's interior minister, Joachim Hermaan, the attacker was an Afghan asylum seeker. He arrived in the country as an unaccompanied minor and lived with a foster family in Ochesenfurt, just south of where the incident took palce. Witnesses on the train said the attacker had shouted "Allahu Akbar" during the attack.
Here's all the latest we know:
GERMANY

- Attack on train in Wurzburg
- 20 injured, 4 seriously
- Man was wielding axe
- Afghan refugee
- Suspect shot dead by police

— The Int'l Spectator (@spectatorindex) July 18, 2016
Germany houses an estimated 1.2 million refugees. The number of asylum seekers in Europe, by the end of 2017, would be around 3 million, according to the European commission.

As for Afghan citizens, about 154,000 of them migrated to Germany in 2015, according to a study published in April by Germany's Friedrich Ebert Foundation. Of them, 32,000 applied for asylum.

Within hours of the attack,

#PrayForGermany and Afghan started trending. In many cities local trends, these were above

#RNCinCLE (the Republican National Convention) in many places across the world.
Another day, another hashtag 💔😞#prayforgermany 🇩🇪 https://t.co/UReAoDwav0

— of Verona (@ofVerona) July 18, 2016
Another day. Another country. Another tragedy. Another day where people are afraid and scared. When will it stop? #PrayForGermany

— Suzy (@suzy_cutsie) July 19, 2016
There's literally a new hashtag at least twice a week...the world is getting out of hand. #PrayForTheWorld #PrayForGermany

— Erynn McKay (@3rynn_Mckay) July 19, 2016
everyday i see a new 'pray for' # trending. it's absolutely terrifying and upsetting whats happening in the world right now. #PrayForGermany

— Jos (@josefineeks) July 19, 2016
I want to wake up in a world where we don't have to worry about what happened while we were alseep #PrayForGermany

— gracie ✝️ (@gracesochic98) July 19, 2016
Jihadists calling for knife attacks in recent times:
Attack in Germany also involved knife. Jihadists have been calling for knife attacks recently. https://t.co/0K17EzVIMv

— Paul Joseph Watson (@PrisonPlanet) July 18, 2016
As one of many posts on Twitter, ISIS supporters were celebrating this attack. Doesn't mean they necessarily are responsible for the attack:
ISIS supporters are celebrating the axe attack in Germany. https://t.co/0K17EzVIMv pic.twitter.com/hbJhHxuxvo

— Paul Joseph Watson (@PrisonPlanet) July 18, 2016
But we don't know if it was ISIS who called for the attack:
I am not saying #Wurzburg attacker got orders from ISIS. But these posts are read by ISIS fans all over world. Their influence is huge.

— Jenan Moussa (@jenanmoussa) July 18, 2016
Maybe they will claim responsibility:
Let's see if ISIS claims this. It took them 36 hours to claim #Nice attack. Early to say reg. #Wuerzburg but signs point in ISIS direction.

— Jenan Moussa (@jenanmoussa) July 18, 2016
Is the problem the influx of uncivilised Arabs?
France on the brink of civil war but don't worry about Germany: the influx of 3M uncivilised Arabs will bring an explosion of problems soon.

— Voice of Europe (@V_of_Europe) July 18, 2016
2016 hasn't been a good year so far and there is hope that the second half of the year be better.