A stalemate debate: Trump wins on personal fronts, Hillary on policy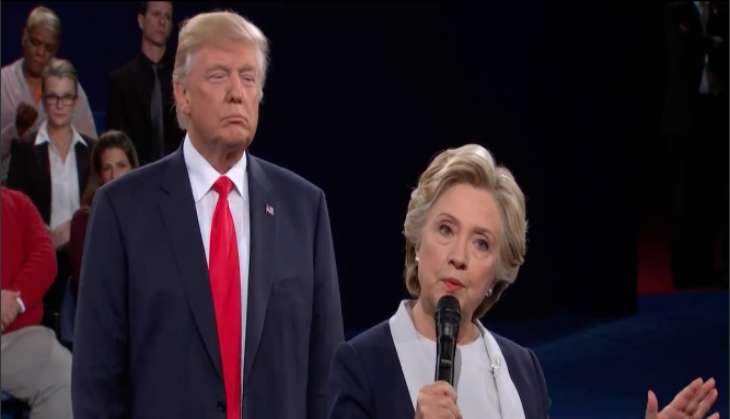 The first presidential debate had one clear winner - Hillary Clinton. And, after Friday's release of a video that shows Trump objectifying women and talking about groping them, it seemed the penultimate debate would go the same way.
However, at the townhall debate at Washington University in St. Louis, Missouri on Monday, Donald Trump managed to stem the rot in his campaign. Even as political pundits expected Hillary Clinton to deliver a killing blow to Trump's beleaguered campaign, Trump somehow escaped the debate with a perceived stalemate.
An improved Trump showing
In the first presidential debate, Trump lost the plot. He got flustered, personal and interrupted Clinton several times. This time around, Trump cut a remarkably more calm figure.
While he was his usual belligerent self, it was clear for all to see that Trump was doing his best not to go the route of the first debate. Yes, he did interrupt Clinton, but nowhere near as often as he did in the first debate. His tone too, was more relaxed, even when he went on the offensive.
In the first debate, Trump blamed his poor performance on a faulty microphone, something that seemed laughable but may actually have been the case. This time around, he didn't have any such problem and seemed a lot more self-assured, despite the recent scandals.
A tale of three scandals
It hasn't been the best of weeks for either Trump or Clinton. Trump's video has drawn flak from women's groups, opponents and even members of his own party. Clinton though, hasn't had it all her own way either. She has been in damage control mode as transcripts of her paid speeches to bankers were released, transcripts which contain statements that cast further aspersions on her honesty.
At the townhall debate, both candidates had to face up to their respective scandals and neither appeared very convincing.
The video
When Trump's video was brought up, almost soon after the debate had begun, he apologised, but it was a Trump apology. So, while he did say sorry for it, he also dismissed his statements in the video as "locker room talk", even adding that "no one has greater respect for women than me".
Realising that the more he talked about the scandal, the worse it got, Trump tried to pivot by saying the video was a distraction from real issues like ISIS.
The stage was set for Clinton to pounce, and she did. Clinton used the scandal to highlight Trump's general offensiveness, highlighting Trump's misogyny but reminding the audience that he has also targeted minorities and immigrants as well.
This should have been a death blow, but Clinton was undone by her husband Bill's indiscretions which Trump gleefully raked up.
"There's never been anyone in the history of politics in this country who's been more abusive towards women than Bill Clinton," Trump stated, going on to list his indiscretions as Bill Clinton watched on stony-faced. He also had 3 women who'd accused Bill of sexual harassment seated in the hall.
He even used Bill's actions to make himself seem less odious, stating, "His are actions. Mine are words."
Clinton's transcripts
Later in the debate, Clinton was asked about her leaked transcripts. In a speech given to the National Multi-Housing Council, Clinton had stated, "You just have to sort of figure out how to ... balance the public and the private efforts that are necessary to be successful, politically."
The statement has been construed as Clinton advising corporations to be duplicitous. However, Clinton clarified that she was speaking about it in the context of Abraham Lincoln's methods. It was factually correct as well, something that is clear in the leaked transcripts.
Donald Trump, however, managed to severely undermine her defence, laughingly dismissing her claims saying, "Honest Abe, never lied and that's the big difference between him and you." Trumps statement got a loud cheer from the townhall audience.
Clinton also tried to extricate her self from the transcript mess by claiming all of it was Russia's attempt to sabotage her campaign and help Trump's. This was dismissed by Trump who claimed, "I know nothing about Russia."
The spectre of the private servers
Trump's biggest success in the first debate, bringing up Clinton's use private email servers, once again returned to help the Republican candidate.
Trump highlighted Clinton's breach of official protocol, using it as proof of her "bad judgement." While Clinton apologised, terming her decision "a mistake", it didn't seem like a very convincing answer.
Seizing on her discomfort, Trump even took things to a whole new level by threatening to prosecute her should he be elected. When Clinton said it was a good thing that he wasn't in charge, Trump retorted with an acidic "Because you'd be in jail."
Clinton wins on policy
While Trump managed to win when it came to personal scandals, he was decimated by Clinton when it came to anything to do with policy. Fact checkers showed that nearly all of Trump's claims on the economy and policy were dubious at best.
Clinton meanwhile had smart, structured answers to all questions on policy, be it financial, domestic or otherwise. Trump, on the other hand, resorted mostly to rhetoric and badmouthing present policies while not really substantiating anything he said.
When asked about Syria, Clinton gave a smart answer, defending present policies and outlining a way forward including arming Kurdish forces. Trump, meanwhile, tried to deflect from his lack of foreign policy knowledge by questioning US military policy in Mosul, Iraq.
On taxation as well, Trump accused Clinton of being for the carrier tax, something Clinton has historically been against and something she pointed out. When he accused her of not doing anything about it, Clinton used the opportunity to highlight her work as a senator, underscoring her qualifications and making Trump look silly.
Obamacare was the only area where Trump managed to score any points, and even there it was because Bill Clinton had criticised the program, something that Trump pointed out.
As the debate moved more and more towards the policy aspects, Trump continued to concede ground. Luckily for Trump though, the debate ended before too much damage could be done.