Meghan Markle's co-humanitarian worker jailed in Saudi, faces upto 20 years in prison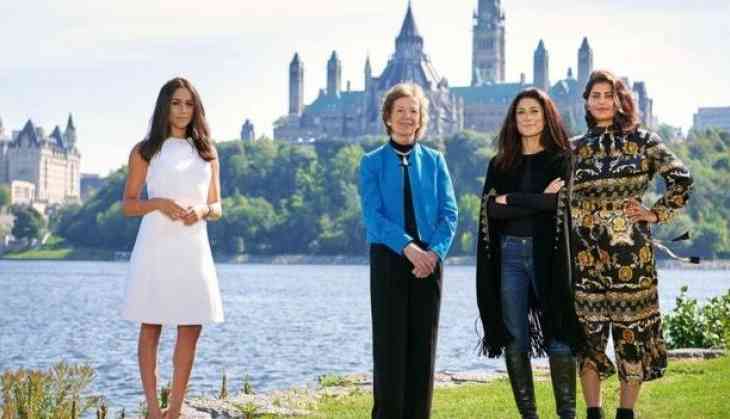 Markle poses with Mary Robinson, the former President of Ireland, poet Fatima Bhutto, and women's rights activist Loujain al-Hathloul in front of Ottawa's Parliament Hill
The 28-year-old high profile feminists from Saudi Arabia, Loujain al-Hathloul who attended a humanitarian summit last year in Canada along with Meghan Markle, who married Prince Harry on Saturday is in-prison in Saudi and could face up to 20 years jail.
Hathloul was stopped near the university in Abu Dhabi in 2014 for trying to drive across the border to Saudi Arabia. She was arrested and detained for 73 days but was released later.
She was again detained while driving on a highway near her university in Abu Dhabi. This crackdown happened when Crown Prince of Saudi Mohammed bin Salman was on a visit to the United States in March this year touting reform.
"It appears Loujain al-Hathloul has once again been targeted for her peaceful work and for speaking up for women's rights, which are consistently undermined in Saudi Arabia" @amnesty #FreeLoujainhttps://t.co/azXFnK9Ruy

— Émna ~ آمنة 🙏 (@EmnaMizouni) May 20, 2018
She was banned from using social media and even not allowed to leave the country as the Crown Prince was out for three-week public relations in the US. Hathloul's last tweet was on March 12.
Till now seven Saudi residents have been detained that includes five women and two men. They are booked for "suspicious contact with foreign parties" and undermining the "security and stability" of Saudi Arabia.
Look how far we still have to go.
Saudi authorities have arrested seven women's rights advocates
Saudi Arabia has strict laws requiring women to seek male permission for various decisions and actions.
They include Loujain al-Hathloul and Eman al-Nafjan.

— Frederick James (@frederickmpj) May 19, 2018
On May 15, Hathloul's house was raided and she was taken to al-Hair prison, shared an activist in London. Along with Hathloul other women's rights campaigner have been arrested and detained and can be jailed for 20 years.
Also Read:Pak's top daily Dawn 'feels the heat' over reporting Nawaz Sharif's 26/11 remark