5 dead, over 35 injured in attack on Siraj Raisani's convoy in Mastung blast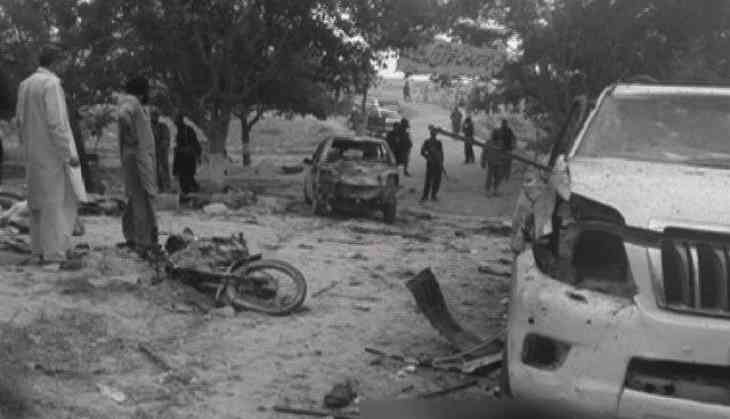 Seven killed and 35 others injured on Friday in a blast at an election meeting of Nawabzada Siraj Raisani, a younger brother of former Balochistan chief minister Aslam Raisai in the Darengarh area of Mastung. According to reports, Raisani is said to be critically injured.
The initial report stated that Siraj's convoy was attacked after the meeting for provincial assembly seat ended.
Balochistan is bleeding again. More then 60 people lost their precious lives in Bomb Blast in election campaign of political leader in Mastung district.
My heart goes with the family of departed souls.
کب نظر میں آئے گی بے داغ سبزے کی بہار
خون کے دھبے دھلے گی کتنی برساتوں کے بعد؟

— jalila haider (@Advjalila) July 13, 2018
Some 5 persons killed, 25 injured--number may go up--in #MastungBlast. Spoke to DPO Ayub Khan who is monitoring the sad situation. Nawabzada Siraj Raisani is also injured. Blast occurred in B-Area. He is younger brother ex CM Balochistan Nawab Aslam Raisani. Story is developing.

— Zahid Gishkori (@ZahidGishkori) July 13, 2018
Pakistan: 2 blasts today; one in Bannu targeting a political candidate for Islamist party MMA. The second blast occurred in Mastung, Balochistan where a political candidate of Baloch party BAP was targeted. Both targets luckily survived but multiple casualties in both attacks.

— F. Jeffery 👁 (@Natsecjeff) July 13, 2018
Earlier today JUI-F candidate Akram Durrani narrowly escaped a suicide attack on his convoy in Bannu -- and now a blast reported at election meeting in Mastung, Balochistan of candidate Siraj Raisani -- he's reported to be severely injured

— omar r quraishi (@omar_quraishi) July 13, 2018
35 injured people have been taken to District Headquarters (DHQ) Hospital Mastung. As soon as the attack happened, an emergency was declared and more staff were called to the hospitals of Quetta.
Also Read:Pakistan: Four killed,16 injured in explosion near Akram Khan Durrani convoy in Bannu