4 countries, $7.6 billion, 1 pipeline. It's not all gas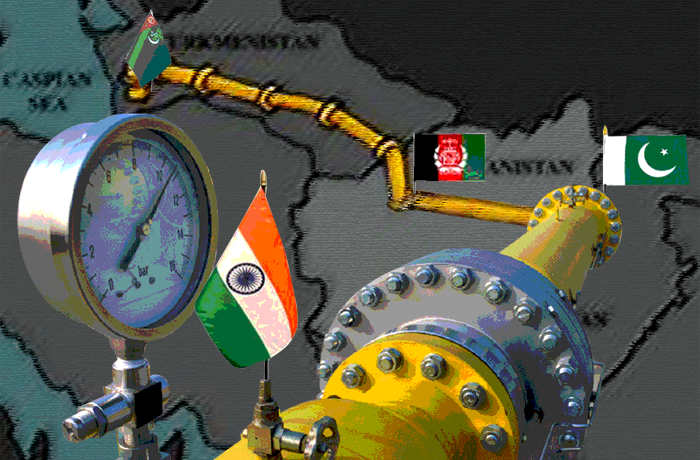 A remarkable effort
Vice-President Ansari was in Turkmen Asghabat on Sunday to inaugurate TAPI
TAPI - Turkmenistan-Afghanistan-Pakistan-India - is a pipeline to ferry natural gas
Vitals stats
National oils cos of the 4 countries have come together for the joint venture
The pipeline will cost $7.6 billion
More in the story
What does this mean geopolitically
It has often been called the "on/off pipeline" or the "pipeline dream". But on Sunday it seemed the dream will finally materialise as the $7.6 billion Turkmenistan-Afghanistan-Pakistan-India (TAPI) gas pipeline was inaugurated in Turkmen capital Ashgabat.
Vice-president Hamid Ansari joined Pakistan Prime Minister Nawaz Sharif, Afghan President Ashraf Ghani and Turkmenistan's President Gurbanguly Berdimuhamedov for the ground-breaking ceremony.
Also read - #GiveItUp won't be enough for the fuel needs of rural India
Here are some basic facts about the pipeline that will carry gas from Turkmenistan to South Asia:
* Length: 1,735 kilometres
* Capacity: 90 million standard cubic metres a day (mmscmd) gas
* That's nearly 33 billion cubic metres a year
* India, Pakistan to get 38 mmscmd each a day; Afghanistan to get 14 mmscmd
* Projected date of completion: December 2018
* Life: 30 years
* Where will the gas come from: Galkynysh/Dauletabad field in southeastern Turkmenistan
* At an estimated reserve of 13,100 billion cubic metre,that's among the world's largest fields
To-and-fro
The project, conceived in October 1997, failed to take off until now despite an intergovernmental agreement, the Gas Pipeline Framework Agreement (GPFA), and the Gas Sale and Purchase Agreement (GSPA) being signed between 2010 and 2013 due to multiple challenges.
Security was the prime concern. The pipeline will run through Taliban-controlled territory in Afghanistan and sections in Pakistan that are dens of terrorists.
"No doubt this will be a very important aspect that will have to be worked out," Navtej Sarna, secretary (west), Indian foreign ministry, told reporters at a recent press conference.
The TAPI project is crucial to India in many ways. Its success could spur other connectivity projects such as road and rail links between Central Asia and India, and potentially change economic relations.
International energy companies, including Chevron Corp, ExxonMobil and Total SA, toyed with the idea of building the pipeline, but nothing concrete came out of it as Turkmen laws don't allow foreign ownership of gas fields.
Final lap
So the four countries decided to bring in their national oil companies to form TAPI Pipeline Co Ltd. Indian Oil Minister Dharmendra Pradhan attended that meeting in Ashgabat in August. In October Turkmengaz, Afghan Gas Enterprise, Inter State Gas Systems (Pakistan) and GAIL (India) confirmed holdings of 25% each in the joint venture.
Turkmenistan currently exports gas to China, Russia and Iran. But its relations with Russia has taken a beating after Ashgabat accused in July that Russia's Gazprom failed to pay for fuel supplied this year. Russia has reduced its gas purchases to 4 billion cubic metres.
The route
The plan is that the after the pipeline starts from the gas fields, it will run across the border into Afghanistan's Herat province, traverse southeast through Farah and Helmand provinces (following the Herat-Kandahar highway) and enter Kandahar province.
The pipeline will then cross the border into Pakistan at Quetta, the capital of Balochistan province run east until it enters India and ends in the town of Fazilka.
Also read - Europe has a new cybersecurity law, and you'd better watch out
This route could shift, but there are only so many ways to get from Turkmenistan to India after all.
Enter the Dragon
Dubai-owned Dragon Oil, which is developing the Cheleken field in the Turkmen sector of the Caspian Sea, is discussing the possibility of investing $10 billion in a natural gas pipeline from Turkmenistan to India.
This is "a potential boost to the project after several western oil companies failed to secure a role", it said.
But the company's involvement raises some questions:
In order to supply its output through TAPI, Dragon Oil would have to build a pipeline to link its field in Turkmenistan's west to TAPI. That's at least a thousand kilometres. Why would the company invest so heavily in a project that requires vast infrastructure?
The most likely answer is that Dragon Oil hopes that a pipeline connecting the country's east to the west may eventually let them supply Turkmen gas to the lucrative European market should conditions become favourable.
It, however, could face competition from Iran if western sanctions on the country are lifted. Iran will do its best to protect its market in Europe.
* * *
If TAPI succeeds, diplomatic relations could undergo major changes. Central Asia can exit out the Russia-China orbit after long.
What remains to be seen is how politics, diplomacy, and economics combine to transform the "pipeline dream" to "a pipeline of peace".
More in Catch - Chinese whispers: a reality check on the Modi-Sharif huddle
The great internet scare: the US is worried Russia could cut undersea data cables