30 Days, 30 Songs: Famous bands bashing Trump in song is music to our ears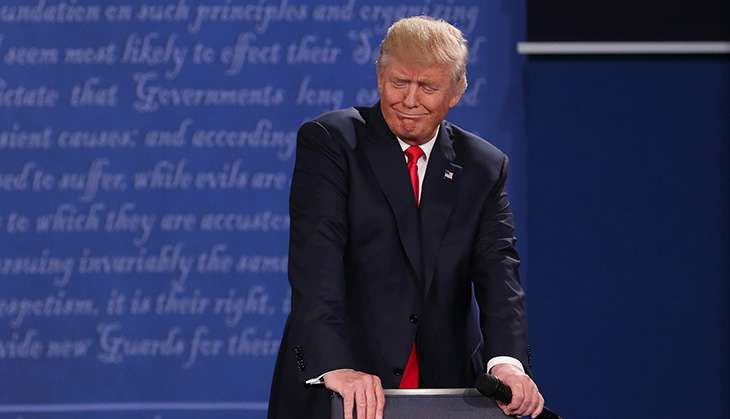 The groundswell of discontent around US presidential candidate Donald Trump is growing. Recently, the parliament of New South Wales, Australia, even unanimously adopted motion declaring Trump "A revolting slug". Now, the chorus against Trump just got louder, thanks to a website with a musical anti-Trump message.
Called '30 days, 30 songs', the website will be releasing one original song each day by popular musical artists. The aim of the website is to "provide both motivation and soundtrack to doing the right thing ...before this most pivotal election". The right thing, as the website makes amply clear, is to vote for Hillary, not Trump.
Drowning noise with sound
Until just recently, it seemed like Donald Trump's actions were devoid of consequences. He insulted women, America's black community, Muslims, former soldiers and even the disabled. If it had a pulse, and lived on this planet, Trump probably insulted it; crucially, without consequence.
Also read -Mic drops are for ordinary people. Michelle Obama destroys Donald Trump with a 'mic tap'
In fact, at one point, Trump famously declared that he "could stand in the middle of Fifth Avenue and shoot somebody" without losing a vote.
Thankfully, for both the US as well as the wider world, Trump's seeming immunity has worn off as we head into the final leg of the election. Now, as scandals continue to tumble out of his Trump Towers closet (the best closet, no one has a better closet), this latest musical attack aims to further the anti-Trump sentiment.
File Photo
The website is the product of Dave Eggers and Jordan Kurland - the same folk who created '90 days, 90 reasons', a similar movement to generate support for Obama's re-election. Going by what happened then, the emergence of 30 days is reassuring. Together, they've rallied 30 popular musicians under the banner 'Artists for a Trump-free America'.
Speaking to Entertainment Weekly, Eggert explained how he thought up the campaign, "[I] was surprised to hear Elton John's 'Tiny Dancer' played while Trump's plane taxied toward the rally. It was hilarious and perverse, and had a very emasculating effect on the man who stepped out of the plane. So it made me think that the right song had the power to puncture the unholy orb of pressurized hatred that is Trump."
Artists for a Trump-free America
To this end, Eggert and Kurland have rounded up 30 popular American musicians, from Death Cab for Cutie to Jim Jones of My Morning Jacket and R.E.M.
The website's attack on Trump kicked off on a hilarious note with Death Cab's Million Dollar Loan, a song that mocks Trump's struggle to make it, equipped only with the million dollars his father loaned him.
With lyrics like "A million dollar loan, Nobody makes it on their own, without a million dollar loan", the song actually manages to do something that most didn't think possible - amplify the ludicrousness of Trump's statements. If (somehow) the ridiculousness of Trump hadn't already come through, the song makes it impossible to take Trump seriously.
Also read -Orangeface goes legit: Meryl Streep plays Donald Trump better than Trump plays himself
That song has since been followed up by a song by Aimee Man written from the perspective of Trump, a third by Bhi Bhiman mocking Trump's connection with Russia and, most recently, a track by Jim James calling Trump out for the lies his campaign is built on.
Each of these songs is accompanied by a note from the artists themselves and, as in the case of Death Cab, music videos as well.
Amazingly, for songs written in a hurry (the campaign only really gained momentum last month), the songs are eminently listenable. In fact, while the music they're set to is enjoyable enough, their lyrics, at different points, are humorous, smart and poetic. Some might even say these artists know all the good lyrics, the best lyrics, no one has lyrics like these artists.
Also read -Memes of Donald Trump pulling out nose flags is the internet's current favourite obsession
Now, with 26 more days of the campaign still left, and with a few spots still open, we could yet get some absolute belters from some of our favourite artists. Who's up next to bat against Trump? Tune in to 30 Days 30 Songs to find out.