Youth overcomes debilitating disorder to excel, another rigs amulet to cheat in exam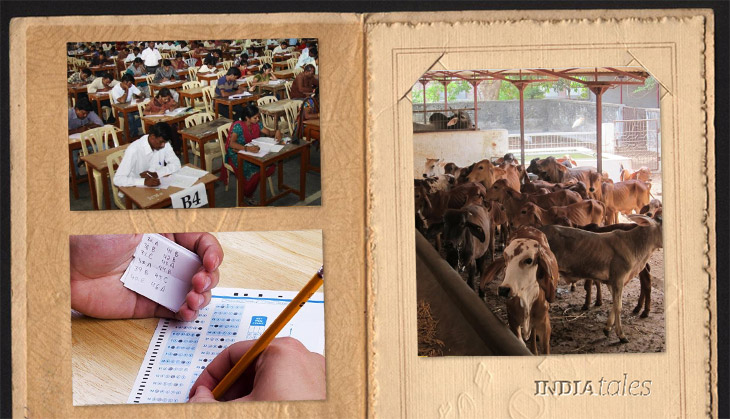 01
Kamdhenu Nagar:
RSS
plans to build cow shelters in 'every city'
The Sangh Parivar just won't give up on "cow politics". The Hindutva outfit is planning to build at least one cow shelter in every city of the country.
Shankar Lal, the chief of the Sangh-affiliated Akhil Bhartiya Gau Sewa Sangh, said they have already acquired land for this purpose in Kolkata, Guwahati and Chennai. The Sangh is also seeking to build such centres in prison complexes, he added.
As per the plan, the cow shelter would be called Kamdhenu Nagar. To be built on the "public private partnership model", the five-acre complex would have housing facilities, a temple and "space for carrying out Hindu rituals". Additionally, vegetables would be grown in the compound. The profits from "cow products and vegetable farming" would go to the cow donors.
Kamdhenu Nagar, however, wouldn't take in just any cow, only bovines of "indigenous breeds".
Shankar Lal said they are not asking for government assistance for the project, "but we welcome any aid".
The project, according to Shankar Lal, is aimed at "raising awareness about cows in our society". His outfit "will organise special exams in schools and extend scholarships to students for this cause".
Shankar Lal also said the RSS is mulling opening universities "to promote scientific studies on the cow". Praising the governments of Madhya Pradesh, Gujarat and Haryana for taking "the initiative to establish cow sanctuaries", he demanded that every state follow their lead.
02
Meet Rahul Nema, a man of brittle bones but unbreakable spirit
Rahul Nema, a resident of Sivni in Madhya Pradesh, has suffered over 300 bone fractures in his 23 years. Suffering from a rare genetic disorder called Oestogenesis Imperfecta, he is not even able to walk on his own feet. The incurable disease has left Rahul's bones too weak to sustain his body weight. He's no more than 2.5 feet tall.
But the disorder has not deterred his spirits. Far from it. Rahul just took the main exam of the Madhya Pradesh Public Service Commission in Jabalpur.
His father Vijay Nema, a higher secondary school principal in Sivni, took him on a wheel chair to the exam hall, where "special arrangements" had been made for him.
Rahul is currently pursuing MSc from a private college. He commutes to the college in a specially modified autorickshaw. "The auto has special seat belts to save him from jerks during the journey," his father says.
A recipient of the National Child Award for exceptional achievement, Rahul took a semester off to prepare for MPPSC exam. Vijay Nema says his son has been a "brilliant student" all along and he wants to see him become a public servant. When Rahul is not studying, Nema says, he likes to watch cricket and play chess.
03
Bhopal student rigs amulet, earrings to cheat in MBBS entrance exam
Many students wear lucky charms to exams. But a young woman in Bhopal literally hoped to crack her medical entrance test with the help of an amulet. Well, it was fitted with a memory chip to help her cheat.
The woman was writing her test at Pandit Khushi Lal Ayurvedic College when a "flying squad" from Barkatullah University, Bhopal, arrived for a surprise inspection. One inspector heard "some noise" while walking around the exam hall. "This raised the suspicion that some candidate could be using electronic devices for cheating," said one of the inspectors who requested no to be named.
The squad then frisked around half a dozen students, but found nothing suspicious. "When the mysterious sound still persisted, a female squad member took the accused to another room and searched her."
"To the surprise of everyone, she found a memory chip hidden in the amulet the student was wearing. She was listening to answers recorded on the chip through a Bluetooth device fitted in her earrings."
A case of cheating has been registered against the student. "There could be other instances of cheating in a similar manner. It is very difficult to spot it. The girl would never have been caught if her Bluetooth device hadn't made noise," the inspector said. "I think it has become essential to use electronic jammers in examination halls."