Yadav Singh: why is UP govt shielding a babu with 100 crore in diamonds?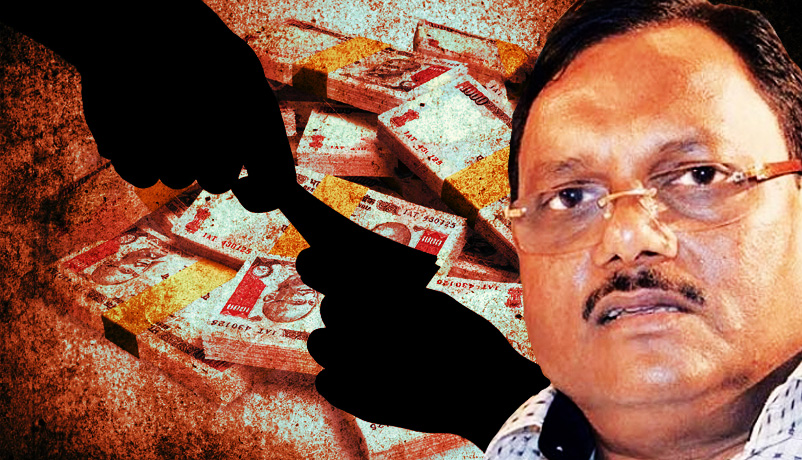 The rise and fall
Yadav Singh, once a junior engineer, rose to become the chief engineer of Noida authority
He thrived both during the SP and BSP regimes in Uttar Pradesh
Rs 100 crore in diamonds, Rs 10 crore in cash and 2 kg gold was recovered from building connected to him
Now there is a CBI probe against him
The protection
The UP government approached the High Court and Supreme Court opposing a CBI probe against Yadav
The probe began in response to a PIL filed by Nutan Thakur
She had also released a tape in which Mulayam Singh Yadav allegedly threatened her husband, an IPS officer
Every change in government in Uttar Pradesh tends to change the fortunes of public officials and private individuals dependent on political patronage.
There are exceptions - like liquor baron Ponty Chadha, until his murder in 2012, and bureaucrat Yadav Singh. Once a junior engineer in Noida authority, Singh was one of the very few government officials who managed to stay afloat in successive state governments headed by Mulayam Singh Yadav, Mayawati and finally Mulayam's son Akhilesh Yadav. But his luck ran out seven months ago.
Rs 100 crore worth of diamonds, Rs 10 crore in cash and 2 kg gold was recovered in IT raids on 25 buildings connected to Singh in November last year.
Singh's clout can be seen from the desperation with which the UP government deployed a battery of senior lawyers to stall CBI investigations against him.
The CBI investigation against Singh was initiated by the Allahabad High Court based on a petition filed by Nutan Thakur. "What is interesting is that it wasn't Yadav Singh who approached High Court or Supreme Court against the CBI inquiry, it was the UP government," she says.
It wasn't Yadav Singh but the UP government which approached the court to block a CBI probe into his case
This isn't Thakur's only confrontation with the state government. Recently, she had released a tape in which Mulayam Singh Yadav was supposedly threatening her husband Amitabh Thakur, an IPS officer, to mend his ways. A sexual harassment case was later filed against Thakur.
Coming back to the Yadav Singh case, the UP government has received setbacks from the Allahabad High Court and now from the Apex Court. The CBI probe into the Yadav Singh case have already begun. Here's why Yadav Singh is in trouble.
The man
In the 1980s, Singh joined Noida authority as a non-gazetted junior engineer, the rank most diploma holders like him start from.
Within five years he was promoted to the rank of assistant projected engineer. By 1995 he was designated as a project engineer
This is believed to be the time when Yadav made inroads into the Samajwadi Party.
Soon after Mulayam Singh Yadav became chief minister, Singh got a double promotion and became chief engineer.
Over the next 12 years he remained posted in Noida, despite changes in the state government.
Not only did he stay put in Noida, the post of 'engineer in chief' was specially created to fit him keep him there.
By November 2014, when investigations against him began surfacing, he had been given additional charge of Noida Expressway Authority and Greater Noida.
Allegations and his worth
The exact figure is hard to estimate. However, one could make guesses based on the fact that in the last 12 years, he executed projects worth Rs 8,000 crore.
On 27 November 2014, the income tax department carried out simultaneous raids on 25 premises that Singh was associated with.
He is reported to own several bungalows in Agra, one of which is just 5 km away from the Taj Mahal.
According to a CBI official, "Based on the income tax returns and other records, between 2009 to 2014, the total savings of the family of then chief engineer was approximately Rs 1.70 crore, immovable property approximately worth Rs 3.60 crore.
An amount of about Rs 10 crore was also recovered from his associate, which may belong to Singh, says the official.
The agency took first big step in the case on Wednesday but conducting raids in 16 place at Noida, Greater Noida, Agra, Ferozabad and Lucknow.
CBI has filed its first FIR in the case under criminal conspiracy and provisions of Prevention of Corruption Act (PCA) against Singh, his wife, son and daughter and one another person, Rajender Minocha, for amassing disproportionate assets.
According to the CBI officer, Yadav has reportedly been associated with several firms in the past one decade. "Two of these have zoomed from a few thousand rupees seed to valuation of several crores in last five years."
In December 2011, he allegedly cleared projects worth Rs 954 crore in just eight days. After a complaint was lodged while SP government was in power in March 2012, he was put under suspension.
A political observer in Uttar Pradesh who did not wish to be named, said this happened because a senior minister in UP government was upset with Singh for shifting his loyalties from SP to BSP as the latter came to power.
"However Singh managed to pacify his political masters in SP and the matter was resolved," says the observer.
Yadav returned to active service as no charge sheet was filed against him in the stipulated six months. And he came back with more power, getting the charge of the chief engineer in both Noida Authority and Yamuna Expressway Authority.
CBI investigators have started to seal residences of Singh, his associates and his family, offices and go through the paper trail.
What is the government up to?
On 16 July, UP advocate general, VB Singh, assisted by top lawyers of the state argued against a CBI probe into Singh's financial irregularities in the Allahabad High Court.
The plea, against a PIL filed by Nutan Thakur, was rejected and CBI was asked to begin investigations.
The UP government followed up by approaching Supreme Court against CBI's involvement in the case. On Friday Supreme Court rejected UP government's appeal, remarking, "Why is the state so worried about it?"
UP government had roped in senior lawyer and Congress leader Kapil Sibal to supposedly stall CBI investigations in the case.
His argument in the court was - "when no such alacrity was shown [by the Centre] in handing over the probe to the CBI in Madhya Pradesh's Vyapam and similar scams."
On the other hand, the Chief Justice of India HL Dattu said, "Normally we are slow in handing over a probe to the CBI. But after we saw the order of the Allahabad High Court, we feel its justified."
An official who has seen the investigations personally confirms Singh's intricate financial connections with senior leaders from present UP government to be the obvious reason for UP government's obvious interest in the case.
According to an IG rank police official posted in Lucknow, who did not wish to be named, "The case is no more in the government's control now."
Thakur, who is a known RTI activist in the state, says, that the UP government's intentions are extremely clear
"Big people in the present government may be involved and their attempts to stall CBI investigations showed their culpability. It was just a waste of public money," she says.
As CBI goes through paper trails in this case, it will be interesting to see how long the UP government sticks to Singh's defence.
With inputs from Rohit Ghosh.