Who is Aishwarya Chaudhary, BJP leader allegedly behind Bijnor violence?
Catch Team
| Updated on: 19 September 2016, 20:02 IST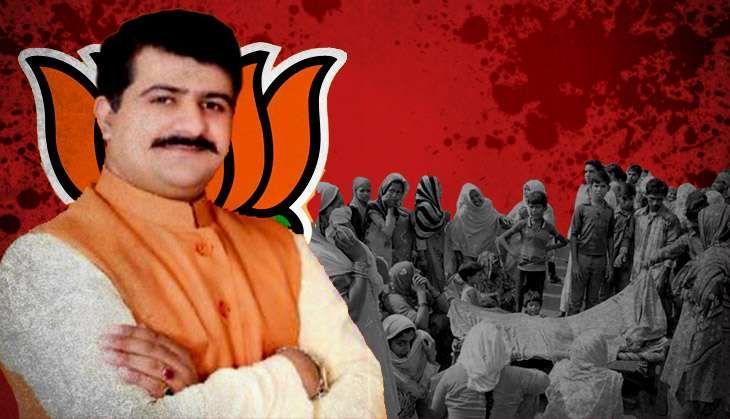 A clear BJP link has emerged to Friday's communal violence in Bijnor, in which 3 Muslims were killed.
According to Uttar Pradesh's ADG Law & Order, Daljeet Chaudhary, the mob was led by Aishwarya Chaudhary, a lawyer linked to the RSS.
"Aishwarya Chaudhary led the mob along with his PSO. There is photographic evidence to prove it. He is absconding as of now. But we will arrest him," the ADG told Catch.
Also Read: Bijnor violence: Lawyer linked to RSS & BJP instigated mob, says police
On Saturday, the ADG had told Times of India that the violence could have been an attempt by "people linked to a political party" to disturb communal harmony in the region.
"Since the firing was unprovoked, it seemed like there was an element of planning and it was a deliberate attempt to disturb the communal harmony in the region," he said.
Many locals also say that Aishwarya Chaudhary did instigate the mob and that it was his PSO who fired at the Muslims. Chaudhary's car was seen at Peda village, where the violence took place.
BJP links
Aishwarya Chaudhary, known as Mausam Bhaiya among his supporters, is the Bijnor district president of the Adhivakta Sangh, an RSS-affiliated lawyers' body. He is associated with the BJP and is aspiring for a ticket from Bijnor Assembly seat in the upcoming Uttar Pradesh elections.
His Facebook page clearly reveals his MLA ambitions as most of the posts have "Bijnor 22 Vidhan Sabha constituency" written on them. He also put up pictures of himself participating in the BJP's protest outside the Vidhan Sabha in Lucknow in August.
Friday's violence and Aishwarya's alleged role must also be seen in the context of the BJP's internal politics in Bijnor.
Aishwarya's father Rajendra Kumar had initially been given the ticket to contest the 2014 Lok Sabha elections from Bijnor as the BJP's candidate. But the BJP withdrew his candidature and gave the ticket to Kunwar Bhartendra Singh, then the sitting MLA from the Bijnor Vidhan Sabha seat.
Bhartendra Singh, is known to be close to Varun Gandhi and Narendra Modi's one-time bête noire Sanjay Joshi. Therefore he was clearly in a faction opposed by Modi and Amit Shah. Yet he got the ticket from Bijnor over Rajendra Kumar because he was seen as a more winnable candidate.
However, Kumar filed an election petition in the Allahabad High Court requesting that Singh's election be cancelled. His argument was that he was the original BJP candidate and when a party allots its symbol to two candidates, the one who filed his nomination earlier should get precedence.
Interestingly, in the bypoll that took place after Singh vacated the seat in 2014 after becoming an MP, the Samajwadi Party wrested the seat from the BJP.
Kumar's son, Aishwarya, is now trying for a ticket from Bijnor, which was originally Bhartendra Singh's constituency.
Needless to say, Bhartendra is opposing Aishwarya's candidature. The latter, therefore, is working overtime to push his case. And what better way to do it than play the communal card, considering Bhartendra himself has been under the scanner for his role in the 2013 Muzaffarnagar riots.
Even in his Facebook feed, Aishwarya openly flaunts his Hindu political identity.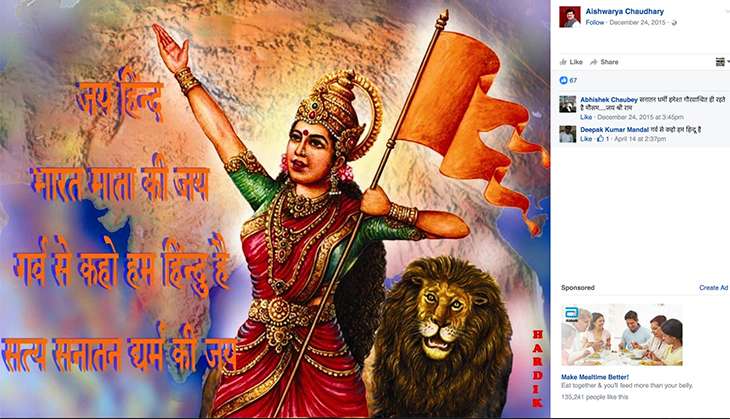 A screenshot from a post on Aishwarya's Facebook profile
In this post, he says "Jai Hindi! Bharat Mata ki Jai! Garv se kaho hum Hindu hain! Satya Sanatan Dharm ki Jai" (Jai Hind! Bharat Mata ki Jai! Say with pride we are Hindu! Hail the true, all encompassing religion!)
In his post on Raksha Bandhan, Aishwarya, made it a point to mention that he spent the festival with "sisters of his own faith".
Locals say both Aishwarya and his father Rajendera Kumar are close to Baba Gurmeet Ram Rahim Singh Insan, the head of the Dera Sacha Sauda.
They say that Aishwarya has been trying to mobilise Jats to shore up his support in Bijnor and that the a Jat vs Muslim polarisation would go in his favour.
Also Read:
Bijnor violence: How Dainik Jagran & HT wrongly blamed Muslims
Bijnor: 3 killed as Jats and Muslims clash over eve-teasing incident