A lioness' roar: Kabir Kala Manch and a State that wants to stifle its voice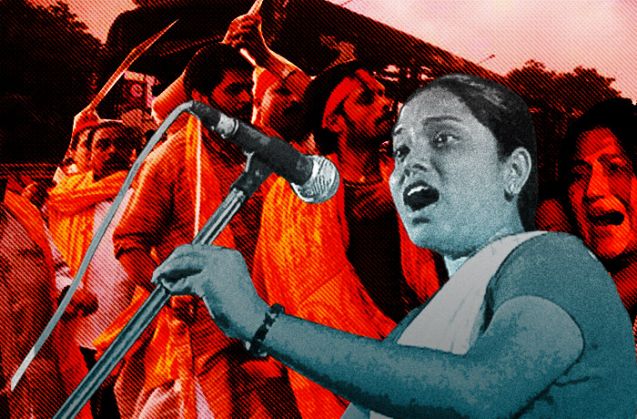 The artiste
Sheetal Sathe founded the Kabir Kala Manch in response to the 2002 Gujarat riots
They draw inspiration from the likes of Sant Kabir and Tukaram in criticising social ills
The lioness
Sathe performed at the Delhi Press Club on Sunday, and her roar pierced the still air
She sang about the Rohith Vemula suicide, her husband\'s incarceration and a lot more
More in the story
Why is the State trying to silence the voice of the oppressed?
How Sathe is trying to get Bhagat Singh\'s legacy back from the Hindu right-wing
Sheetal Sathe has a story to tell. A story of pain, discrimination and hounding by the State. And her chosen art form is the song.
On a still Sunday afternoon, the Delhi Press Club's courtyard was rearranged to accommodate four musicians, back-up vocalists and the small, young artiste, who narrated her story through songs in Marathi, interspersed with broken Hindi and even more broken English.
There were those in the gathering who were familiar with her story, and those who weren't. But by the end of it, not one person remained unmoved by it.
The story so far
In 2002, in response to the horrific communal riots in Gujarat, a couple of young Dalit and working-class activists came together in Pune to form a theatre group. Their performances drew from local folk traditions - the works of saints like Tukaram, powada, kirtan and lok shahiri - but they named themselves after a powerful critic of organised religion from another century and another part of the country - Sant Kabir.
The Kabir Kala Manch was a little-known troupe that travelled around Maharashtra, singing songs against social and political injustice, until one of their members was suddenly arrested under the dubious charge of suspected links with Naxalites in 2011.
Thereafter, the troupe went into hiding, bewildered and fearful of wider retaliation from the state, until civil society activists came together to form the Kabir Kala Manch Defence Committee. This unexpected but welcome support encouraged them to come out of hiding and protest attempts to suppress them.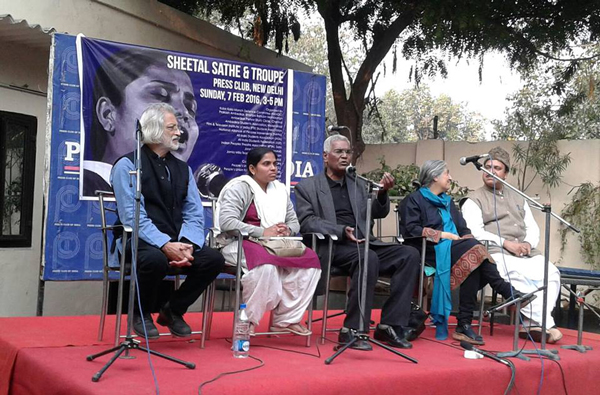 Two years after they were forced to go underground, they found the courage to organise a satyagraha and sang songs outside the Legislative Assembly in Mumbai. Shockingly or expectedly, depending on your level of cynicism, leading members of the troupe, Sathe and her husband Sachin Mali, were arrested immediately under the Unlawful Activities Prevention Act and accused of being Naxal sympathisers. In a subsequent peaceful protest, more members were arrested.
Sathe, who was pregnant at the time of her arrest, was eventually released on bail so that she could deliver their child, but her husband as well as a couple of other members of her troupe are still in jail, awaiting trial, and have been consistently denied bail.
Even rapists and scamsters get bail
This is the known bit of the story of the Kabir Kala Manch. But what's lesser known is why a powerful State would seek to stifle these voices? What is it they have to say?
"When the artist is performing, no one is as powerful as him. When he is hounded and is knocking on doors for help, no one is as helpless as him," said Sathe, introducing her first song of the evening.
In sum, the lyrics ask a simple but poignant question - if artists, singers and writers take it upon themselves to speak the truth to powers-that-be on behalf of the masses, will those masses stand behind them as they brave the wrath of those they dare?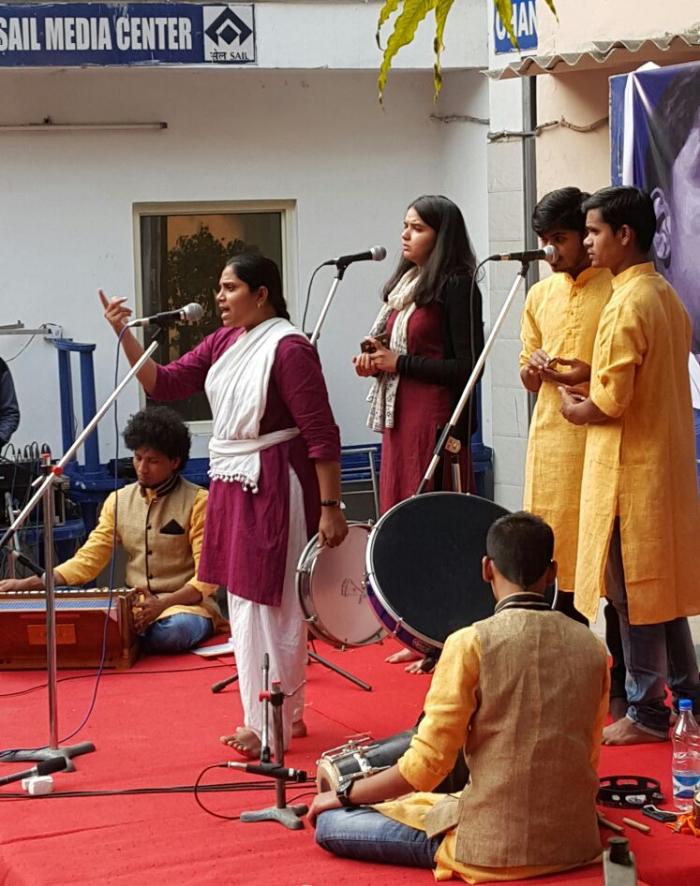 "Sachin's mother is a farm labourer. Her neighbours in her village ask her 'even rapists, scamsters and rioters get bail. What did your son do?'" Sathe said, indirectly answering the question her song posed.
In the mirror of this song, each one of us is complicit in the injustice Sathe sings of.
But the introductory song is more than an incriminating barb. It sums up the raison d'etre of this troupe - their unwavering belief in the rights guaranteed to all Indians by the Constitution; their inability to bow down, to look the other way, to not stand behind those who suffer the myriad injustices that have shackled our democracy.
"There are two things you have to pay for - going down on your knees and raising your head. The price for the latter is a dingy cell where light does not enter. And yet from this cell, Sachin has written two books of poetry and they have been published," said Sathe.
For Rohith, Dabholkar and Pansare
In February last year, Mali wrote a song for murdered rationalists Narendra Dabholkar and Govind Pansare. In February this year, he sent Sathe a song for Rohith Vemula.
"Hum padhte hain to jaatiwaadi khoon khaulta/ Phir unke munh se jaatiwaadi Manu bolta (Casteists are infuriated when we study, and then they spout the venom of Manusmriti)."
The song encapsulates the tragedy of Rohith's life and death.
"Rohith must have believed that untouchability is over, until he was turned out of his university like an untouchable. That is when he must have realised that, like Tukaram, he will always remain on the threshold of what he desires," said Sathe, invoking the 18th century poet and saint who had been forbidden from crossing the threshold of his village temple.
Mali's song for Rohith also goes to the heart of the struggle of this troupe. "Ambedkar had said education is the milk of the lioness. If I am standing here today roaring like a lioness, it is also because of Babasaheb," explained Sathe.
Rohith's fate is close to her own life's experience except for one crucial difference - her resolve to go on fighting against the fundamentalist ideology that Kabir Kala Manch was founded to counter. "They will not succeed in throwing Tukaram's writings into the river Indrayani again," said Sathe, explaining why she continues to sing.
Deceptive freedom
Last month, ABVP activists disrupted Sathe's performance in Solapur. Everywhere she goes nowadays, she expects to be heckled and threatened, but performs undeterred. She knows her freedom is hard won and limited - legally and socially - and is determined to make the most of it.
"We are all Eklavya. We have learnt to sing of our pain ourselves. But Dronacharya beware, a new Eklavya has come, who will not give you his thumb," she roared, challenging the epics, challenging status quo.
Sathe sings because she believes that someday both she and we might truly be free. "But freedom will not come unless caste is annihilated," she asserted.
Her battle, however, is not limited to the battle for Dalit rights. She sings for women, for farmers, for labourers, for minorities - for all those who are waiting for their share of freedom from 1947.
Her performance closed with an ode to Bhagat Singh. "Tune to tab hi bola tha, yeh aazadi nahin dhokha hai (You had declared back then that this is freedom is deceptive)," she sang.
Her paean was also a bid to reclaim the revolutionary from Hindutva forces, who have sought to appropriate him in recent years. And it is not merely Bhagat Singh she was staking her claim on.
"Those who have done nothing to unite us as a nation claim to represent nationalism. We who believe in an equal nation are true nationalists," she said, making a thinly veiled reference to Hindutva nationalists.
We are not Naxalites
After the show, social activist Swami Agnivesh, who was in the audience, stood up to say: "If singing these songs and speaking the truth is Naxalism, we are all Naxalites."
Sathe was quick to retaliate: "I respect your sentiments, Swamiji, but we are not Naxalites. We believe in rationalists, in Ambedkarites, in feminists. But above all, we believe that revolution can only come through democratic means, not violence."
It was important for her to say this, not only because it would go against their case not to, but also because it would go against her ideology. "People only want to know about our case. Not about what we have to say," she laughed.
Had it not been for her case, Sathe would not have been performing in Delhi. She was called to the venue because of her story, but she left behind songs that are greater than that.
Her voice ripped through the still air. It was stunning. It was shattering. It had the power to break the spell of comfortable numbness even in the secure heart of the nation's capital.
Imagine its impact on those suppressed by the unending tyranny of the State and religious orthodoxy. It could rouse rebellion. It could spark revolutions.
It is not hard to see why it might be easier to keep Kabir Kala Manch behind bars.
More in Catch:
Adivasis' last stand: Odisha's Khandadhar the new battleground against mining
EXCLUSIVE: Ache Din for CM Anandiben's son. Shares zoom 850% in 18 mths
More pain for patients: essential drugs removed from customs exemptions
Silver screens are no more. Why multiplexes rock