What were Jamat-ul-Mujahideen Bangladesh men doing in Bodo areas?
Catch Team
| Updated on: 10 February 2017, 1:50 IST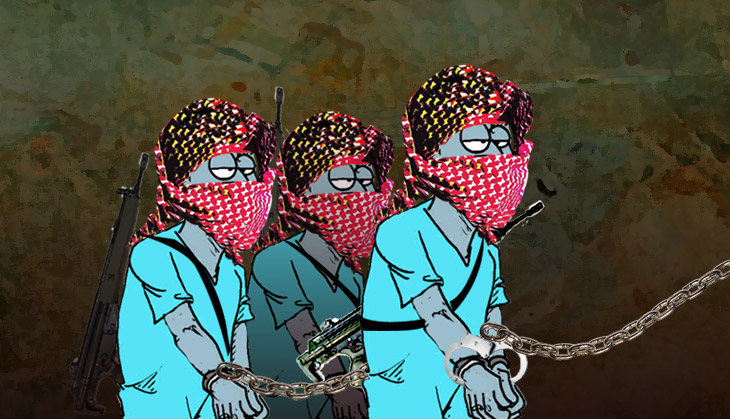 The Assam police Friday claimed to have arrested seven members of the Jamat-ul-Mujahideen Bangladesh (JMB), a terrorist group allegedly active in the Bodo Territorial Administrative Division. They were planning to "avenge" the attacks on Muslims by other insurgent groups in Assam, the police alleged.
Joynal Abedin, 32, Rezzak Ali, 21, Soleman Ali, 28, Dildar Ali, 23, Md Nurul Islam, 27, Rafiqul Islam, 22, and Ukhiluddin, 33, were arrested from Chirang district.
Earlier on April 17, the police claimed to have arrested four alleged JMB members, Abu Bakkar Siddique, Jahanur Alam Sheikh, Samal Ali Mandal and Azizul Haque. The police have so far arrested at least 29 people with alleged links to the JMB, several of them are currently out on bail.
"We had been looking for these people since September 2015," Shankar Brata Rai Medhi, SP Chirang, said about the latest catch.
Out for revenge
According to the police, the arrested men were part of a JMB module that was planning to train local Muslims, at a camp in Daukhanagar village, to launch attacks on the NDFB, a banned insurgent group, and even the local Bodos.
"One Ashiq Bhai, who was arrested then, was the mastermind," Medhi says, adding the police managed to bust the Daukhanagar camp just a week after it was set up. "Eight crude guns modelled on the Kalashnikov, two Insas rifles, and army fatigues were recovered from a pit which the police were directed to by one of the arrested men.
Ashiq Bhai was closely associated with Shahanur Alam, a suspected JMB operative arrested in December 2014 from Barpeta for his alleged role in the Burdwan blast. "We have records showing that Ashiq Bhai was in regular contact with Alam," a police officer said.
The police claim Abu Bakar Siddiqui, aka Mufti Shah, is the second in command of the module. A Deoband-educated madrasa teacher, he was employed in Sonitpur, earning Rs 3,000 a month, before moving to the BTAD, where he was recruited by Ashiq Bhai.
"He was imparting religious fundamentalist teachings to local people and indoctrinating them," said a police official. "He has confessed that he met Alam a couple of times and discussed the Quran and Hadith with him."
Azizul Haque,18, a college student was arrested allegedly helping Mufti Shah, his uncle, flee from the police, according to the official. The others "may just be foot soldiers", the official said, adding that the police have recovered grenades and "some objectionable videos" from them.
Constant worry
The arrests are surprising, to say the least. Only a few weeks ago, a senior police official in Kokrajhar district had told this reporter that "there have been no cases of any major activity by any Muslim group in this area".
"However, the people could easily be exploited since all the conditions for radicalisation are present," he had added, explaining how Bengali-speaking Muslim inhabitants of the area were largely poor and uneducated, and had for long beeen at the receiving end of violence from local Bodos as well as insurgent groups like the NDFB's Songbjit faction.
These parts have witnessed various episodes of violence against the Muslims, notably the Kokrajhar riots in 2012, which left over 100 people dead, and the killing of 38 Muslims in Baksa district in 2014. There has been no largescale violence in the past 15 months since the army, the paramilitary and the police have gone after the NDFB insurgents.
Another senior police official who has served in Kokrajhar had earlier explained to this reporter how some young Muslims had tried to form a ragtag outfit to avenge the 2012 riots, which also left over 4 lakh people displaced. They, however, did not have access to weapons or funding, and relied on crude country-made guns and extortion before they were caught by the police.
"It is good that we have been able to bust this module before they could carry out any violent attacks," a police officer who was involved in the latest operation said.
Edited by Mehraj D. Lone