What is killing Rajasthan's 'foreign breed' cows? Hint: it's not beef eaters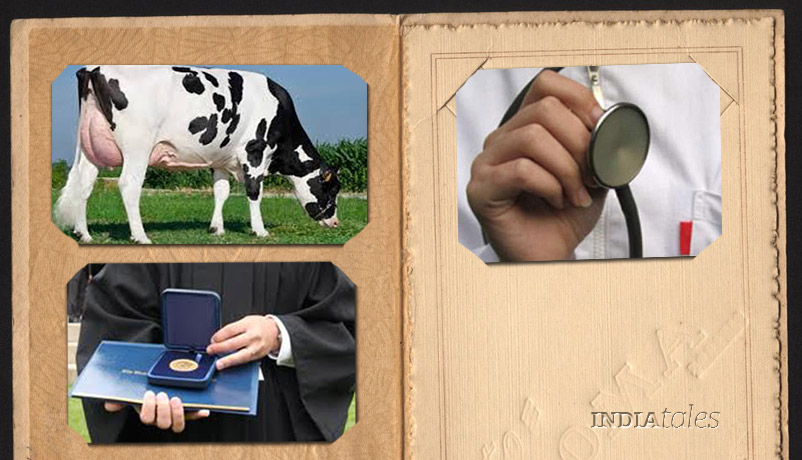 01
In Rajasthan, diabetes has a new victim - cows of foreign breeds
Diabetes is one of India's most common diseases. And even our cattle are not immune to it.
The disease has affected a large number of cows in the Marwad region of Rajasthan, significantly reducing their milk yield and reproduction capacity, according to a study done by veterinarian Subhash Kachwah of the Jodhpur Dairy.
Also read - Ugly India: Rajasthan gives away road for mining, woman kills son for Rs 100
The study was conducted over two years in the districts of Jodhpur, Pali, Jaisalmer, Barmer and Bikaner. It found that diabetes, known as Ketosis in animals, affected a large number of "cows of foreign breeds" in the region.
The disease shows no symptoms and reduces the cow's milk productivity by almost half.
[twittable]In Rajasthan, diabetes, or ketosis, has reduced 'foreign breed' cows' milk yield by nearly half[/twittable]
As for the reasons, the study stated, "farmers are buying cows of foreign breeds for higher milk yield. However, the disease emerges as they are not able to provide proper diet to the cows."
Jodhpur Dairy officials said they will soon send the report to the government "so that measures can be undertaken to control the disease".
02
Worth the wait? Lucknow prof gets his gold medal - after 44 years
Late last month, Prof Anil Singh was awarded the Raman Nair Gold Medal for topping his MSc, Inorganic Chemistry, class at Lucknow University.
Here's the barely believable part: he should have got it 44 years ago.
Singh passed out in 1971. But he didn't get the gold medal as the university didn't hold a convocation, where the medals are awarded, that year. He went on to do his PhD in 1976 and joined the Christian College, Lucknow, as a lecturer.
[twittable]Unbelievable: why it took a Lucknow professor 44 years to get his gold medal[/twittable]
In 1979, he went back to his alma mater to teach, and stayed there until retirement in 2012. While there, he reminding the university's administration that they owed him a medal, but to no avail.
Also read - Who gave orders to bust the Rajasthan mining scam?
In fact, in 2007, the university tried to wash its hands off the issue by giving him a certificate and saying it could do no more.
Singh, however, persisted with his efforts and filed an RTI request this year. In response, the university said that medals could be given to the alumni "on demand".
Singh sent his demand to the university's Controller of Examinations. This time, he struck gold.
03
Doctors refuse to serve in MP's tribal region, state ropes in NGO
Madhya Pradesh's tribal heartland is staring at a health crisis. Why? The state's doctors are refusing to serve there.
The Shivraj Singh Chouhan government has repeatedly failed to get doctors to take up postings in Jhabua and Alirajpur, leaving thousands of tribals with no access to healthcare.
To prevent a full-blown crisis, the state has now roped in the NGO Deepak Foundation to provide healthcare facilities in the area.
Also read - 'No cows were harmed in this defeat': social media trolls BJP #Bihar
For its services, the health department has agreed to pay the NGO "the same amount of money it would have spent on the government healthcare system", sources said.
Jhabua and Alirajpur have reported dozens of cases of dengue, malaria and swine flu in the past few months.
In November alone, Madhya Pradesh reported 455 cases of malaria and saw at least 10 people die of dengue and swine flu. Reportedly, a good number of the new cases and deaths were in Jhabua and Alirajpur.
The state's Health Minister Narottam Mishra claims that "there is no dearth of facilities to tackle these diseases in Jhabua and Alirajpur". But the reality on the ground couldn't be starker.
MORE AT CATCH - 'Mother' of all crimes: how Sheena Bora became both Indrani's sister & daughter
Meet: minister's wife failed for cheating, train thief who stole to party