What explains the mystery killings in Kashmir?
Catch Team
| Updated on: 13 February 2017, 4:36 IST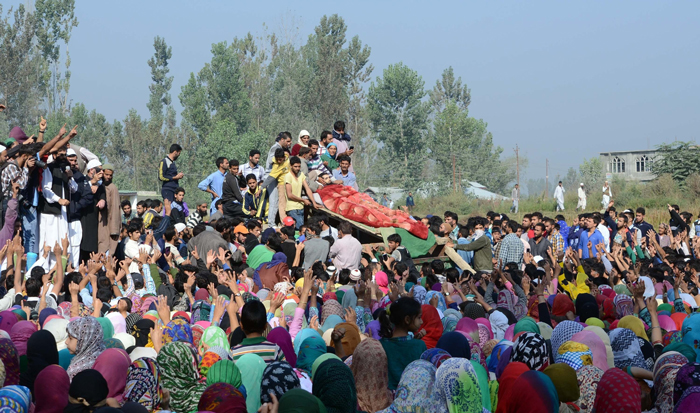 The killings
On Monday, three bodies were found in north Kashmir\'s Pattan
The bodies had bullet wounds and marks of torture
One of them had been missing for 2 months
The mystery
Nobody has claimed responsibility for the killings
The police blame a feud between Hizb and breakaway LeI for the murders
Hurriyat\'s Geelani blames the Indian state
But there is no clear answers yet
Around noon last Monday some villagers found the bullet-riddled bodies of three young men at an orchard near Dangerpora area in Pattan, a town in north Kashmir. The healthy and youthful, but blood-soaked bodies, lay face down in a row.
The horrible scene created panic among the villagers. Several women broke down. Word went round and in no time some 2,000 people collected there. Soon, the information reached the nearest police station.
The police came and sent the bodies for post mortem to the district hospital in Baramulla. They were later handed over to their families for last rites.
Who were the young men and why were they killed? It took police several hours to identify them. One was Amir Reshi from Hardshiva in Sopore, another was Ashiq Ahmad Wani of Lolipora in Pattan and the third Naveed Khan of an identified village in north Kashmir.
Wani studied law at the Valley's Central University. He was in his last semester when he joined militancy last year. Naveed, too, joined the 'jihad' last year after studying IT engineering in Chandigarh.
Reshi was a Class 9 student. His father Ghulam Qadir Reshi says that he had gone missing two months ago. "We had lodged a missing report with the Bumai police station, but nothing was done to trace him," his uncle Abdur Rashid Reshi told the media.
According to police sources, the murders are a fallout of an ongoing feud between Hizbul Mujahideen and its breakaway faction Lashker-e-Islam (LeI). The slain youth belonged to LeI, led by Qayoom Najar, the sources said. Najar is the Valley's longest surviving militant, active since 2003.
The LeI made its presence felt in June with a series of bomb blasts on transmission towers that brought the Valley almost to the brink of a communication breakdown. The police had then said they recovered a "rigged Kenwood wireless set," the type used by militants to bypass easy-to-track mobile cellular services, from a telecom tower.
At that time Hizb and separatist political groups disowned the attacks and called for a halt to them, but LeI declined to fall in line. Its spokesman Abu Sariq even blamed Syed Ali Shah Geelani's Hurriyat faction for for the killing of four militants, including a top Lashker commander.
"God willing we will not allow restoration of the telecom system," the group said, calling mobile telephony in the Valley a conspiracy. "This conspiracy has weakened armed resistance and also affected the society negatively."
When Hizb said the group was a creation of government agencies, LeI went on a killing spree. Within three weeks, six people - some former militants and sympathisers of the separatist cause - were gunned down in Sopore.
The killings infuriated Hizb which swore revenge. "We will not spare the killers," the outfit said in a statement after the killing of Sheikh Altaf-u-Rehman, a 45-year-old member of the Hurriyat faction led by Geelani. He reportedly had ties with militant groups.
On 23 July, Hizb formally expelled Najar from its basic membership. "Henceforth, in future no activity of Najar should be associated with Hizb," the outfit's PoK-based spokesman Saleem Hashmi said. The decision was taken after an investigation proved "the key role played by Najar in carrying out anti-movement activities," Hashmi said.
It is this rivalry that the police have invoked to explain the recent murders. The bodies of the three youth bore visible marks of torture - nails pulled out and bruises all over their bodies.
There were bullet marks on one's chest and on another's head. Reshi was shot in his belly. The absence of blood on the ground showed the three had been killed earlier and dumped in the orchard. "The scene was horrific," said Abdul Gani Sofi, an eye witness.
The 3 bodies bore visible marks of torture: nails pulled out and bruises all over their bodies
Did Hizb kill them? Not only the outfit denied the charge, it claimed the three murdered youth had joined Hizb recently. Hizb supremo Syed Salahuddin said Lashker-i-Islam did not exist. "The trio were active members of Hizbul Mujahideen and were killed in custody"
Geelani, Mirwaiz Umar Farooq and JKLF chief Yasin Malik called for a shutdown on Wednesday to protest against "the cold-blooded murder". Geelani has often blamed Defence Minister Manohar Parrikar's 'kaante se kaanta nikalna' (take one thorn out with another) strategy of counter insurgency.
"It is Parrikar who said India will use militants to kill militants. This is what is happening in Kashmir now," Geelani had said.
Sources in the security forces, however, said there was no chance of custody killings after the recent Machil fake encounter verdict where six Army personnel were sentenced for life.
"The police and the Army would have preferred to kill the militants in a cordon-and-search operation," said a police officer who wished to remain unidentified. "If the intention was to send a message to those recruiting youth for jihad, killing them at their hideouts would have done it."
According to the police, a 24-hour delay in Hizb's condemnation of the murders and the separatist call for a hartal was proved that militants were involved in the incident.
"Usually, in case of killings, secessionist groups rush to issue condemnations and call for hartal within hours," a source said.
But even this argument doesn't answer the question: the youth were missing for two months and Hizb, with its drastically diminished cadre, couldn't conceal them for so long. According to many, the outfit would have preferred to shoot them at sight than risk keeping its men preoccupied with hiding them.
Conjectures and the guesses are rife about who killed the youth. The incident has become a part of the Valley's all too familiar shadowy world, "an unsubstantiated, disembodied realm where everybody is free to imagine his own theory and get away with it," said a police source.
Eventually, it all boils down to the Hizb-LeI rivalry. But who is LeI? Is it only a breakaway Hizb faction of 10-15 youth? Or is there more to it?
There is another outfit called LeI in Pakistan with links to Tehreek-e-Taliban Pakistan, which recently claimed responsibility for the attack that killed Punjab home minister Shuja Khanzada and nine others in his home town Attock.
But security force sources played down this angle. "The similarity doesn't go beyond the name," says a police officer.
So what is LeI fighting for? It is a group of Hizb rebels, allegedly breaking away over an argument between Najar Salahuddin on "operational autonomy" of Hizb militants based in Kashmir.
But the break-up has put them in an uneasy relationship with Pakistan. Hizb has already accused it of "siding with the enemy".
LeI has given an impression that it operates independently. But is it possible for a militant group in Kashmir to operate independently? More so, when you have the agencies of two countries going after you? Where does LeI belong then?
Nobody has answers to such questions which confound and play on everyone's mind.
If these aren't perplexing enough, here is what adds to the mystery: On 2 September, LeI militant, Riyaz Ahmad Mir was killed in a fierce gun battle with security forces at Ladoora in Rafiabad in Baramulla district. Earlier, on 3 August, the body of LeI deputy, Tariq Ahmad Mir alias Tariq Mawar, was fished out from Ferozpora Nallah at Naidkhai in Bandipora district.
For now, all we have are conjectures.